Kreativitas Guru IPS di Era Virtual; Penerapan Pembelajaran Daring di MTsN 3 Pamekasan
Rini Fajarini

IAIN Madura

Sukron Romadhon

IAIN Madura
Abstract views:
192
,
PDF downloads:
175
Abstract
Abstrac
The student learning model during the COVID 19 pandemic must be done virtually, a model of distance learning between teachers and students.  Among them only utilize the network and also learning media such as E-learning and also WA Group. With the various obstacles experienced by teachers when going to do the teaching and learning system, it certainly spurs teachers to be creative in the teaching and learning process. On the other hand, the student's response to the material delivered by the teacher in online learning, becomes a challenge for teachers when there are obstacles in the teaching and learning process of students at MTsN 3 Pamekasan. This study uses qualitative approach with descriptive type. Sources of data obtained through interviews, observations, documentation and information obtained from teachers and students. While checking the validity of data is done through the extension of participation, perseverance of observation and triangulation. The results showed that the creativity of IPS teachers in running the Self-Learning Work Unit system, students are also directed to know more about COVID 19 by researching the environment and making a map of the distribution and prevention methods. Last asked to make a simple report in the form of mind mapp or learning model through youtube. The response of students in online learning will be in the same direction as the teacher's response, if the teacher's response is good it will increase the student's learning spirit. Furthermore, there are factors inhibiting teacher creativity in online learning, namely: networks, devices and knowledge of students. In addition, the supporting factor is the willingness of teachers to stay aware and learn about the learning media used as material for achieving effective and efficient learning.
Keywords: teacher creativity, e-learning, learning media
Abstrak
Model pembelajaran siswa dimasa pandemi COVID 19 harus harus dilakukan secara virtual, model pembelajaran jarak jauh antara guru dan siswa.  Diantara mereka hanya memanfaatkan jaringan dan juga media pembelajaran seperti E-learning dan juga WA Group. Dengan berbagai kendala yang dialami guru ketika akan melakukan sistem belajar mengajar, tentu memacu guru untuk kreatif dalam proses belajar mengajar. Disisi lain respon siswa terhadap materi yang disampaikan guru dalam pembelajaran daring, menjadi tantangan bagi guru ketika terdapat hambatan-hambatan dalam proses belajar mengajar siswa di MTsN 3 Pamekasan. Penelitian ini menggunakan pendekatan kualitatif dengan jenis deskriptif. Sumber data yang diperoleh melalui wawancara, observasi, dokumentasi dan informasi yang diperoleh dari guru dan siswa. Sedangkan pengecekan keabsahan data dilakukan melalui perpanjangan keikutsertaan, ketekunan pengamatan dan triangulasi. Hasil penelitian menunjukan bahwa kreativitas guru IPS dalam menjalankan sistem Unit Kerja Belajar Mandiri, peserta didik juga diarahkan untuk lebih mengetahui tentang COVID 19 dengan meneliti lingkungan dan membuat peta persebaran serta cara pencegahanya. Terakhir diminta membuat laporan sederhana berupa mind mapp atau model pembelajaran melalui youtube. Respon siswa dalam pembelajaran daring akan berbanding searah dengan respon guru, jika respon guru baik maka akan meningkatkan semangat belajar siswa. Selanjutnya ada faktor penghambat kreativitas guru dalam pembelajaran daring yaitu: jaringan, perangkat dan pengetahuan siswa. Selain itu, faktor pendukung yaitu adanya kemauan dari guru untuk tetap mengetahui dan belajar terhadap media pembelajaran yang digunakan sebagai bahan tercapainya pembelajaran yang efektif dan efisien.
Kata Kunci: kreativitas guru, e-learning, media pembelajaran
Downloads
Download data is not yet available.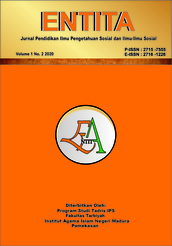 ENTITA: Jurnal Pendidikan Ilmu Pengetahuan Sosial dan Ilmu-Ilmu Sosial operates an Open Access policy under a Creative Commons Non-Commercial 4.0 International license. Authors who publish with this journal agree to the following terms:
The copyright of the received article once accepted for publication shall be assigned to the journal as the publisher with licensed under a


Commons Attribution-NonCommercial 4.0 International License

Journal is able to enter into separate, additional contractual arrangements for the non-exclusive distribution of the journal's published version of the work (e.g., post it to an institutional repository or publish it in a book), with an acknowledgement of its initial publication in this journal.
Journal is permitted and encouraged to post their work online (e.g., in institutional repositories or on their website) prior to and during the submission process, as it can lead to productive exchanges, as well as earlier and greater citation of published work (see The Effect of Open Access).
Here is Copyright Transfer Form that author can download and send to OJS during submission.