MANAJEMEN PEMBELAJARAN PENDIDIKAN ISLAM MODERAT DI PERGURUAN TINGGI ISLAM (Studi Atas Institute Agama Islam Negeri Madura)
Mohammad Muchlis Solichin

IAIN Madura
Abstract views:
402
,
PDF downloads:
274
Abstract
The purpose of this paper is to understand: 1) learning planning of moderate Islam education in the State Islamic Institute Madura 2) learning implementation of moderate Islamic education in the State Islamic Institute Madura and 3) learning evaluation of moderate Islamic education in the State Islamic Institute of Madura. The method used is qualitative descriptive. Methods of data collection are observation, interviews, and documentation. Analysis of the data used is: data reduction, data display, and conclusions. The results showed that: 1) learning planning of moderate Islamic education do with the preparation of syllabus and Implementation lesson Plan. 2) learning implementation of moderate Islamic educatio is a teaching strategy that is used is a discussion/debate on and problem-based learning. Meanwhile, the learning materials of moderate Islamic education containes the subjects as follow: the al- Qur'an, the History Islamic Culture, Psychology of Religion, Education of Akhlaq Tasawwuf. Philosophy of Islamic Education and Islamic philosophy. While the themes of discussion include: democracy, human rights, tolerance of differences. Further, learning evaluation of moderates Islamic education in IAIN Madura is sustainable.
Downloads
Download data is not yet available.
References
Akmansyah, M. "Membangun Toleransi Dalam Perspektif Pendidikan Spiritual Sufistik," Kalam, Volume 10, No. 2, Desember 2016.
Bakar, Abu, "Konsep Toleransi dan Kebebasan Beragama," Toleransi: Media Komunikasi Umat Beragama,Vol.7, No.2 Juli-Desember 2015.
Fazlurrahman, Muhammad, "Modernisasi Pendidikan Islam: Gagasan Alternatif Fazlur Rahman," TA'LIM : Jurnal Studi Pendidikan Islam, Vol.1 No.1 Januari 2018.
Futaqi, Sauqi, "Kompetensi Multikultural Lembaga Pendidikan Islam," TA"LIM : Jurnal Studi Pendidikan Islam, Vol.1 No.1 Januari 2018.
Hermansyah," Islam dan Toleransi Beragama dalam Masyarakat Muslim Kanayatn Dayak di Kalimantan Barat," ISLAMICA, Volume 7, Nomor 2, Maret 2013.
Hidayat, Aat, Syura dan Demokrasi dalam Perspektif Al-Qur'an, ADDIN, Vol. 9, No. 2, Agustus 2015.
Ismai, Roni "Konsep Toleransi Dalam Psikologi Agama, (Tinjauan Kematangan Beragama)," Religi, Vol. VIII, No. 1, Januari 2012.
Khoiruddin, M. Arif "Peran Tasawuf Dalam Kehidupan Masyarakat Modern, Volume 27 Nomor 1 Januari 2016.
Luthfiah, Zeni & Muh. Farhan Mujahidin, Pendidikan Agama Islam, Surakarta: Yuma Pustaka, 2011.
Madjid, Nurcholish "Kalam Kekhalifahan Manusia dan Reformasi Bumi", Titik Temu Jurnal Dialog Peradaban. Vol. 1 Nomor 1 Juli-Desember 2008.
Mahdi, "Urgensi Akhlak Tasawuf dalam Kehidupan Masyarakat Modern, "Jurnal Edueksos, Vol I No 1, Januari-Juni 2012.
Moleong, Lexy J., Metodologi Penelitian Kualitatif, Bandung, Remaja Rosdakarya, 2011.
Muhaimin, Wacana Pengembangan Pendidikan Islam (Yogyakarta: Pustaka Pelajar, 2003.
Mustafa, "Perkembangan Jiwa Beragama Pada Masa Dewasa," Jurnal Edukasi. Vol 2, Nomor 1, Januari 2016.
Mustafa, Nasip "Multikulturalisme Dalam Perspektif Islam, " Jurnal Penelitian Keislaman, Vol. 10, No. 1, Januari 2014.
Mutiar, Kholidia Efining "Menanamkan Toleransi Multi Agama sebagai Payung Anti Radikalisme (Studi Kasus Komunitas Lintas Agama dan Kepercayaan di Pantura Tali Akrab)",Fikrah: Jurnal Ilmu Aqidah dan Studi Keagamaan, Volume 4 Nomor 2, 2016.
Rahmah, Nur, "Belajar Bermakna David P. Ausubel Di SD/MI," Jurnal Pendidikan 'IQRA' Volume 3 No. 1 Juni 2015.
Rusman, "Penerapan Pembelajaran Berbasis Masalah," Edutech, Tahun 13, Vol.1, No.2, Juni, 2014.
Sihombing, Belsasar "Penerapan Teori Ausubel Dengan Menggunakan Metode Inkuiri Pada Matakuliah Kalkulus," Jurnal Pendidikan Matematika Dan Terapan, Volume1, Nomor 3, 2015.
Sugiyono, Metode Penelitian Kuantitatif, Kualitatif dan R&D Bandung: Alfabeta, 2010.
Sunaryo, Yoni, "Problem-Based Learning Model To Enhance Senior High School Students' Mathematical Critical And Creative Thinking Abilities," Jurnal Pendidikan dan Keguruan, Vol. 1 No. 2, 2014.
Suriadi, "Rekonstruksi Muhammad Abduh Dalam Pembaharuan Pendidikan Islam, "al-wijdán, Volume II, , Nomor 2, 2017.
Susanto, Edi, Multikulturalisme Pendidikan Agama Islam, (Telaah atas Pemikiran Nurcholish Madjid), Multikulturalisme Pendidikan Agama Islam, Tadrîs. Volume 2. Nomor 2. 2007
Sutarto, "Teori Kognitif dan Implikasinya Dalam Pembelajaran," Islamic Counseling , Vol 1 No. 02 Tahun 2017.
Undang-Undang Sitem Pendidikan Nasional, No. 2, Tahun 2013
Wahyuningsih, Sri" Implementasi Sistem Pendidikan Islam Pada Masa Daulah Abbasiyah Dan Pada Masa Sekarang," Jurnal Kependidikan, Vol. II No. 2 November 2014.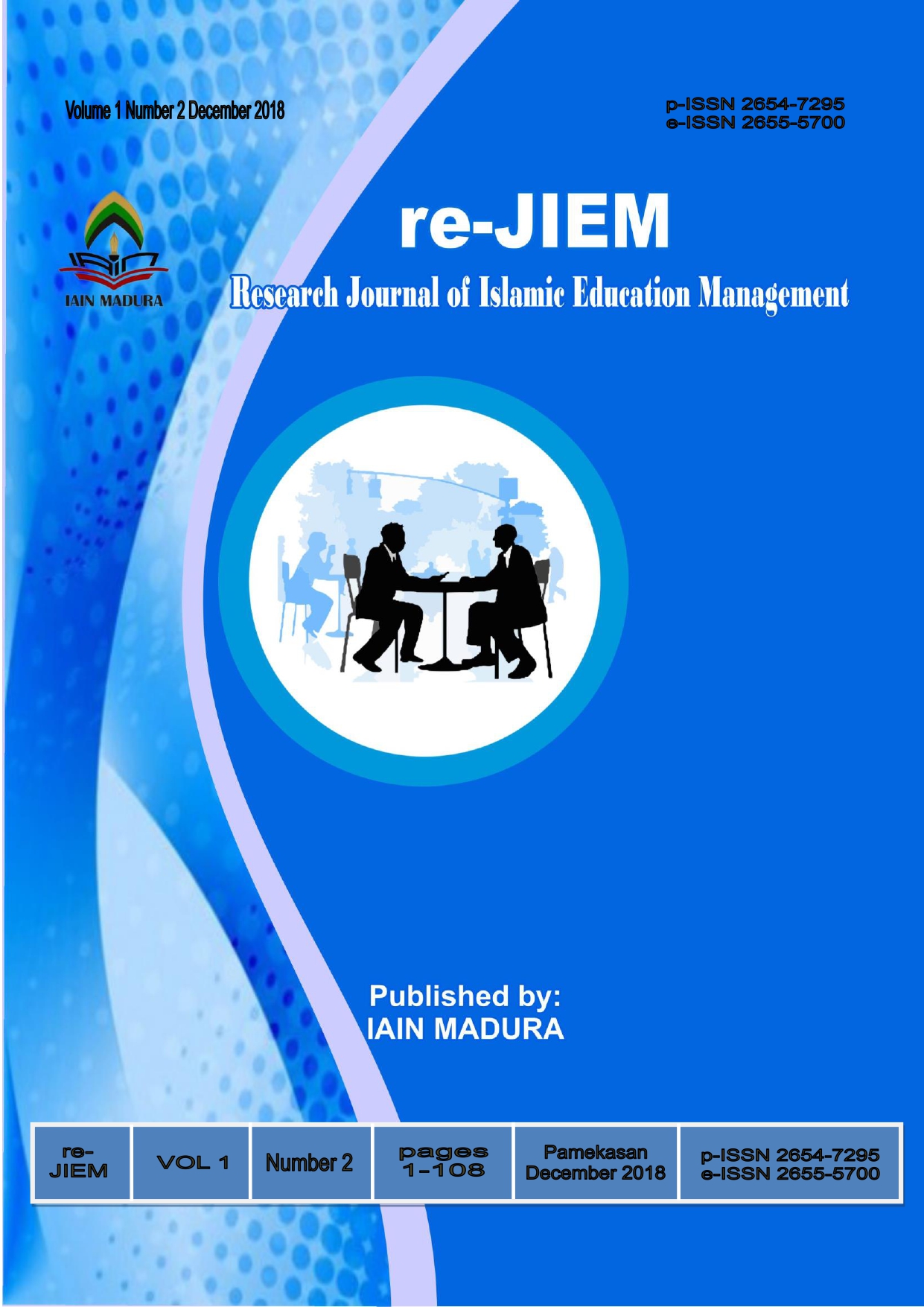 How to Cite
Solichin, Mohammad Muchlis. 2019. "MANAJEMEN PEMBELAJARAN PENDIDIKAN ISLAM MODERAT DI PERGURUAN TINGGI ISLAM (Studi Atas Institute Agama Islam Negeri Madura)". Re-JIEM (Research Journal of Islamic Education Management) 1 (2), 60-69. https://doi.org/10.19105/re-jiem.v1i2.2091.
Authors who publish with this journal agree to the following terms:
Authors retain copyright and grant the journal right of first publication with the work simultaneously licensed under a Creative Commons Attribution-ShareAlike 4.0 International License that allows others to copy and redistribute the material in any medium or format with an acknowledgment of the work's authorship and initial publication in this journal and also allows to remix, transform, and build upon the material for any purpose, even commercially with contributions under the same license as the original.
Authors are able to enter into separate, additional contractual arrangements for the non-exclusive distribution of the journal's published version of the work (e.g., post it to an institutional repository or publish it in a book), with an acknowledgment of its initial publication in this journal.
Authors are permitted and encouraged to post their work online (e.g., in institutional repositories or on their website) prior to and during the submission process, as it can lead to productive exchanges, as well as earlier and greater citation of published work.