KINERJA KEPEMIMPINAN PEREMPUAN DALAM MENINGKATKAN DAYA SAING LEMBAGA PENDIDIKAN DI SMK AL-MUJTAMA' PLAKPAK PEGANTENAN-PAMEKASAN
Wardhatul Khomairah

Prodi Manajemen Pendidikan Islam

Siswanto Siswanto

Dosen Manajeman Pendidikan Islam
Abstract views:
139
,
PDF downloads:
154
Abstract
The Al-Quran is used as a guide for human in all aspects of life. In addition, the Koran also has conferred a status between men and women in the sense of normative and social status. However, the Koran also recognizes against superiority between men and women in certain contexts. If examined carefully, when women plunge into the public sphere, absolutely no hint in the Al-Quran that explains the opposition of a woman to become a leader including in becoming a leader of an educational institution. This study used a qualitative approach with a type of phenomenological research. Sources of data are obtained through interviews, observation and documentation. The informants are principals, teachers and students. Meanwhile, checking the validity of data is conducted through extention of participation, triangulation and negative case analysis method.
Downloads
Download data is not yet available.
References
As-Sya'rawi, Syaikh Mutawalli. Fikih Perempuan Muslimah : Busana dan Penghormatan kepada Perempuan sampai Wanita Karier, Jakarta : Amzah, 2009.
Barlas, Asma. Cara Koran Membebaskan Perempuan, Jakarta : PT. Serambi Ilmu Semesta, 2005.
Barlas, Asma. Cara Koran Membebaskan Perempuan, Jakarta : PT. Serambi Ilmu Semesta, 2005.
Fitria Damayanti, "Peran Kepemimpinan Wanita dan Keterlibatannya dalam Bidang Politik di Indonesia." Jurnal Aspirasi, 2 (Februari, 2015).
Gunawan, Imam, Metode Penelitian Kualitatif Teori & Praktek, Jakarta: PT. Bumi Aksara, 2014.
Indah Ahdiah, "Peran-peran Perempuan dalam Kemasyarakatan." Jurnal Academia Fisip Untad, 2 (Oktober, 2013).
Kurniadin, Didin & Imam Machalli, Manajemen Pendidikan : Konsep dan Prinsip Pengelolaan Pendidikan Jakarta : AR-Ruzz Media, 2012.
Moleong, Lexy, Metodologi Penelitian Kualitatif , Bandung: PT Remaja Rosdakarya, 2011
Mufidah. Isu-isu Gender Kontemporer, Malang : UIN Maliki Press, 2010.
Mulia, Siti Musdah, et.al. Keadilan dan Kesetaraan Jender : Perspektif Islam, Tim Pemberdayaan Perempuan Bidang Agama Departemen Agama RI, 2001.
Mulyasana, Dedy, Pendidikan Bermutu dan Berdaya Saing, Bandung : Remaja Rosda Karya, 2015.
Muslikhati, Siti, Feminisme dan Pemberdayaan Perempuan dalam Timbangan Islam, Jakarta : Gema Insani, 2004.
Mutohar, Prim Masrokan, Manajemen Mutu Sekolah : Strategi Peningkatan Mutu dan Daya Saing Lembaga Pendidikan Islam, Yogyakarta : AR-Ruzz Media, 2013.
Nurlina, "Model Kepemimpinan Dalam Karakteristik Gender." Jurnal An-Nisa' Vol.VIII No.1 (Juni, 2015).
Sugiyono, Metodologi Penelitian Pendidikan Kuantitatif, Kualitatif dan R & D, Bandung: Alfabeta, 2011.
Yukl, Gary. Kepemimpinan dalam Organisasi, Jakarta : PT. Indeks, 2015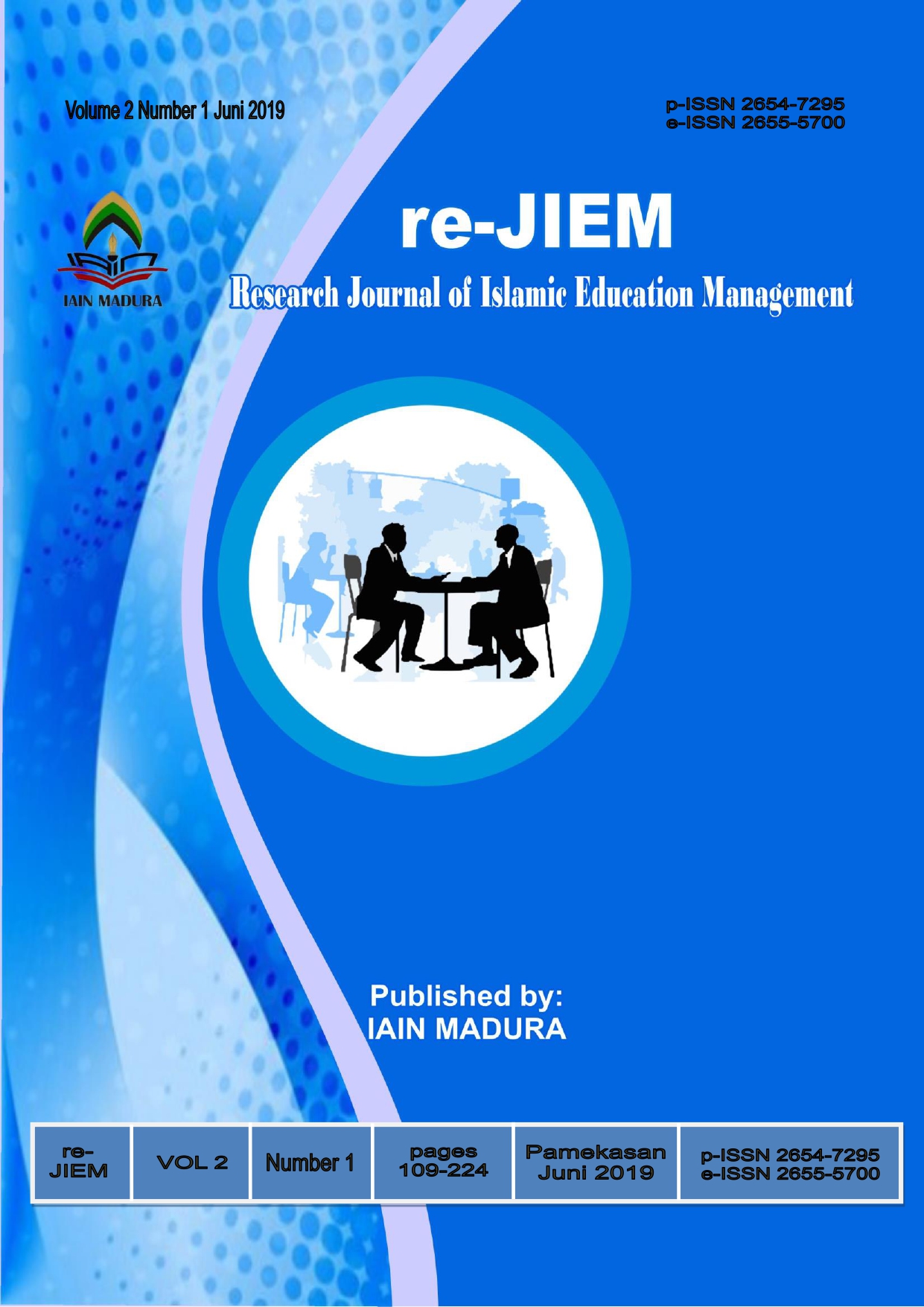 How to Cite
Khomairah, Wardhatul, and Siswanto Siswanto. 2019. "KINERJA KEPEMIMPINAN PEREMPUAN DALAM MENINGKATKAN DAYA SAING LEMBAGA PENDIDIKAN DI SMK AL-MUJTAMA' PLAKPAK PEGANTENAN-PAMEKASAN". Re-JIEM (Research Journal of Islamic Education Management) 2 (1), 202-12. https://doi.org/10.19105/re-jiem.v2i1.2461.
Authors who publish with this journal agree to the following terms:
Authors retain copyright and grant the journal right of first publication with the work simultaneously licensed under a Creative Commons Attribution-ShareAlike 4.0 International License that allows others to copy and redistribute the material in any medium or format with an acknowledgment of the work's authorship and initial publication in this journal and also allows to remix, transform, and build upon the material for any purpose, even commercially with contributions under the same license as the original.
Authors are able to enter into separate, additional contractual arrangements for the non-exclusive distribution of the journal's published version of the work (e.g., post it to an institutional repository or publish it in a book), with an acknowledgment of its initial publication in this journal.
Authors are permitted and encouraged to post their work online (e.g., in institutional repositories or on their website) prior to and during the submission process, as it can lead to productive exchanges, as well as earlier and greater citation of published work.