PENCIPTAAN LAYANAN PRIMA MELALUI PENERAPAN SISTEM INFORMASI MANAJEMEN DI PERPUSTAKAAN IAIN PURWOKERTO
Diyasika Ulinafiah

IAIN Purwokerto

Novan Ardy Wiyani

IAIN Purwokerto
Abstract views:
2600
,
PDF downloads:
1689
Abstract
This study aimed to find out how the Creation of Excellent Services through the application of Management Information Systems at the IAIN Purwokerto Library. This study has a qualitative approach with the conclusion that the Creation of Excellent Services through Management Information Systems in the Purwokerto IAIN Library cannot be separated from the theory of management functions, namely planning, organizing, implementing, and monitoring. The management functions that are applied in the Creation of Excellent Services through the implementation of Management Information Systems are as follows (1) Planning, procurement of Management Information System devices, even though they already exist but continue to be developed in supporting excellent services. (2) Organizing, through the implementation of a Management Information System that runs well because of the support of qualified human resources in each field, so that the use of tools or software can be in accordance with its function. (3) Implementation, excellent services run in accordance with operational standards, especially the use of Management Information Systems support the improvement of Prime Services in the Library. (4) Supervision, carried out by the head of the library by reviewing the performance of excellent service both direct supervision and indirect supervision.
Downloads
Download data is not yet available.
References
Atiqullah dan Milda karya Puspasari. Strategi Manajemen Perubahan dalam Meningkatkan Kualitas manajerial Pendidikan Islam di MAN 1 Pamekasan. Re-JIEM Vol. 1 No. 2, Edisi Desember 2018. http://ejournal.stainpamekasan.ac.id/index.php/re-jiem/article/view/2088/1280
Basuki-Sulistyo. Pengantar Ilmu Perpustakaan. Jakarta: Gramedia Pustaka Utama,1993.
Hamim, Muhamad. Sekilas Pandang Software Otomasi Perpustakaan Senayan Library Management System (SLiMS), Makalah disampaikan dalam pelatihan Software SLiMS di STAIN Pekalongan, Jurnal. Pekalongan, 2015.
Hidayat, Ara dan Imam Machali. Pengelolaan Pendidikan: Konsep, Prinsip dan Aplikasi dalam Mengelola Sekolah dan madrasah Bandung: Putaka Educa, 2010.
Kurniadin, Didin dan Imam Machali. Manajemen Pendidikan: Konsep & Prinsip Pengelolaan Pendidikan. Yogyakarta: Ar-Ruzz Media, 2012.
Malayu. Manajemen Dasar Pengertian dan Masalah. Jakarta: Bumi Aksara, 2005.
Mufkihin, M. Hizbul. Administrasi Pendidikan Tinjauan Teori Untuk Praktek Manajerial Bagi Guru dan Pimpinan Sekolah Yogyakarta: Pilar Media, 2013.
Mulyana, Dedy. Metodologi Penelitian Kualitatif, Paradigma Baru Ilmu Komunikasi dan Ilmu Sosial Lainnya. Bandung : PT. Remaja Rosdakarya, 2006.
Prayogi, Geni. Analisis Pengaruh Pelayanan Prima Terhadap Kepuasan Pengguna Jasa Ditinjau Dari Perspektif Islam. Skripsi. Lampung: Skripsi UIN Raden Intan Lampung, 2018.
Rini, Sulistyo. Manajemen Pendidikan Islam: Konsep, Strategi dan Aplikasi Yogyakarta: Teras, 2009.
Strauss, Anslem dan Juliet Gorbin. Dasar-Dasar Penelitian Kualitatif. Yogyakarta: Pustaka Pelajar, 2009.
Stueart, Robert D & John Taylor Easlick, Library Management. Colorado: Libraries Unlimited, Inc. n.d., tt.
Suparmo, Paulus. Menggagas Kualitas Perpustakaan Perguruan Tinggi. Desember VISI PUSTAKA, Vol. 14, No. 3, 2012.
Supriati, Eny. Peran Perpustakaan Dalam Meningkatkan Mutu Pendidikan Di Universitas Muhammadiyah Ponorogo, Muslim Heritage, Vol.2. No.2, (November 2017-April 2018),
Undang-Undang Republik Indonesia Nomor 43 Tahun 2007 Tentang Perpustakaan (LNRI Tahun 2007 No.129.TLNRI No.4774),
Wijaya, Antasari Indah. Analisis Layanan Perpustakaan IAIN Purwokerto Menurut Standar Akreditasi Perpustakaan Perguruan Tinggi. LIBRARIA, Vol. 4, No. 2.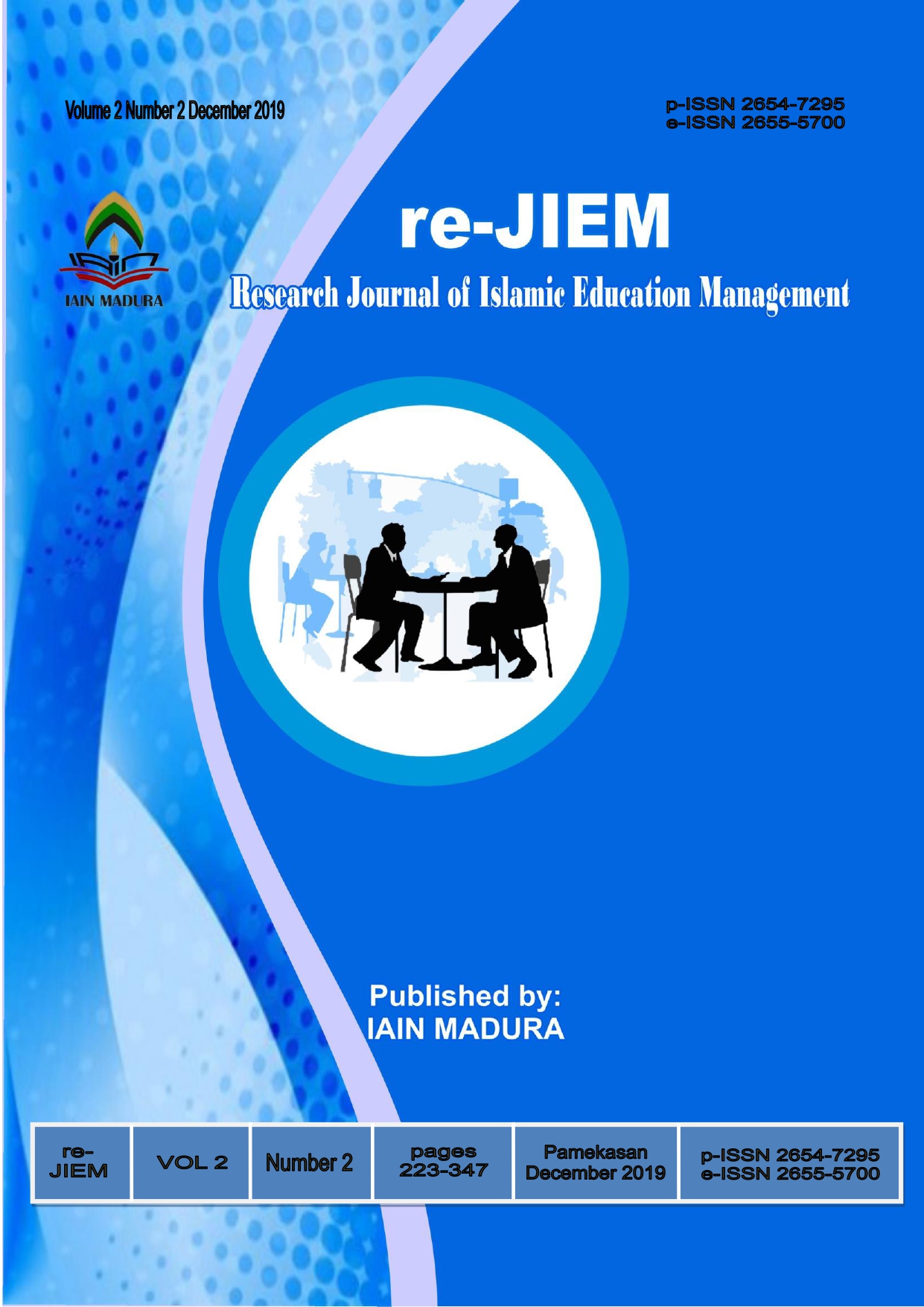 How to Cite
Ulinafiah, Diyasika, and Novan Ardy Wiyani. 2019. "PENCIPTAAN LAYANAN PRIMA MELALUI PENERAPAN SISTEM INFORMASI MANAJEMEN DI PERPUSTAKAAN IAIN PURWOKERTO". Re-JIEM (Research Journal of Islamic Education Management) 2 (2), 223-39. https://doi.org/10.19105/re-jiem.v2i2.2663.
Authors who publish with this journal agree to the following terms:
Authors retain copyright and grant the journal right of first publication with the work simultaneously licensed under a Creative Commons Attribution-ShareAlike 4.0 International License that allows others to copy and redistribute the material in any medium or format with an acknowledgment of the work's authorship and initial publication in this journal and also allows to remix, transform, and build upon the material for any purpose, even commercially with contributions under the same license as the original.
Authors are able to enter into separate, additional contractual arrangements for the non-exclusive distribution of the journal's published version of the work (e.g., post it to an institutional repository or publish it in a book), with an acknowledgment of its initial publication in this journal.
Authors are permitted and encouraged to post their work online (e.g., in institutional repositories or on their website) prior to and during the submission process, as it can lead to productive exchanges, as well as earlier and greater citation of published work.