MENINGKATKAN KUALITAS PEMBELAJARAN DI UPTD SDN KELEYAN 1 KECAMATAN SOCAH MELALUI SETRATEGI SOPIMESEM
Subakir Subakir

UPTD SDN Keleyan 1 Kecamatan Socah Kabupaten Bangkalan
Abstract views:
18
,
PDF downloads:
5
Abstract
The quality of education is realized through a quality learning process. Quality learning outcomes are quality student learning outcomes as well. Quality learning outcomes are learning outcomes in the form of critical thinking skills, innovative creative, communicative, and collaborative. This school action research was conducted to overcome the low quality of learning in UPey SDN Keleyan 1 Socah District. Sopimesem strategy was chosen as an alternative to overcoming the problem. With the research objectives: 1) Assessing the application of the Sopimesem strategy to improve the quality of learning; and 2) Explores the forms of improving the quality of learning through sopimesem strategy. The result Sopimesem Strategy can improve the quality of learning; and 2) Improving the quality of learning is characterized by a form of awareness and understanding the importance of changing learning paradigms as outlined in the lesson plan (RPP) and the implementation of quality learning by utilizing and applying various strategies, models, methods and innovative media in a good quality learning process in the natural environment and social environment while still paying attention to the principles of learning that favor learning through, relating, experienting, actuating, contextual, transferring.
Downloads
Download data is not yet available.
References
Budimansyah, D. PAKEM Pembelajaran Aktif, Kreatif, Efektif, dan Menyenangkan. Bandung:PT Genesindo. 2010.
Gerzon,M. Dalam Affandi I. Global Citizen. Bandung: Universitas Pendidikan Indonesia. 2012.
Komalasari, K. Pembelajaran Kontekstual Konsep dan Aplikasi.Bandung: PT Refika Aditama. 2011
Kurniawan, D. Pembelajaran Terpadu Teori, Praktek dan Penilaian. Bandung: CV Pustaka Cendekia Utama. 2011
Lie, A. Cooperating Learning Mempraktikan Cooperative Learning di ruang-ruang kelas. Jakarta: Gramedia. 2005.
Sardiman AM, Interaksi dan Motivasi Belajar Mengajar. Jakarta: PT Raja Gerfindo Persada. 2008.
Sudarwan, D.Visi Baru Manajemen Sekolah. Jakarta : Bumi Aksara. 2007
Sujana, N. Dasar-Dasar Proses Belajar Mengajar. Bandung: Sinar Baru Algensindo 2005
Wiriaadmadja, R. Metode Penelitian Tindakan Kelas, Untuk MeningkatkanKinerja Guru dan Dosen, Bandung; PT Remaja Rosdakarya. 2006
Zaitun Y.A.K. Sumber belajar dari berbagai sumber belajar. Jakarta: PPs UNY. 2009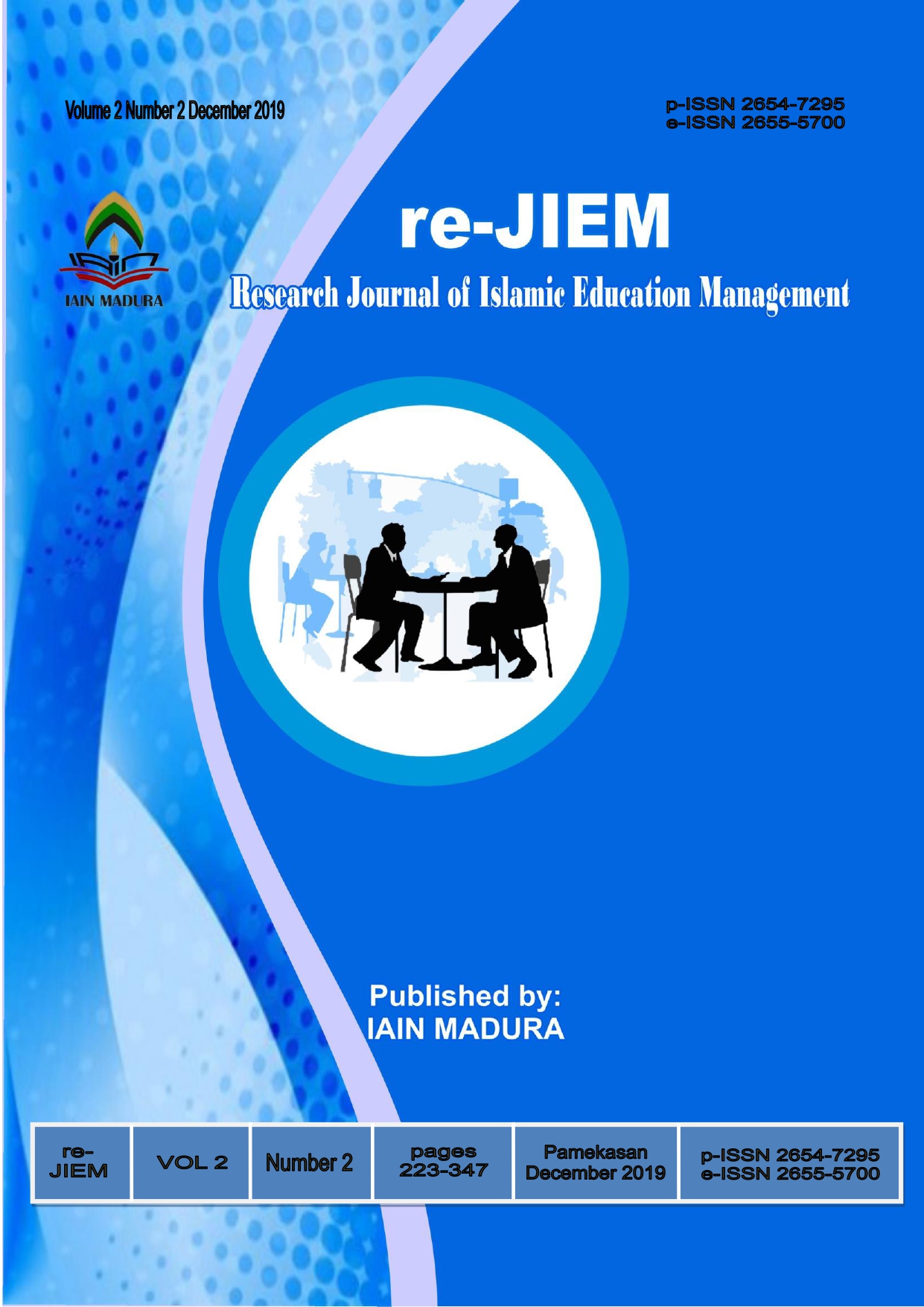 How to Cite
Subakir, Subakir. 2019. "MENINGKATKAN KUALITAS PEMBELAJARAN DI UPTD SDN KELEYAN 1 KECAMATAN SOCAH MELALUI SETRATEGI SOPIMESEM". Re-JIEM (Research Journal of Islamic Education Management) 2 (2), 333-47. https://doi.org/10.19105/re-jiem.v2i2.2985.
Authors who publish with this journal agree to the following terms:
Authors retain copyright and grant the journal right of first publication with the work simultaneously licensed under a Creative Commons Attribution-ShareAlike 4.0 International License that allows others to copy and redistribute the material in any medium or format with an acknowledgment of the work's authorship and initial publication in this journal and also allows to remix, transform, and build upon the material for any purpose, even commercially with contributions under the same license as the original.
Authors are able to enter into separate, additional contractual arrangements for the non-exclusive distribution of the journal's published version of the work (e.g., post it to an institutional repository or publish it in a book), with an acknowledgment of its initial publication in this journal.
Authors are permitted and encouraged to post their work online (e.g., in institutional repositories or on their website) prior to and during the submission process, as it can lead to productive exchanges, as well as earlier and greater citation of published work.