PENGARUH MUTU PELAYANAN PERPUSTAKAAN TERHADAP KECEPATAN MEMPEROLEH INFORMASI BAHAN PUSTAKA BAGI MAHASISWA PRODI MPI ANGKATAN 2018 DI IAIN MADURA
Tukad Adi Wijaya

MPI IAIN Madura

Mohammad Thoha

IAIN Madura
Abstract views:
39
,
PDF downloads:
59
Abstract
Service is an activity whose implementation is carried out by holding relationships, both directly and indirectly. The service referred to here is how the service process is implemented and carried out in the library of IAIN Madura to facilitate information retrieval of library materials for students, especially MPI study program students in class 2018. This is evident from the results of statistical analysis showing that the work r 0.622 is consulted with product criticism moment at the value of N = 32 with the value "r" of work is greater than the "r" table of product moment both at 95% intervals and at 99% intervals where it shows a value of 0.349. Thus it can be said that there is a positive correlation between the two research variables. how big is the relationship between the quality of library services to the speed of obtaining library material information for MPI study program batch 2018 in Madura IAIN r work is consulted with a product moment correlation interpretation table, where r work is in the range of values between 0.600 to 0.800 which means the second correlation or urgency the variable is at a sufficient level of significance.
Downloads
Download data is not yet available.
References
Arikunto, Suharsimi. Prosedur Penelitian; Suatu Pendekatan Praktik. Jakarta: PT. Rineka Cipta, 2006.
Bafadal, Ibrahim. Pengelolaan Perpustakaan Sekolah. Jakarta: Bumi Aksara, 2015.
Direktorat Jenderal Pembinaan Kelembagaan Agama Islam, Buku Pedoman Perpustakaan Dinas Departemen Agama R,I.. Jakarta: Biro Hukum dan Humas, 2000.
Hartono. Dasar-dasar Manajemen Perpustakaan dari Masa-kemasa. Malang: UIN Maliki Press, 2015.
———. Manajemen Perpustakaan Sekolah Menuju Perpustakaan Modern dan Profesional. Yogyakarta: Ar Ruzz Media, 2016.
———. Manajemen Sistem Informasi Perpustakaan. Yogyakarta: Gava Media, 2017.
Ibrahim, Andi. "Konsep Dasar Manajemen Perpustakaan Dalam Mewujudkan Mutu layanan Prima Dengan Sistem Temu Kembali Informasi Berbasis Digital." Jurnal Ilmu Perpustakaan & Kearsipan Khizanah Al-Hikmah 2, no. 2 (2014): 129–38.
Ishak. "Pengelolaan Perpustakaan Berbasis Teknologi Informasi." Jurnal Studi Perpustakaan dan Informasi, Vol. 4, No 2, Desember 2008.
Kadir, Abdul. Pengenalan Sistem Informasi. Yogyakarta: ANDI Yogyakarta, 2003.
Madura, Tim Penyusun Karya Tulis Ilmiah IAIN. Pedoman Penulisan Karya Tulis Ilmiah. Pamekasan: iainmadura press, 2015.
Margono S. Metodologi Penelitian Pendidikan. Jakarta: Rineka Cipta, 2001.
Nazir, Moh. Metode Penelitian. Bogor: Ghalia Indonesia, 2009.
Rahayuningsih. Pengelolaan Perpustakaan. Yogyakarta: Graha Ilmu, 2007.
Rifai, Agus. Perpustakaan Islam. Jakarta: Rajawali Pers, 2013.
Santi, Triana. "Penerapan Teknologi Informasi Untuk Meningkatkan Kualitas Layanan Perpustakaan IAIN Sumatra Utara." Jurnal Iqra' 2, no. 2 (2008).
Sari, Rita Purnama. "Peran Pengelola Perpustakaan dalam Memberikan Pelayanan Bimbingan Pemakai di Universitas Ida Banjumi Wahab Palembang." Jurnal Intelektualita 5, no. 2 (2016).
Subana, Moersetyo Rahadi, dan Sudrajat. Statistik Pendidikan. Bandung: Pustaka Setia, 2000.
Sudijono, Anas. Pengantar Statistik Pendidikan. Jakarta: PT. Raja Grafindo Persada, 2003.
Sugiono. Metode Penelitian Pendidikan Pendekatan Kuantitatif, Kualitaitif, dan R dan D. Bandung: Alfabeta, 2009.
Suhendar, Yaya. Cara Mengelola Perpustakaan Sekolah Dasar. Jakarta: Prenada Media, 2014.
Suhendar, Yaya dan Pawit Yusuf. Pedoman Penyelenggaraan Perpustakaan Sekolah, Jakarta: Prenada Media Group, 2016.
Suwarno, Wiji. Ilmu Perpustakaan & Kode Etik Pustakawan, Yokyakarta: Ar-Ruzz Media, 2015.
Ulinafiah, Diyasika, and Novan Ardy Wiyani. "Penciptaan Layanan Prima Melalui Penerapan Sistem Informasi Manajemen Di Perpustakaan IAIN Purwokerto." re-JIEM (Research Journal of Islamic Education Management) 2, no. 2 (2019): 223-239.
Yusuf, Pawit. Ilmu Informasi Komonikasi dan Kepustakaan. Jakarta: PT. Bumi Aksara, 2016.
Zuhra, Fatimah. "Pentingnya Teknologi Informasi Dalam Meningkatkan Pelayanan di Perpustakaan." Jurnal Iqra' 5, no. 1 (2011): 40.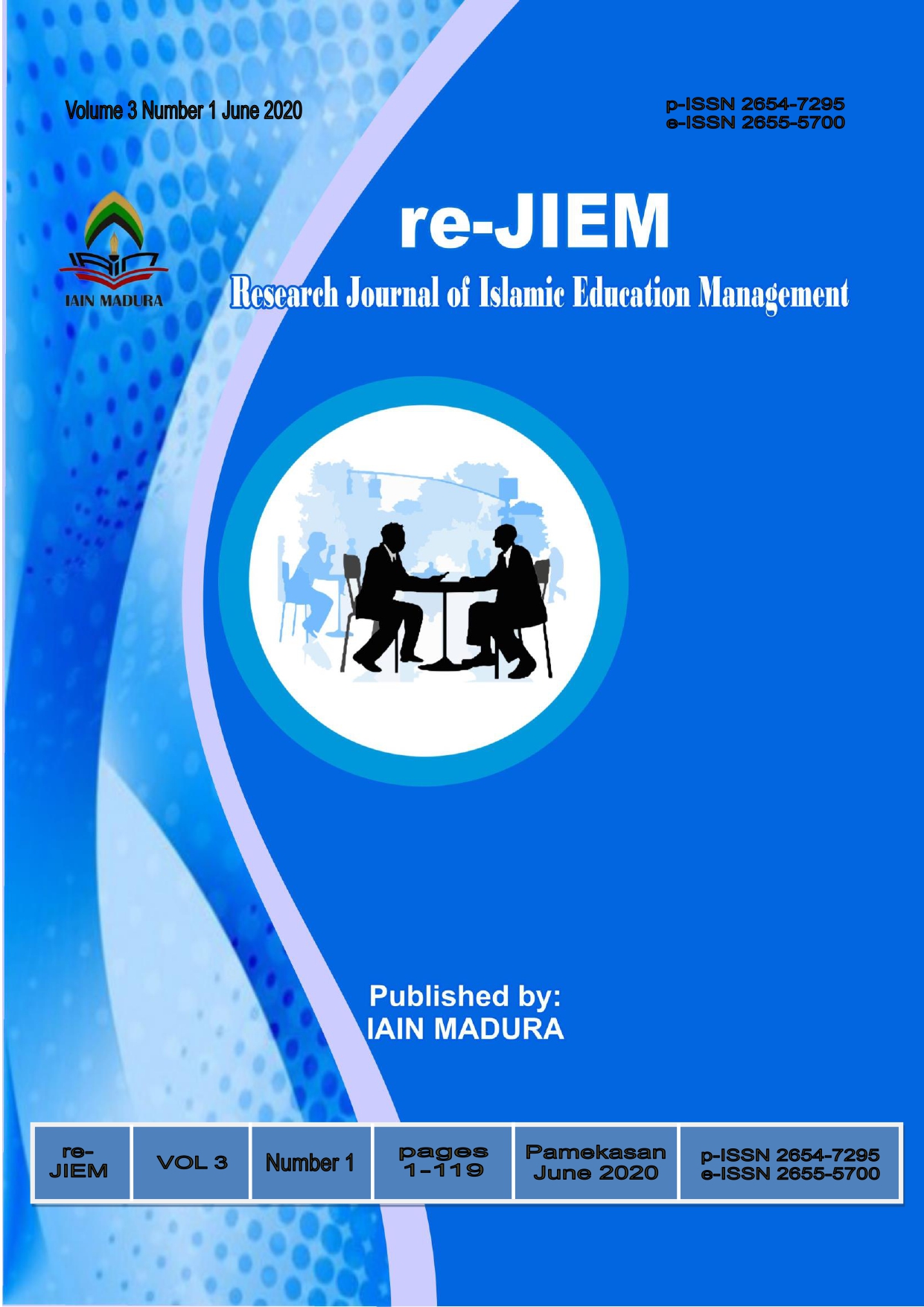 How to Cite
Wijaya, Tukad Adi, and Mohammad Thoha. 2020. "PENGARUH MUTU PELAYANAN PERPUSTAKAAN TERHADAP KECEPATAN MEMPEROLEH INFORMASI BAHAN PUSTAKA BAGI MAHASISWA PRODI MPI ANGKATAN 2018 DI IAIN MADURA". Re-JIEM (Research Journal of Islamic Education Management) 3 (1), 13-28. https://doi.org/10.19105/re-jiem.v3i1.3465.
Authors who publish with this journal agree to the following terms:
Authors retain copyright and grant the journal right of first publication with the work simultaneously licensed under a Creative Commons Attribution-ShareAlike 4.0 International License that allows others to copy and redistribute the material in any medium or format with an acknowledgment of the work's authorship and initial publication in this journal and also allows to remix, transform, and build upon the material for any purpose, even commercially with contributions under the same license as the original.
Authors are able to enter into separate, additional contractual arrangements for the non-exclusive distribution of the journal's published version of the work (e.g., post it to an institutional repository or publish it in a book), with an acknowledgment of its initial publication in this journal.
Authors are permitted and encouraged to post their work online (e.g., in institutional repositories or on their website) prior to and during the submission process, as it can lead to productive exchanges, as well as earlier and greater citation of published work.