EVENT MANAGEMENT OF OLAH BAKAT SISWA AKTIF (OBASTIF) FOR MADRASAH TSANAWIYAH LEVEL AS PROMOTION STRATEGY AT MA MIFTAHUL QULUB POLAGAN, GALIS PAMEKASAN
Achmad Damanhuri

IAIN Madura

Kacung Wahyudi

IAIN Madura

Badrus Soleh

IAIN Madura

Abdul Wafi

IAIN Madura
Abstract views:
37
,
PDF ENGLISH downloads:
25
Keywords:
Event Management, Obastif, Promotion Strategy
Abstract
Olah Bakat Siswa Aktif (OBASTIF)—a talent sport event for Madrasah Tsanawiyah level held at MA Miftahul Qulub Polagan Galis Pamekasan as a promotion strategy which in its implementation goes through stages namely planning, implementation and evaluation. The study focuses on (1) How is the planning of OBASTIF (2) How is the implementation of OBASTIF (3) How is the result of promotion through OBASTIF. This research uses a qualitative approach with a descriptive type. The data were obtained through interviews, observation, and documentation. The informant are school principal, teachers, and students of Miftahul Qulub Polagan. The research results show that: First. The planning for the OBASTIF covers: a). determining the purpose of the event, b). defining the forms of the event. c). Arranging the event details, d). forming a work team by involving OSIS (Student Council), e). preparing a budget. Second, the implementation process covers distributing brochures and giving delegation letters which are carried out a week before registration opens which are distributed by OSIS members; registration of the event is at MA Miftahul Qulub Polagan; technical meetings; competitions or events ; closing and giving award. Third, the results obtained by the institution are in accordance with what is expected namely MA Miftahul Qulub Polagan became famous to all schools of promotion target, as the institution which concerns on facilitating students in developing their talents.
Downloads
Download data is not yet available.
References
Agung, Anak Ngurah Gede Sadiartha. Best Practice Penelitian Kualitatif fan Publikasi Ilmiah. Banyumas: CV. Cakrawala Satria Mandiri, 2020.
Agusinta, Lira. Pengantar Metode Penelitian Manajemen. Surabaya: CV. Jakad Media Publishing, 2020.
Baharun, Hasan. "TOTAL MORAL QUALITY: A NEW APPROACH FOR CHARACTER EDUCATION IN PESANTREN", ULUMUNA: Journal of Islamic Studies, Vol. 21. No. 1, (2017): 59, https://www.ulumuna.or.id/index.php/ujis/article/view/10/3.
Ali, Ahmad Mutezar dan Umniy Salamah."Pengembangan Sistem Manajemen Event Pameran Karya Mahasiswa Menggunakan Mtode Extreme Programming," Jurnal RESTI (Rekayasa Sistem dan Teknologi Informasi), Vol. 5.No. 4, (2021).
Andi, Ujang Yusuf,"Manajemen Peserta Didik Dalam Perspektif Pendidikan Islam," Islamic Management: Jurnal Manajemen Pendidikan Islam.
Anggito, Albi dan Johan Setiawan.Metode Penelitian Kualitatif. Jawa Barat: CV Jejak, 2018.
Aziz, Abdul. Pengantar Manajemen dan Substansi Administrasi Pendidikan, Jember: Pustaka Radja. 2017.
Aziz, Abdul. Pengantar Manajemen Sumber Daya Manusia. Jember: Pena Salsabila. 2015.
Badruddin.Manajemen Peserta Didik. Bandung; Indeks. 2013.
Eko, Danu Agustinova. Memahami Metode Penelitian Kualitatif;Teori& Praktik Yogyakarta: Calpulis, 2015.
Gora, Radita. Riset Kualitatif Public Relation.Surabaya: Jakad Publishing, 2019.
Hamidi, Sekar De Putri. Event Management Pentas Seni Sebagai Media Komunikasi Identitas Sekolah (Studi Kasus Event Nesta Festival Di Smk Negeri 1 Kota Tangerang). Journal: Advis. Vol: 1 No:1 2020.
Helaluddin dan Hengki Wijaya, Analisis Data Kualitatif: Sebuah Tinjauan Teori & Praktik. Makassar: Sekolah Tinggi Theologia Jaffray, 2019..
J, Lexy Moleang. Metodologi Penelitian Kualitatif. Bandung: PT Remaja Rosdakarya, 2016.
Khasanah, Afidatun. "Pemasaran Jasa Pendidikan Sebagai Strategi Peningkatan Mutu Di Sd Alam Baturraden," Jurnal eL-Tarbawi Volume VIII, No.2, 2015.
Kusuma. Rr. Chusnu Syarifa Diah. Modul Manajemen Event.Jurusan Pendidikan Administrasi Fakultas Ekonomi Universitas Negeri Yogyakarta. 2016
Lutfi, Frizkania Annisa Fira dkk."Strategi Pemasaran Jasa Pendidikan Dalam Menarik Minat Masyarakat Melalui Program Kelas Khusus." Jamp: Jurnal Adminitrasi Dan Manajemen Pendidikan. Volume 3 Nomor 3 September 2020.
Made, I Laut Mertha Jaya. Metode Penelitian Kuantitatif dan kualitatif.Yogyakarta: Anak Hebat Indonesia, 2020.
Melva, Chintia Cahaya L. Tobing, Susie Perbawasari, dan Lukiati Komala Erdinaya, "Manajemen Special Event AJB Bumi Putra 1912 Bandung Melalui Customber Gtahering," Provesi Humas: Jurnal Ilmiah Ilmu Hubungan Masyarakat, Vol. 2, No. 1, (Agustus 2017).
Merawati, Dita dan Rino. "Penerapan Data Mining Penentu Minat dan Bakat Siswa SMK dengan Metode C4.5," Jurnal Algor, Vol. 1, No. 1, (2019).
Muchlis, Moh Solichin. Akhlak dan Tasawuf. Jember: Pena Salsabila. 2017.
Mudjiran, Psikologi Pendidikan: Penerapan Prinsip-prinsip Psikologi dalam Pembelajaran. Jakarta: Kencana, 2021.
Munandar.Pengembangan Kreativitas Anak Berbakat.
Munir, M. "Manajemen Pemasaran Pendidikan Dalam Meningkatkan Kuantitas Peserta Didik."INTIZAM :Jurnal Manajemen Pendidikan Islam Volume 1, Nomor 2, April 2018.
Muri, A Yusuf. Metode Penelitian Kuantitatif, Kualitatif & Penelitian Gabungan. Jakarta: Kencana, 2017.
Noor .Any, Manajement Event. Bandung: Alfabeta. 2017
Parnawi, Afi. Psikologi Perkembangan. Yogyakarta: Deepublish, 2021.
Prakarsa. Gigha Penta. Analisis Manajemen Event Developmental Basketball League Dalam Meningkatkan Jumlah Pengunjung. Program Studi S1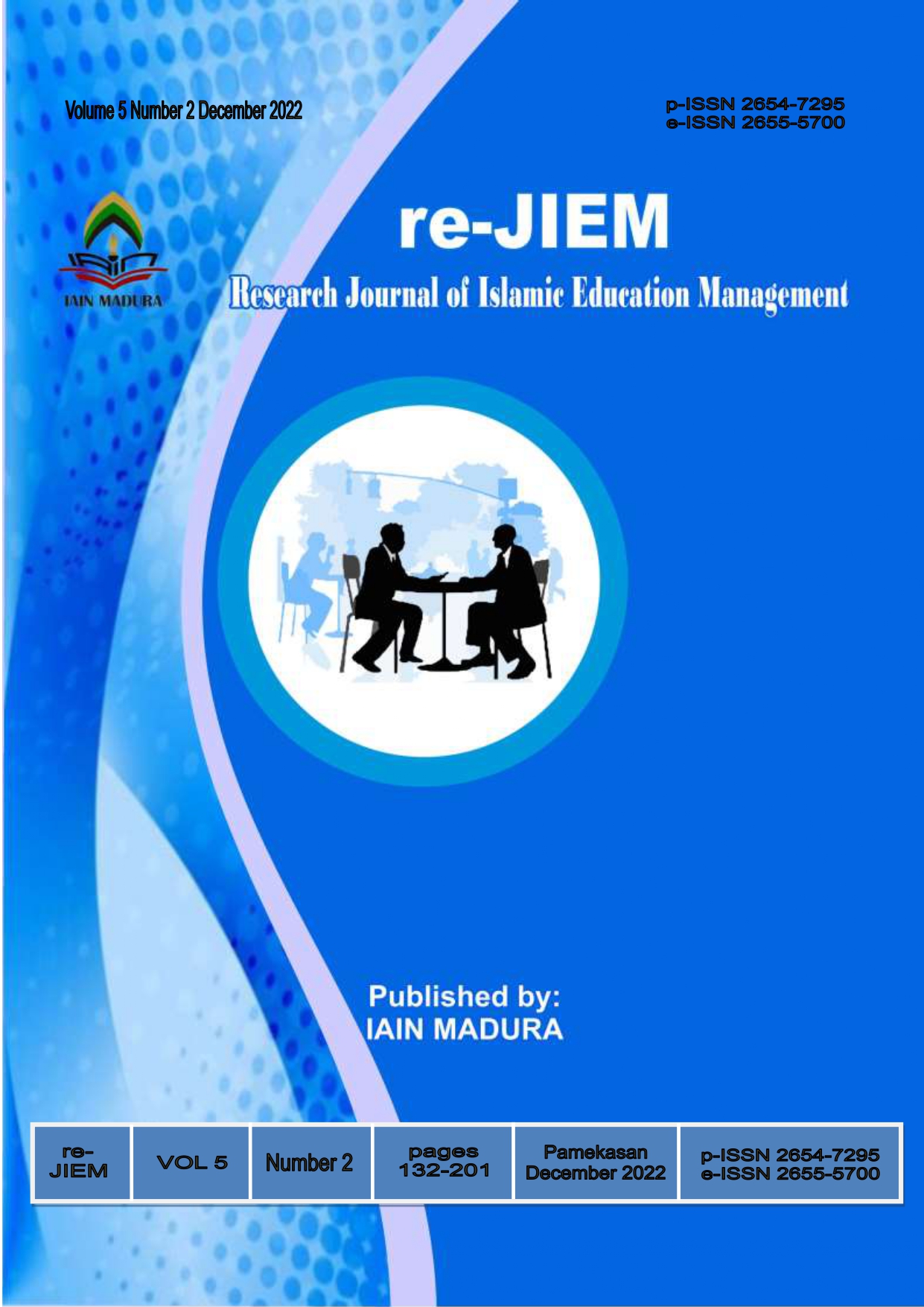 How to Cite
Achmad Damanhuri, Kacung Wahyudi, Badrus Soleh, and Abdul Wafi. 2022. "EVENT MANAGEMENT OF OLAH BAKAT SISWA AKTIF (OBASTIF) FOR MADRASAH TSANAWIYAH LEVEL AS PROMOTION STRATEGY AT MA MIFTAHUL QULUB POLAGAN, GALIS PAMEKASAN". Re-JIEM (Research Journal of Islamic Education Management) 5 (2), 172-82. https://doi.org/10.19105/re-jiem.v5i2.7515.
Copyright (c) 2022 Achmad Damanhuri, Kacung Wahyudi, Badrus Soleh
This work is licensed under a Creative Commons Attribution-ShareAlike 4.0 International License.
Authors who publish with this journal agree to the following terms:
Authors retain copyright and grant the journal right of first publication with the work simultaneously licensed under a Creative Commons Attribution-ShareAlike 4.0 International License that allows others to copy and redistribute the material in any medium or format with an acknowledgment of the work's authorship and initial publication in this journal and also allows to remix, transform, and build upon the material for any purpose, even commercially with contributions under the same license as the original.
Authors are able to enter into separate, additional contractual arrangements for the non-exclusive distribution of the journal's published version of the work (e.g., post it to an institutional repository or publish it in a book), with an acknowledgment of its initial publication in this journal.
Authors are permitted and encouraged to post their work online (e.g., in institutional repositories or on their website) prior to and during the submission process, as it can lead to productive exchanges, as well as earlier and greater citation of published work.