SCHOOL BUDGET NEEDS ASSESSMENT: MULTI-SITES STUDY AT MALANG PUBLIC JUNIOR HIGH SCHOOLS
Sutrisno

Universitas Islam Negeri Maulana Malik Ibrahim Malang
Abstract views:
44
,
PDF ENGLISH downloads:
31
Keywords:
Assessment, infrastructure, human resources, the curriculum
Abstract
This study aims to examine more deeply and find supporting factors related to the need for assessment funding in three public junior high schools in Malang city. In addition, this study also aims to analyze what dimensions are very supportive in the financing assessment process within the institution. This article uses a qualitative research type with a multi-site and descriptive approach to reveal some of these dimensions. Meanwhile, the techniques used in extracting data related to the research theme are in-depth interview techniques, participant observation, and documentation techniques. After going through data mining techniques to obtain information, the researchers found that five main things became successful in assessing school financing needs. First, identify the urgency of allocating absorbed education funding. Second, policy analysis in determining the main priority elements of education financing must be considered so that it is right on target and under the vision and mission of the institution. Third, being able to assess and identify sources that generate funding for education. Fourth, agencies and stakeholders involve the community in the education design and financing process.
Downloads
Download data is not yet available.
References
Creswell, John W. Research Design Pendekatan Kualitatif, Kuantitatif, Dan Mixed. Yogyakarta: Pustaka Pelajar, 2016.
Ernadila, Zuhriva Ulfi, Tasya Putri Hendrika, and Ahmad Fauzan Hidayatullah. "Implementasi Unity of Science Terhadap Visi Dan Misi UIN Walisongo Semarang." Jurnal Intelektualita: Keislaman, Sosial Dan Sains 10, no. 1 (February 10, 2021): 7–13. https://doi.org/10.19109/intelektualita.v10i1.7139.
Handayani, Noor Fazariah, and Nadya Huda. "Manajemen Pembiayaan Pendidikan Di SMA Negeri Pascadesentralisasi Pendidikan." Jurnal Administrasi Dan Manajemen Pendidikan 3, no. 4 (December 31, 2020): 332–41. https://doi.org/10.17977/um027v3i42020p332.
Jääskä, Elina, and Kirsi Aaltonen. "Teachers' Experiences of Using Game-Based Learning Methods in Project Management Higher Education." Project Leadership and Society 3 (December 2022): 100041. https://doi.org/10.1016/j.plas.2022.100041.
Latifah, Latifah, and Noor Fazariah Handayani. "Kontribusi Manajemen Berbasis Sekolah (MBS) Dan Kepuasan Kerja Terhadap Pelaksanaan Kinerja Guru Di SD Muhammadiyah Martapura." Jurnal Terapung : Ilmu - Ilmu Sosial 4, no. 1 (March 15, 2022): 18. https://doi.org/10.31602/jt.v4i1.7356.
Moleong, Lexy J. Metode Penelitian Kualitatif. Edisi Revisi. Bandung: PT. Remaja Rosdakarya, 2013.
Ninik, -. "Peranan Komite Sekolah Dalam Pembiayaan Pendidikan Di SMA Negeri 1 Tuntang Kabupaten Semarang." Edukasi 14, no. 1 (May 20, 2020). https://doi.org/10.15294/edukasi.v14i1.969.
Paramaartha, Dian Nataly. "Pengaruh Kekuasaan Dan Pengambilan Keputusan Terhadap Komitmen Organisasi Guru Sekolah Dasar BPK Penabur Di Jakarta." Jurnal Manajemen Pendidikan 6, no. 1 (July 11, 2015): 1087–96. https://doi.org/10.21009/jmp.v6i1.1843.
Purnomo, Sutrimo. "Pengembangan Sasaran, Visi Dan Misi Hubungan Masoyarakat Di Lembaga Pendidikan Berbasis Kepuasan Pelanggan." Jurnal Kependidikan 3, no. 2 (February 17, 2017): 52–69. https://doi.org/10.24090/jk.v3i2.899.
Putra, Pasca Dwi, Muhammad Nasir, and Noni Rozaini. "Peningkatan Kesejahteraan Masyarakat Melalui Pendidikan, Pemberdayaan Ekonomi, Peningkatan Sarana Dan Prasarana Serta Kesehatan Di Kota Gunung Sitoli: Implementasi Corporate Social Responsibility (CSR) PT. Pertamina (Persero) Marketing Operating Region (MOR) I – Terminal Bahan Bakar Minyak (TBBM) Gunung Sitoli." JURNAL PENGABDIAN KEPADA MASYARAKAT 24, no. 3 (December 19, 2018): 776. https://doi.org/10.24114/jpkm.v24i3.11611.
Ranto, Ranto. "The Study Of Law In The Theory Of Leadership John E. Maxwell As Well As Its Application Against The Leadership Of The Effective." Journal Didaskalia 4, no. 1 (April 23, 2021): 46–54. https://doi.org/10.33856/didaskalia.v4i1.213.
Razik, Taher A., Austin D. Swanson, and Taher A. Razik. Fundamental Concepts of Educational Leadership and Management. 3rd ed. Boston: Allyn & Bacon, 2010.
Rolos, Renaldy Fernando, Jullie J Sondakh, and Robert Lambey. "Analisis Penerapan Standar Akuntansi Keuangan Entitas Tanpa Akuntabilitas Publik (Sak Etap) Dalam Penyajian Laporan Keuangan Pada Koperasi Pegawai Republik Indonesia (KPRI) Gelora Pendidikan Kota Tomohon." GOING CONCERN : JURNAL RISET AKUNTANSI 11, no. 2 (June 30, 2016). https://doi.org/10.32400/gc.11.2.13061.2016.
Samudi, Samudi. "Pengaruh Kepuasan Kerja, Budaya Organisasi Dan Efikasi Diri, Terhadap Kinerja Guru Pada Sekolah Menengah Atas Di Kabupaten Pendeglang Banten." Aksioma Ad-Diniyah 10, no. 1 (June 30, 2022). https://doi.org/10.55171/jad.v10i1.654.
Santika, Dewayu Candra, I Gede Mahendra Darmawiguna, and Gede Saindra Santyadiputra. "HUBUNGAN ANTARA KOMPETENSI PEDAGOGIK DAN PROFESIONAL GURU PPL JURUSAN PENDIDIKAN TEKNIK INFORMATIKA TERHADAP MOTIVASI BELAJAR SISWA SMK SE-KOTA SINGARAJA." Jurnal Nasional Pendidikan Teknik Informatika (JANAPATI) 6, no. 3 (January 4, 2018): 271. https://doi.org/10.23887/janapati.v6i3.12014.
Santoso, Muhammad Shalman Al Farizy. "Analisis Anggaran Pendapatan Belanja Negara (APBN) Terhadap Pendanaan Kebijakan Pendidikan." Jurnal Studi Ilmu Pemerintahan 2, no. 2 (August 20, 2021): 31–36. https://doi.org/10.35326/jsip.v2i2.1524.
Sobry, M. "Proses Penjaminan Mutu Lembaga Pendidikan Islam Melalui Manajemen Mutu Terpadu." EL-HIKMAH: Jurnal Kajian Dan Penelitian Pendidikan Islam 10, no. 2 (March 19, 2018): 211–22. https://doi.org/10.20414/elhikmah.v10i2.216.
Sugiyono. Metode Penelitian Kuantitatif Kualitatif Dan R&D. Bandung: Alfabeta, 2019.
Sulardi, Sulardi. "Pengaruh Manajemen Berbasis Sekolah Dan Iklim Organisasi Sekolah Terhadap Profesionalitas Guru Smp/Mts Muhammadiyah Di Kabupaten Sorong Provinsi Papua Barat." Jurnal Pendidikan 5, no. 2 (July 10, 2017): 64–74. https://doi.org/10.36232/pendidikan.v5i2.129.
Tim MCW. "APBD Kota Malang 2022: Dari Rakyat Dan Untuk Rakyat?" News. Suara Rakyat (blog), March 10, 2022. https://mcw-malang.org/apbd-kota-malang-2022-dari-rakyat-dan-untuk-rakyat/#:~:text=Untuk%20sektor%20pendidikan%20Pemkot%20Malang,signifikan%20hingga%2010%2C39%25.
Togatorop, Manoto. "Pengaruh Biaya Pendidikan Terhadap Mutu Sekolah SMA Swasta." Scholaria: Jurnal Pendidikan Dan Kebudayaan 7, no. 3 (September 18, 2017): 234. https://doi.org/10.24246/j.scholaria.2017.v7.i3.p234-240.
Widodo, Andre Prasetyo. "Implementasi Kebijakan Dana BOS Di Kota Malang." SOCIA: Jurnal Ilmu-Ilmu Sosial 17, no. 2 (February 25, 2021). https://doi.org/10.21831/socia.v17i2.32478.
Winarsih, Sri. "Pendidikan Bebas Biaya Dalam Meningkatkan Mutu Pendidikan Di Sekolah/Madrasah." Cendekia: Jurnal Kependidikan Dan Kemasyarakatan 12, no. 1 (March 4, 2016): 89. https://doi.org/10.21154/cendekia.v12i1.369.
Yunani, Enik Binti. "Pengaruh Kompetensi Pedagogik Guru dan Motivasi Belajar Siswa terhadap Hasil Belajar Hifdzil Qur'an" 1 (2019).
Yunma, Yunma, Fauziah Endah Pahlevi, Mega Jessica, and Siti Nur Apipah. "Keterkaitan Visi Dan Misi Terhadap Kinerja Di Kamtor Urusan Agama Kecamatan Solokanjeruk." Komitmen: Jurnal Ilmiah Manajemen 2, no. 1 (March 31, 2021): 64–74. https://doi.org/10.15575/jim.v2i1.12479.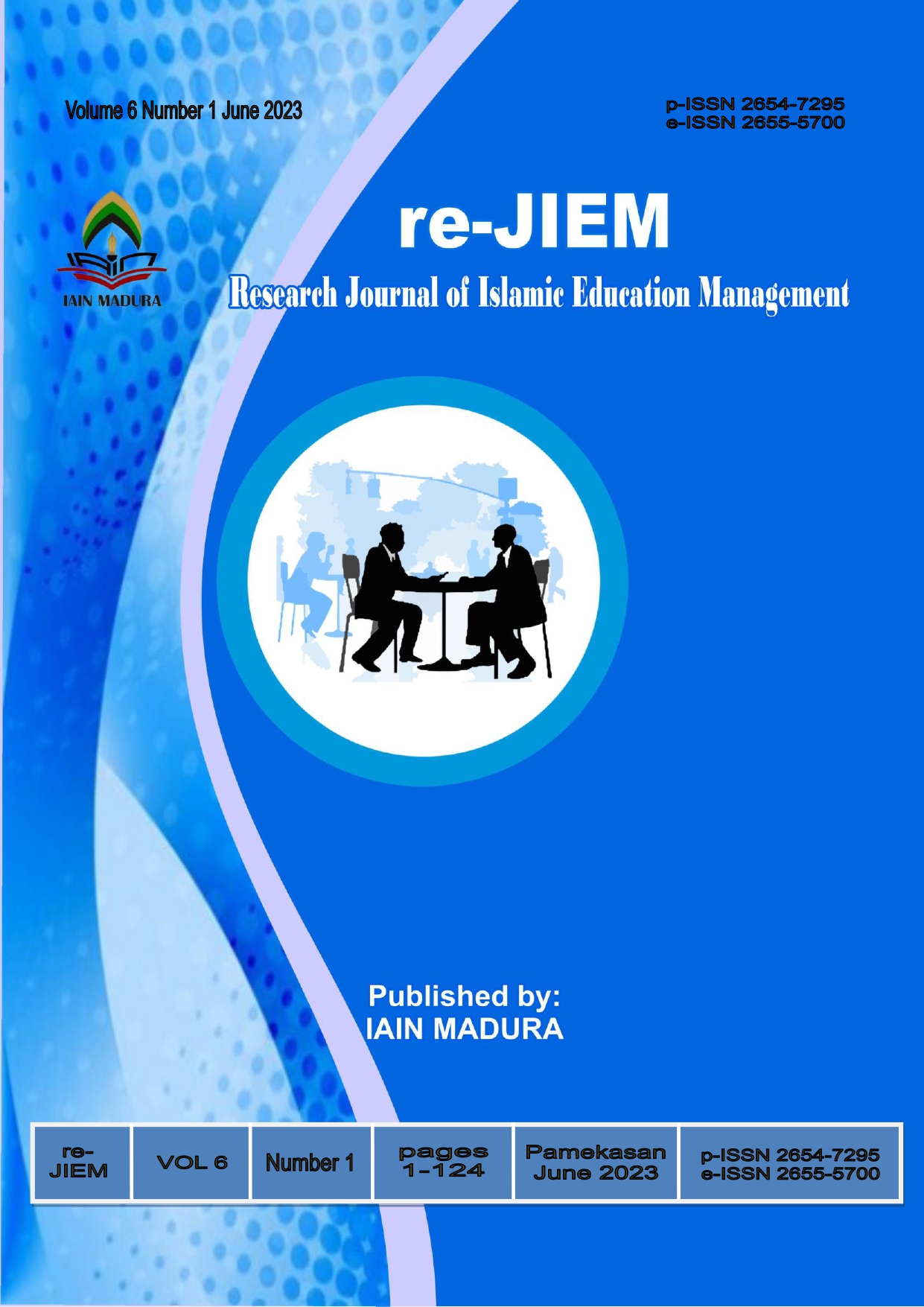 How to Cite
Sutrisno. 2023. "SCHOOL BUDGET NEEDS ASSESSMENT: MULTI-SITES STUDY AT MALANG PUBLIC JUNIOR HIGH SCHOOLS". Re-JIEM (Research Journal of Islamic Education Management) 6 (1), 43-57. https://doi.org/10.19105/re-jiem.v6i1.8436.
Copyright (c) 2023 Sutrisno
This work is licensed under a Creative Commons Attribution-ShareAlike 4.0 International License.
Authors who publish with this journal agree to the following terms:
Authors retain copyright and grant the journal right of first publication with the work simultaneously licensed under a Creative Commons Attribution-ShareAlike 4.0 International License that allows others to copy and redistribute the material in any medium or format with an acknowledgment of the work's authorship and initial publication in this journal and also allows to remix, transform, and build upon the material for any purpose, even commercially with contributions under the same license as the original.
Authors are able to enter into separate, additional contractual arrangements for the non-exclusive distribution of the journal's published version of the work (e.g., post it to an institutional repository or publish it in a book), with an acknowledgment of its initial publication in this journal.
Authors are permitted and encouraged to post their work online (e.g., in institutional repositories or on their website) prior to and during the submission process, as it can lead to productive exchanges, as well as earlier and greater citation of published work.