MANAJEMEN KONFLIK MADRASAH PASCA PANDEMI COVID- 19 DI WILAYAH TAPAL KUDA
Riayatul Husnan

UIN Kiai Haji Achmad Siddiq Jember

Rofiq Hidayat

UIN Kiai Haji Achmad Siddiq Jember

Machfudz

UIN Kiai Haji Achmad Siddiq Jember
Abstract views:
148
,
PDF downloads:
110
Keywords:
Conflict, Intragroup, Intergroup, Integrative
Abstract
The Covid-19 pandemic has created new conflicts within educational institutions, especially madrasas. Moreover, the Tapal Kuda is an area that has a different culture and language so it requires proper conflict management. For this reason, this research is focused on three places, namely MAN 1 Jember, MAN Bondowoso, and MAN 2 Banyuwangi which are in the center of the Tapal Kuda. The purpose of this study is to describe the process of identification, classification, and problem-solving strategies related to conflict management in Madrasas after the Covid-19 pandemic in the Tapal Kuda area. Data mining using observation, documentation, and semi-structured interviews. Data analysis used the Miles and Huberman models, testing the validity of the data using technical triangulation. The results showed that 1) The process of identifying post-covid-19 madrasa conflict management problems in the Tapal Kuda area based on Tosi's conflict theory is still in the first stage in the form of antendants of conflict, 2) The majority conflict classification process is with intragroup, for MAN 2 Banyuwangi with intragroup and intergroup because it deals with stakeholders outside the school, 3) Conflict resolution strategies are in an integrative style because the three madrasas involve many parties and remain open to suggestions and criticism.
Downloads
Download data is not yet available.
References
Nurhadi, Ali. Novela Angga Pratiwi, dan Badrus Soleh, "Penarikan Minat Masyarakat Sebagai Wujud Strategi Kepala Sekolah Dalam Membangun Citra Positif Lembaga di SMA Wachid Hasyim Pamekasan," re-JIEM: Research Journal of Islamic Education Management 4, no. 2 (2021). http://ejournal.iainmadura.ac.id/index.php/re-jiem/article/view/5847
Badan Pusat Statistik. Statistik Pendidikan 2020. Jakarta: BPS, 2020.
Badan Pusat Statistik Jawa Timur. Statistik Pendidikan Provinsi Jawa Timur 2019. Surabaya: BPS, 2019.
Bashori. "Manajemen Konflik Di Tengah Dinamika Pondok Pesantren Dan Madrasah" Jurnal Muslim Heritage Vol.1 No.2 (2016).
Efferi, Adri. "Manajemen Konflik dalam Lembaga Pendidikan". Quality: Jurnal Of Empirical Research In Islamic Education Vol. 1. No. 1 (2013)
Hasan, Nor and Fifi Rahman. "KORELASI MANAJEMEN PENDIDIKAN BERBASIS MULTIKULTURAL TERHADAP BUDAYA TOLERANSI SISWA DI SMK MIFTAHUL QULUB POLAGAN GALIS PAMEKASAN TAHUN 2018". Re-JIEM (Research Journal of Islamic Education Management) 1 (2), (2022) https://doi.org/10.19105/re-jiem.v1i2.6864.
Kementerian Agama RI, "Data Lembaga Provinsi Jawa Timur," Emis dashboard, http://emispendis.kemenag.go.id/dashboard/?content=data- statistik&action=prov&prov=35 diakses tanggal 14 Oktober 2021
Fathorrahman & Zahiroh, "Manajemen Konflik di Lembaga Pendidikan Islam (StudiKasus di Madrasah Aliyah Raudlatul Iman Ganding Sumenep)", AL-IMAN: Jurnal Keislaman dan Kemasyarakatan Vol.2 No.2 (2018)
Kementerian Agama RI. Al-Qur'an dan Terjemah. Jakarta: Tim Lajnah Pentashih Mushaf Al-Qur'an, 2013.
Khoeron, Moh. "Pandemi dan Dampaknya pada Pendidikan Madrasah" 21 Juni 2021, Kemenag.go.id., https://kemenag.go.id/read/pandemi-dan-dampaknya-pada- pendidikan-madrasah-wk7vz, diakses tanggal 14 Oktober 2021.
Pangabean, Rizal. Manajemen Konflik Berbasis Sekolah. Jakarta, PT Pustaka Alvabet, 2015.
Rachman, Febriannur, Rio & Ilmaniya, Solehati. "Komunikasi Antarbudaya di Pondok Pesantren (Studi Kasus di Pondok Pesantren Putri Miftahul Ulum Banyuputih Lumajang)." Al-Insyiroh: Jurnal Studi Keislaman 6.2 (2020).
Rahim, M. Afzalur. Managing Conflict in Organizations Third Edition. London: Quorum Books, 2010.
Rifai, Fuad Yanuar Akhmad. Manajemen Konflik di Sekolah Menengah KejuruanMa'arif Kota Mungkid. Tesis, STIE Widya Wiwaha, 2016.
Santosa, Edi dan Budiati, Lilin. Buku Tematik Modul IPEM4309 Manajemen Konflik. Jakarta: Universitas Terbuka, 2014.
Sekretariat Negera RI. Undang-Undang RI, No. 7 Tahun 2012. Tentang Penanganan Konflik Sosial.
Shanti, Hreeloita Dharma."Kemendikbudristek ungkap kondisi pendidikan indonesiasaat pandemi," 20 Agustus 2021, antara news.com, https://www.antaranews.com/berita/2340590/kemendikbudristek-ungkap- kondisi- pendidikan-indonesia-saat-pandemi, diakses tanggal 14 Oktober2021.
Soh, Hafeesee. "Manajemen Konflik di Madrasah Samphan Vittaya School Thailand Selatan." Tesis, UIN Raden Intan Lampung, 2018.
Sulistyorini, & Fathurrohman, Muhammad. Esensi Manajemen Pendidikan Islam. Yogyakarta: Teras, 2014.
Tjabolo, Siti Aisyah. Manajemen Konflik Teori dan Aplikasi. Pustaka Setia, 2017.
Usboko, Wilibrordus Cornelis. Manajemen Konflik Interpersonal di Sekolah (Studi Multi Kasus di SMA Negeri 1 Kefamenanu dan SMAK Warta BaktiKefamenanu, Timor, NTT). Tesis, Universitas Negeri Malang, 2013.
Zazin, Nur. Kepemimpinan dan Manajemen Konflik. Yogyakarta:Absolute Media, 2020.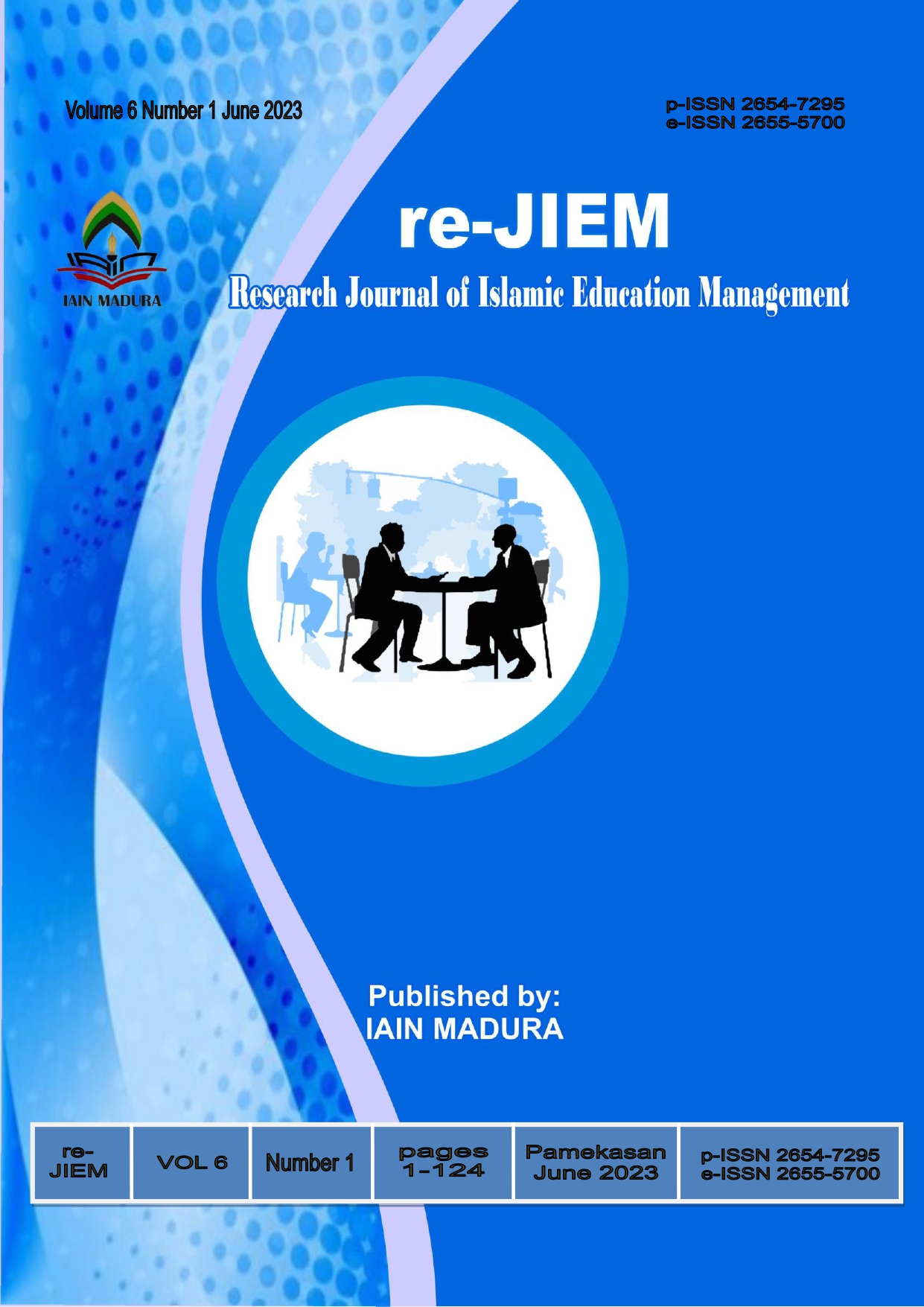 How to Cite
Husnan, Riayatul, Rofiq Hidayat, and Machfudz. 2023. "MANAJEMEN KONFLIK MADRASAH PASCA PANDEMI COVID- 19 DI WILAYAH TAPAL KUDA". Re-JIEM (Research Journal of Islamic Education Management) 6 (1), 74-85. https://doi.org/10.19105/re-jiem.v6i1.8587.
Copyright (c) 2023 Riayatul Husnan
This work is licensed under a Creative Commons Attribution-ShareAlike 4.0 International License.
Authors who publish with this journal agree to the following terms:
Authors retain copyright and grant the journal right of first publication with the work simultaneously licensed under a Creative Commons Attribution-ShareAlike 4.0 International License that allows others to copy and redistribute the material in any medium or format with an acknowledgment of the work's authorship and initial publication in this journal and also allows to remix, transform, and build upon the material for any purpose, even commercially with contributions under the same license as the original.
Authors are able to enter into separate, additional contractual arrangements for the non-exclusive distribution of the journal's published version of the work (e.g., post it to an institutional repository or publish it in a book), with an acknowledgment of its initial publication in this journal.
Authors are permitted and encouraged to post their work online (e.g., in institutional repositories or on their website) prior to and during the submission process, as it can lead to productive exchanges, as well as earlier and greater citation of published work.