The Phenomenon of Internet Addiction Disorder Online Gambling In Probolinggo
Nining Winarsih

Universitas Islam Zainul Hasan Genggong

Sofia Salsabila

Universitas Islam Zainul Hasan Genggong
Abstract views:
410
,
PDF downloads:
214
Keywords:
students, online gambling, internet
Abstract
Information and communication technology in the 5.0 era is massive and make changes to people's lives. There are many positive impacts from the internet, but there are also negative impacts causing problematic behavior in society such as online gambling. This study uses a phenomenological type of qualitative approach. The sample used in this purposive sampling study was the active students of Probolinggo Regency. Data collection techniques used by researchers in this study were observation, in-depth interviews, and documentation. Testing the validity of the data in this study using source triangulation techniques. Analyzing the data obtained carried out several stages, namely data collection, data reduction, data presentation, and verification/drawing conclusions. The results of the study show that online gambling has a negative and positive impact on the lives of Probolinggo students who are already familiar with online gambling. The negative impacts felt by Probolinggo students in their lives such as decreased learning achievement, resulting in addiction, and lack of socializing with family. not only has a negative impact, but also has a positive impact on the lives of its users (students) such as getting big profits. This research is recommended to the public, especially educators and students, to be more aware of the phenomenon of addiction disorder which is quite worrying.
Keywords: online gambling, student, internet
Downloads
Download data is not yet available.
References
ASRIADI. 2020. "ANALISIS KECANDUAN JUDI ONLINE (STUDI KASUS PADA SISWA SMAK AN NAS MANDAI MAROS KABUPATEN MAROS)."
AT, Muhammad Ramli, Andi Haris, Heru Heru, and Andi Rusdayani A. 2019. "Judi Online Dikalangan Remaja (Kasus Kelurahan Bone – Bone, Luwu)." Hasanuddin Journal of Sociology 1(2):127–38. doi: 10.31947/hjs.v1i2.9432.
Bafi, Ahmad Laroy, A. Pahmi, Dinda Meidianti Kusuma Putri, Shalma Rachmayani Putri, Firwam Al Ayubi, and Nur Aini Rakhmawati. 2019. "Analisa Demografi Dan Jaringan Penjudi Daring Di Twitter Menggunakan Metode Social Network Analysis." ETTISAL : Journal of Communication 4(2):221. doi: 10.21111/ejoc.v4i2.3682.
Cataldo, Ilaria, Eleonora Casonato, Ermelinda Levari, Attilio Negri, Pierluigi Simonato, Giulia Tomasi, Giovanna Branz, Aurora Coppola, Pietro Gianfranceschi, Eva Leoni, Pietro Mistretta, Martina Stefani, Miriam Vanzetta, Anna Franceschini, Gianluca Esposito, and Ornella Corazza. 2022. "Gambling at the Time of COVID-19: Results from Interviews in an Italian Sample of Gamblers." Emerging Trends in Drugs, Addictions, and Health 2(November 2021):100032. doi: 10.1016/j.etdah.2022.100032.
Escario, José Julián, and Anna V. Wilkinson. 2020. "Exploring Predictors of Online Gambling in a Nationally Representative Sample of Spanish Adolescents." Computers in Human Behavior 102(September 2019):287–92. doi: 10.1016/j.chb.2019.09.002.
González-Cabrera, Joaquín, Aránzazu Basterra-González, Irene Montiel, Esther Calvete, Halley M. Pontes, and Juan M. Machimbarrena. 2022. "Loot Boxes in Spanish Adolescents and Young Adults: Relationship with Internet Gaming Disorder and Online Gambling Disorder." Computers in Human Behavior 126(September 2021). doi: 10.1016/j.chb.2021.107012.
Han, Xiaohui, Lianhai Wang, Shujiang Xu, D. Zhao, and Guangqi Liu. 2019. "Recognizing Roles of Online Illegal Gambling Participants: An Ensemble Learning Approach." Computers and Security 87. doi: 10.1016/j.cose.2019.101588.
Ivanova, Ekaterina, Jonas Rafi, Philip Lindner, and Per Carlbring. 2019. "Experiences of Responsible Gambling Tools among Non-Problem Gamblers: A Survey of Active Customers of an Online Gambling Platform." Addictive Behaviors Reports 9(October 2018). doi: 10.1016/j.abrep.2019.100161.
Jupalman Welly Simbolon. 2022. "Aplikasi Game Online Higgs Domino Island Di Kalangan Mahasiswa Dalam Perspektif Patologi Sosial." 5(1):69–83.
Latumaerissa, Denny, Jetty Martje Patty, and Carolina Tuhumury. 2021. "Fenomena Judi Toto Gelap (Togel) Online Pada Masyarakat (Kajian Kriminologi)." Jurnal Belo 7(2):236–55.
Newall, Philip W. S., Leonardo Weiss-Cohen, Henrik Singmann, W. Paul Boyce, Lukasz Walasek, and Matthew J. Rockloff. 2022. "A Speed-of-Play Limit Reduces Gambling Expenditure in an Online Roulette Game: Results of an Online Experiment." Addictive Behaviors 127:107229. doi: 10.1016/j.addbeh.2021.107229.
Oksanen, A., E. Mantere, I. Vuorinen, and I. Savolainen. 2022. "Gambling and Online Trading: Emerging Risks of Real-Time Stock and Cryptocurrency Trading Platforms." Public Health 205:72–78. doi: 10.1016/j.puhe.2022.01.027.
Pratama, Ryan Putra. 2019. "Judi Online Di Kalangan Mahasiswa."
Pratama, Yozzi Yuda, and Erianjoni Erianjoni. 2022. "Motif Mahasiswa Di Kota Padang Bermain Judi Bola Online." Urnal Kajian Sosiologi Dan Pendidikan 5:136–43.
Risky Andi Pratama. 2021. "ANALISIS YURIDIS DUGAAN TINDAK PIDANA PERJUDIAN BERBASIS INFORMASI TEKNOLOGI (PERJUDIAN ONLINE) BERDASARKAN PASAL 45 AYAT 2 UNDANG – UNDANG REPUBLIK INDONESIA NO. 19 TAHUN 2016 SEBAGAIMANA DALAM PERUBAHAN ATAS UNDANG – UNDANG REPUBLIK INDONESIA NO. 11 TAH." 27 Nomor 1.
Sandi Firnando Martinus Legowo. n.d. "MOTIF JUDI ONLINE (REMI POKER) SEBAGAI TUMPUHAN MATA PENCAHARIAN KELUARGA DI KELURAHAN WIYUNG, SURABAYA."
Savolainen, Iina, Atte Oksanen, Markus Kaakinen, Anu Sirola, Izabela Zych, and Hye Jin Paek. 2021. "The Role of Online Group Norms and Social Identity in Youth Problem Gambling." Computers in Human Behavior 122:106828. doi: 10.1016/j.chb.2021.106828.
Wardle, Heather, and Sally McManus. 2021. "Suicidality and Gambling among Young Adults in Great Britain: Results from a Cross-Sectional Online Survey." The Lancet Public Health 6(1):e39–49. doi: 10.1016/S2468-2667(20)30232-2.
Whiteford, Seb, Alice E. Hoon, Richard James, Richard Tunney, and Simon Dymond. 2022. "Quantile Regression Analysis of In-Play Betting in a Large Online Gambling Dataset." Computers in Human Behavior Reports 6(November 2021):100194. doi: 10.1016/j.chbr.2022.100194.
Zainal, Nazaruddin. 2018. "No Title." FOOTBALL ONLINE GAMBLING (Case Study in Universitas Negeri Makassar).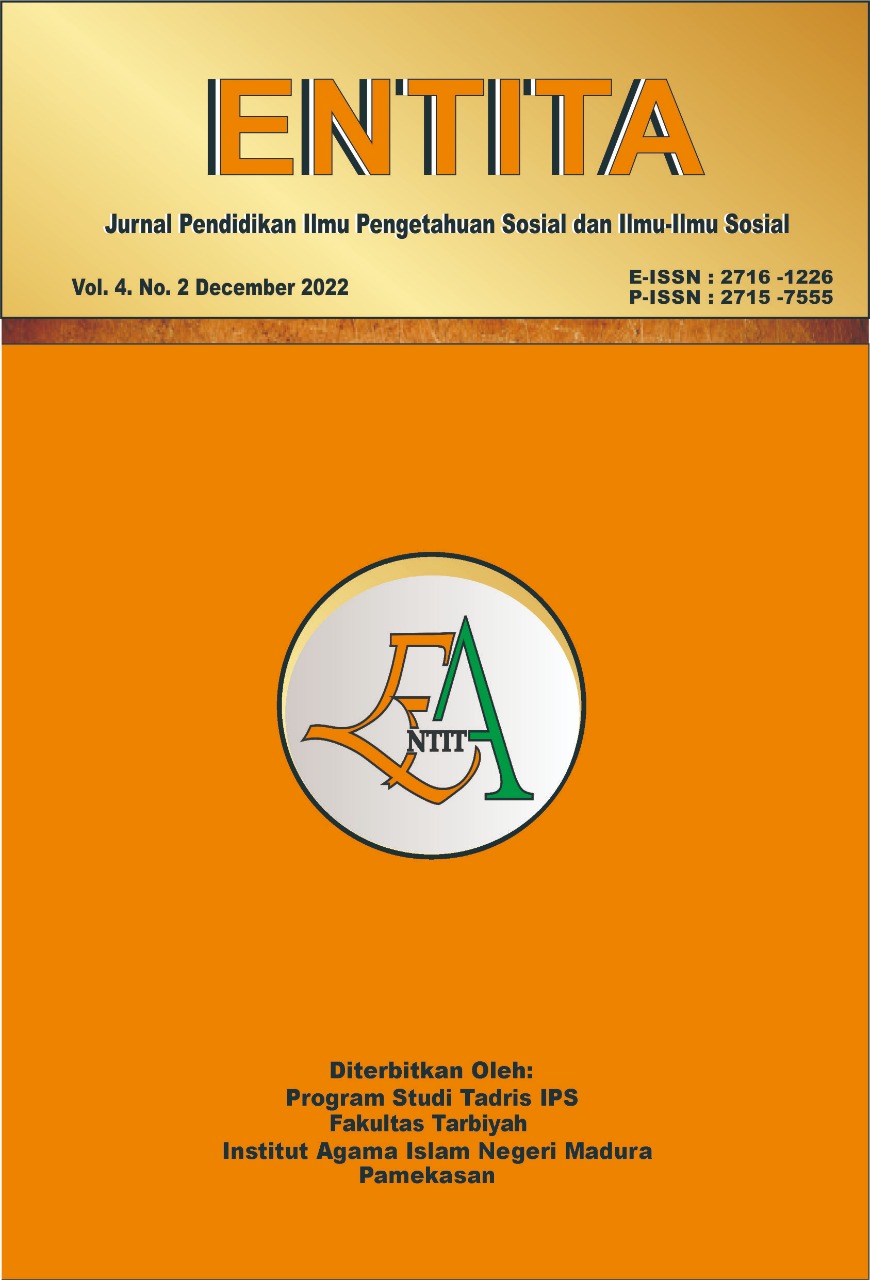 Copyright (c) 2022 ENTITA: Jurnal Pendidikan Ilmu Pengetahuan Sosial dan Ilmu-Ilmu Sosial
This work is licensed under a Creative Commons Attribution-NonCommercial 4.0 International License.
ENTITA: Jurnal Pendidikan Ilmu Pengetahuan Sosial dan Ilmu-Ilmu Sosial operates an Open Access policy under a Creative Commons Non-Commercial 4.0 International license. Authors who publish with this journal agree to the following terms:
The copyright of the received article once accepted for publication shall be assigned to the journal as the publisher with licensed under a


Commons Attribution-NonCommercial 4.0 International License

Journal is able to enter into separate, additional contractual arrangements for the non-exclusive distribution of the journal's published version of the work (e.g., post it to an institutional repository or publish it in a book), with an acknowledgement of its initial publication in this journal.
Journal is permitted and encouraged to post their work online (e.g., in institutional repositories or on their website) prior to and during the submission process, as it can lead to productive exchanges, as well as earlier and greater citation of published work (see The Effect of Open Access).
Here is Copyright Transfer Form that author can download and send to OJS during submission.