STRATEGI PEMBENTUKAN SOFT SKILL SANTRI DI PONDOK PESANTREN MAMBAUL ULUM PUTRI BATA-BATA PAMEKASAN
Rohelah Hasin

Prodi Manajemen Pendidikan Islam

Saiful Hadi

Dosen Manajemen Pendidikan Islam
Abstract views:
239
,
PDF downloads:
441
Abstract
This research is aimed at finding out the treasure of knowledge in Islamic boarding schools (Pesantren) about practices of the establishment of Santri's soft skill through daily life trainings. Those training could be in the form of the activities of ibadah mahdoh, ibadah ghoiru mahdoh, and other learning activities. The approach of this study uses qualitative approach with phenomenological plans. The result of this study shows that (1) habituating strategy through the boarding school activities namely Santri are joining all activities by obeying the rule with strict supervision and giving punishmet to them who disobey it. Meanwhile, the soft skills appear among the santri are disciplinary, honesty, responsibility, self motivation, self confidence, communicating, and leadership. (2) The obstacles which frequently appear among them are "the minimum of Santri's enthusiasm in forming the self skills so that their enthusiasm appears in joining the activities of establishing Santri's soft skills and the supporting factor is the masyaikh's pretension to make all santri have life skill.
Downloads
Download data is not yet available.
References
Anwar. Pendidikan Kecakapan Hidup (Life Skill Education) Konsep Dan Aplikasi Bandung: Alfabeta. 2012.
Arikunto, Suharsimi. Prosedur Penelitian Suatu Pendekatan Praktik. Jakarta: Rineka Cipta. 2010.
Ashadi Firman, Implementasi Penerapan Pendidikan Karakter Di Pondok Pesantren Minhajut Thullab Muncar Banyuangi, Vol 5 No 1, 2017.
Basrowi & Suwandi. Memahami Penelitian Kualitatif, Jakarta: Rineka Cipta. 2008.
Buna'I, Metodologi Penelitian Pendidikan. Pamekasan: STAIN Pamekasan Press. 2006.
Buna'I,Penelitian Kualitatif, Malang: Perpustakaan STAIN Pamekasan Press. 2008.
Damopoli, Muljono.Pesantren Modern IMMIM Pencetak Muslim Modern. Jakarta: Rajawali pers. 2011.
Dhofier Zamakhsyari, Tradisi Pesantren, Jakarta: LP3ES,2011.
Gunawan, Imam. Metode Penelitian Kualitatif. Jakarta: Bumi Aksara, 2013.
Hidayat, Nur. Akhlak Tasaw.uf. Yogyakarta: Penertbit Ombak, 2013
J. Moleong, Lexy. Metodologi Penelitian Kualitatif. Bandung: PT Remaja Rosdakarya, 2011.
Kasiram, Moh.. Metodologi Penelitian. Malang: UIN-Maliki Press. 2010.
Kasmadi. Membangun Soft Skill Anak-Anak Hebat, Bandung : Alfabeta. 2013.
Kesuma,Darma. Pendidikan Karakter. Bandung: Remaja Rosdakarya. 2011.
Lickona, Thomas. Mendidik Untuk Membentuk Karakter.Jakarta: Bumi Aksara. 2012.
Mokowin. Pengembangan Soft Skill Guru. Jakarta : Pedagogik. 2011.
Muahaimin Azzet Akhmad, Urgensi Pendidikan Karakter Di Indonesia Jogjakarta: Ar-Ruzmedia, 2011
Muchlis Solichin, Muhammad. Ilmu Akhlak Dan Tasaw.uf. Pameksan: STAIN Pamekasan Pres. 2009.
Mutaffaq AlaihNo Hadis : 131 dan 650
Nata Abudin, Akhlak Tasaw.uf, Jakarta: Rajawali Press, 2009
Nur Alifah, Heni. Pengembangan Soft Skill Dalam Membentuk Akhlak Santri Pondok Pesantren Wali songo Putri Ngabar Ponorogo.
Prastowo, Andi. Metode Penelitian Kualitatif dalam Perspektif Rancangan Penelitian. Jogjakarta: Ar-Ruzz Media. 2012.
Publisin, Sukses. Alquran Dan Terjemahnya. Jakarta: Alkahfah. 2012.
Qomar Mujammil, Pesantren Dari Transformasi Metodologi Menuju Demokratisasi Institusi,Jakarta: Erlangga, 2003.
Rasmita, Fitri. Elfindri, Muhammad Basri Wello,Jemmy Rumengan. Pintar Soft Skills Baduose Media: 2009.
Redho Syam, Aldo.Manajemen Kedisiplinan Santri Di Pondok Pesantren Studi Kasus Pondok Modern Darussalam Gontor Ponorogo.
Sahilah,Illah. Pengembangan Soft Akill Di Perguruan Tinggi. Bogor: Tim Kerja Pengembangan Soft Skill Direktorat Jendral Pendidikan. 2008.
Samsuri, Soft Skill Unggul Dalam Novel Negri 5 Menara. Jember: Universitas Muhammadiyah, vol,2, no 2,2017.
Shohih Bukhori, No. 4277
Shohih Muslim. No. 1699
Sunan Ibnu Majah . 343
Suyadi. Strategi Pembelajaran Pendidikan Kerakter. Bandung:PT Remaja Rosdakarya. 2013
Tune Sumar, Intan. Intan Abdul Razak. Strategi Pembelajar Dan Implementasi Kurikulum yang Berbasis Soft Skill Yogyakarta:CV Budi Utama. 2016.
Wibowo, Agus. Pendidikan Karakter Di Perguruan Tinggi Membangun Karakter Ideal Mahasiswa Di Perguruan Tinggi. Yogyakarta: Pustaka Pelajar. 2014
Yani, Ahmad. Mindset Kurikulum 2013. Bandung: Alfabeta. 2013.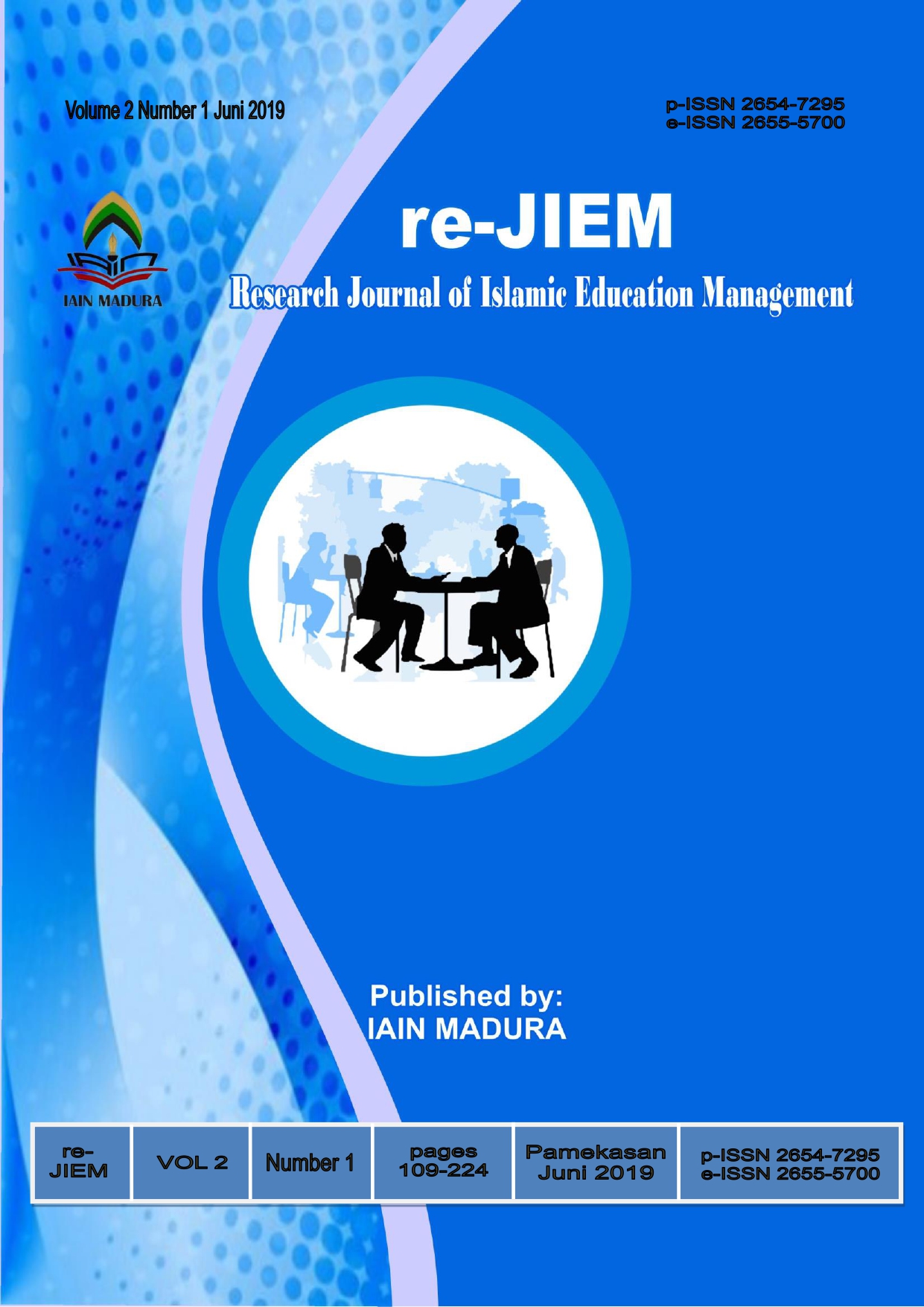 How to Cite
Hasin, Rohelah, and Saiful Hadi. 2019. "STRATEGI PEMBENTUKAN SOFT SKILL SANTRI DI PONDOK PESANTREN MAMBAUL ULUM PUTRI BATA-BATA PAMEKASAN". Re-JIEM (Research Journal of Islamic Education Management) 2 (1), 156-70. https://doi.org/10.19105/re-jiem.v2i1.2458.
Authors who publish with this journal agree to the following terms:
Authors retain copyright and grant the journal right of first publication with the work simultaneously licensed under a Creative Commons Attribution-ShareAlike 4.0 International License that allows others to copy and redistribute the material in any medium or format with an acknowledgment of the work's authorship and initial publication in this journal and also allows to remix, transform, and build upon the material for any purpose, even commercially with contributions under the same license as the original.
Authors are able to enter into separate, additional contractual arrangements for the non-exclusive distribution of the journal's published version of the work (e.g., post it to an institutional repository or publish it in a book), with an acknowledgment of its initial publication in this journal.
Authors are permitted and encouraged to post their work online (e.g., in institutional repositories or on their website) prior to and during the submission process, as it can lead to productive exchanges, as well as earlier and greater citation of published work.