STRATEGI PERSUASIF DALAM PENGEMBANGAN HUBUNGAN SOSIAL RELIGIUS ANTARA SISWA DAN TENAGA KEPENDIDIKAN DI LINGKUNGAN MTSN 2 PAMEKASAN
Abstract views:
30
,
PDF downloads:
14
Abstract
The persuasive strategy in developing religious social relations in schools is needed not only to encourage school members to behave well in the school environment but must be able to instill religious values in the school community until the religious soul is embedded in them to behave both in internal and external environments. This study uses a qualitative phenomenological approach. The results of this study that the strategies carried out by schools are a) activities of greetings at the school gate, the Dhuha prayer in congregation, memorizing juz amma, and the midday prayer. b) the measurement is seen from the attitude of students and student participation in activities. c) how to maintain it by holding Islamic activities. d) the application of growing social sense is increasing. Suggestions for this research are: a) any results obtained by researchers should be a reference for internal improvement for the institution. b) institutions must continue to maintain good social relations between students and educators so that in the future the institution will be more advanced and of good quality. c) routine evaluation of the strategies that have been used.
Downloads
Download data is not yet available.
References
Buna'i. Penelitian Kualitatif. Pamekasan: Perpustakaan STAIN Pamekasan Press. 2008.
Darmawan, Deni. Komunikasi Pendidikan Perspektif Bio-Komonikasi. Bandung: PT Remaja Rosdakarya. 2015
Djam'an Satori & Aan Komariah. Metodologi Penelitian Kualitatif. Bandung: ALFABETA. 2009.
Fathurrahman, Muhammad. Budaya Religius Dalam Peningkatan Mutu Pendidikan. Yogyakarta: KALIMEDIA. 2015.
Fathurrohman, Mohammad. Pengembangan Budaya Religius Dalam Meningkatkan Mutu Pendidikan. TA'ALLUM. Vol. 04. No. 01. Juni 2016.
Gunawan, Imam. Metode Penelitian Kualitatif: Teori dan Praktik. Jakarta: Bumi Aksara. 2014.
Ghony, MD Junaidi & Al-Manshur Fauzan. Metode Penelitian Kualitatif. Jogjakarta: Ar-Ruzz Media. 2014.
Purwanto, Iwan, Manajemen Strategi. Bandung: CV. Yrama Widya. 2008.
Junita, Ike Triwardhani. Komonikasi Persuasif Pada Pendidikan Anak. Junal Komunikasi Persuasif. Mediator. Vol. 7. No. 1. 2006.
Karomah, Latifah. Strategi Komonikasi Persuasif Pekerja Sosial Dalam Pembinaan Remaja Putus Sekolah Di Panti Sosial Bina Remaja Rumbai. JOM FISIP. Vol. 3. No. 2. 2016.
Lestari, Mita, Strategi Komonikasi Dalam Menarik Minat Kreditur Untuk Melakukan Kredit Di PT Adira Finance Pekanbaru. Jurnal Ilmu Komunikasi. Jom FISIP. Vol. 4. No. 2. 2017.
Najib M, Wiyani Novan Ardy & Sholichin. Manajemen Strategik Pendidikan Karakter Bagi Anak Usia Dini . Yogyakarta: Gava Media. 2016.
Meleong, Lexy J. Metodotolgi Penelitian Kualitatif. Bandung: PT Remaja Rosdakarya. 2012.
Pratiwi, Yanie Firdaus. Strategi Komonikasi Persuasif Personal Selling Dalam Meningkatkan Nasabah Pada Produk Asuransi Umum di PT Jasaraharia Putera Cabang Pekan Baru. Jurnal Ilmu Komunikasi. JOM FISIP. Vol. 3 No. 2. 2016.
Prawirosentono, Suyadi & Primasari Dewi. Manajemen Stratejik &Pengembilan Keputusan (Strategic Management &Corporate Decision Making). Jakarta: PT Bumi Aksara. 2014.
R, Mala Abdurrahman. Membangun Budaya Islami Di Sekolah. Jurnal IAIN Gorontalo. Vol. 11. No. 1. 2015.
Rifa'i, Muhammad Khoitul. Internallisasi Nilai-Nilai Religius Berbasis Multikultural Dalam Membentuk Insan Kamil. Jurnal Pendidikan Agama Islam. Vol. 4. No. 1. 2016.
Rohim, Syaiful. Teori Komonikasi Perspekstif, Ragam dan Aplikasi. Jakarta: Rineka Cipta. 2016.
Sahlan, Asmaun. Mewujudkan Budaya Religius Di Sekolah. Malang: UIN MALIKI PRESS. 2010.
Saputri, Mayang. Komonikasi Persuasif Tim Adiwiyata SDN 6 Pekanbaru Dalam Mewujudkan Sekolah Adiwiyata. Jurnal Ilmu Komunikasi. JOM FISIP. Vol. 3. No. 2. 2016.
Sahib, Hartoni. Strategi Komonikasi Para Guru Dalam Menyampaikan Pesan-pesan Keagamaan Kepada Siswa Di Madrasah Aliyah Negeri Kelua. Jurnal Ilmu Dan Teknik Dakwah. Vol. 1. No. 1. 2013.
Sugiyono, Metode Penelitian Kuantitatif, Kualitatif, dan & R&D. Bandung: Alfabeta. 2016.
Suwardi & Daryanto. Manajemen Peserta Didik. Yogyakarta: Gavamedia. 2017.
Soemirat, Soleh. Komunikasi Persuasif. Tanggerang selatan: CV. Gerina Prima. Cet. 13. 2018.
Wahyu, Eny Suryanti. Penguatan Pendidikan Karakter Berbasis Religius. Jurnal Ilmu Komunikasi. Universitas Widyagama Malang. Volume. 2. No. 1. 2018.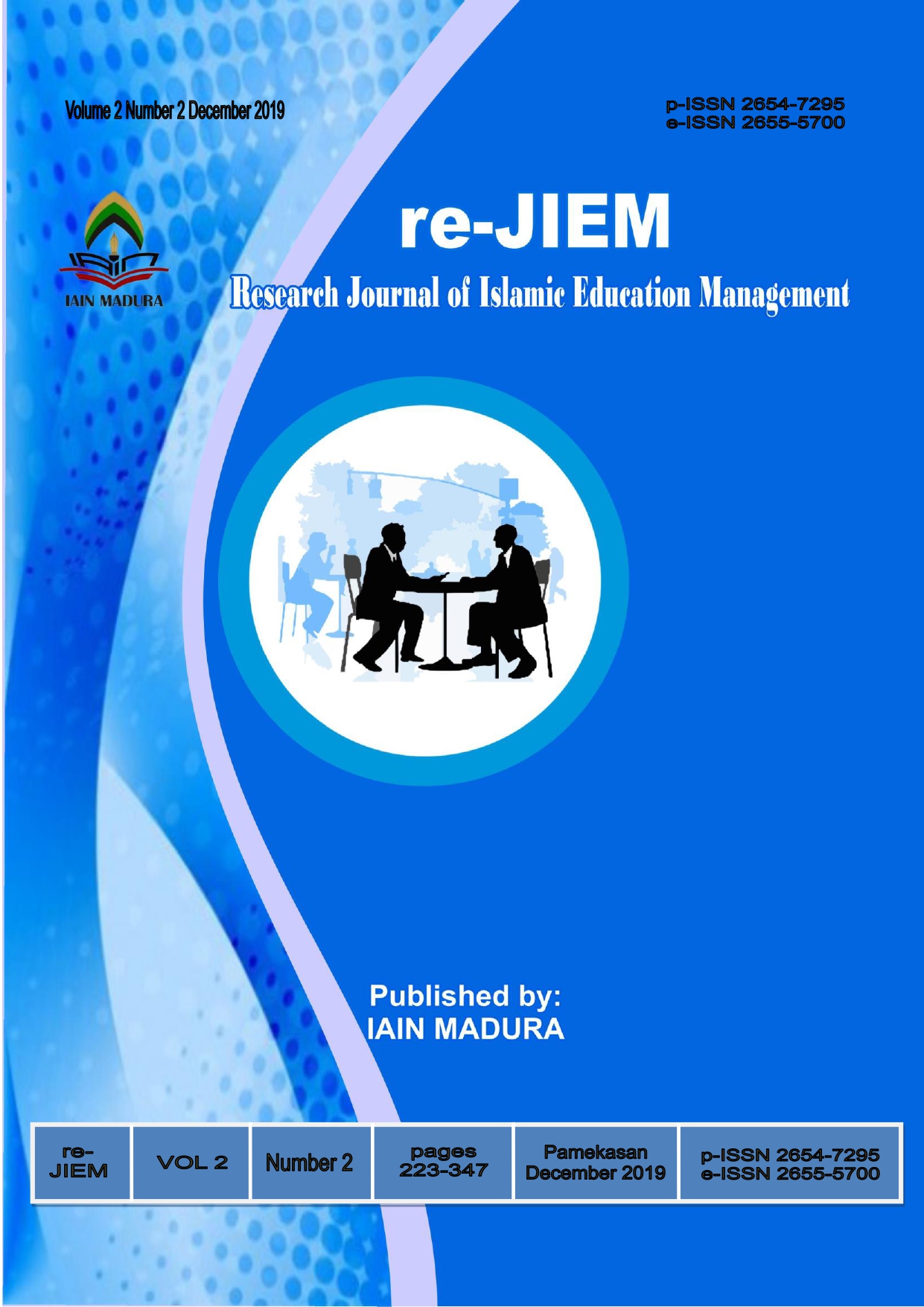 How to Cite
Usman, Jamiludin, and Mohammad Hidayatul Ahsan. 2019. "STRATEGI PERSUASIF DALAM PENGEMBANGAN HUBUNGAN SOSIAL RELIGIUS ANTARA SISWA DAN TENAGA KEPENDIDIKAN DI LINGKUNGAN MTSN 2 PAMEKASAN". Re-JIEM (Research Journal of Islamic Education Management) 2 (2), 252-65. https://doi.org/10.19105/re-jiem.v2i2.2869.
Authors who publish with this journal agree to the following terms:
Authors retain copyright and grant the journal right of first publication with the work simultaneously licensed under a Creative Commons Attribution-ShareAlike 4.0 International License that allows others to copy and redistribute the material in any medium or format with an acknowledgment of the work's authorship and initial publication in this journal and also allows to remix, transform, and build upon the material for any purpose, even commercially with contributions under the same license as the original.
Authors are able to enter into separate, additional contractual arrangements for the non-exclusive distribution of the journal's published version of the work (e.g., post it to an institutional repository or publish it in a book), with an acknowledgment of its initial publication in this journal.
Authors are permitted and encouraged to post their work online (e.g., in institutional repositories or on their website) prior to and during the submission process, as it can lead to productive exchanges, as well as earlier and greater citation of published work.