KEGIATAN MONITORING TERSTRUKTUR UNTUK MENINGKATKAN KOMPETENSI DAN KINERJA GURU DALAM KEGIATAN BELAJAR MENGAJAR DI UPTD SDN BANCARAN 4 KECAMATAN BANGKALAN KABUPATEN BANGKALAN TAHUN 2019/2020
Atik Zaenab

SDN BANCARAN 4
Abstract views:
23
,
PDF downloads:
47
Abstract
The results of the study indicate that: a. the quality of the assignment teacher preparation program at the Mambaul Ulum Islamic Boarding School in Panaan Palengaan Pamekasan, namely 1) The curriculum that is used combines the pesantren curriculum, pesantren programs, and activities and the Madrasah Aliyah curriculum in general, 2) The existence of Islamic boarding school support for the applied curriculum, 3) The creation of a single teaching staff so that the term M2 co-ordinates prospective teacher assignments, 4) The existence of regional programs or blocks, 5) Suitability of the background of the teaching staff with their education, 6) Form of quality improvement resulting from the application of existing curriculum, development what has been done, and ask for input from the teacher who has carried out their duties. b Constraints of Mambaul Ulum Islamic Boarding Schools in Panaan Palengaan Pamekasan in implementing teacher preparation tasks, namely, 1) Less skilled and creative teaching staff in presenting interesting programs, thereby reducing students' interest and motivation in participating in the program, 2) The lack of interest of santri to learning causes the pesantren programs to run less optimally, 3) The lack of facilities and finance makes the programs implemented less varied.
Downloads
Download data is not yet available.
References
Anas. Workshop dan Jenisnya. Makalah (Online) http://anasaff. blogspot.co.id/2012/08/workshop-dan-jenisnya.html. Diakses 3 Januari 2015, 2012.
Anngi St Anggari, Afriki, Dara Retno dkk. Peduli Terhadap Mahluk Hidup; Buku Tematik Terpadu Siswa Kelas IV. Edisi Revisi 2016. Jakarta: Kemendikbud, 2016.
Arfiyadi. Mode- Model Pembelajaran Kooperatif. Makalah (Online) http://modelpembelajarankooperatif.blogspot.co.id/2012/08/jigsaw.html. Diakses 8 Maret 2015, 2012.
Darmadi, Hamid. Metode Penelitian Pendidikan. Bandung: Alfabeta, 2011.
Dharma, Surya. Monitoring Dan Evaluasi Pelaksanaan Pembelajaran; Modul Untuk Pengawas. Jakarta: Ditjrn PMPTK, 2008.
———. Penilaian Kinerja Guru; Modul Untuk Pengawas. Jakarta: Ditjen PMPTK, 2008.
Harsono. Upaya Meningkatkan Kemampuan Guru dalam Penggunaan Teknologi Informasi dan Komunikasi (TIK) untuk Pembelajaran Melalui Workshop Dengan Variasi Model Jigsaw di Guslah 3 Kecamatan Konang Kabupaten Bangkalan. Penelitian Tindakan Sekolah Pengawas UPTD Bangkalan Kabupaten Bangkalan, 2015.
Haryanto. Model Pembelajaran Kooperatif Tipe Jigsaw. Makalah (Online) http://belajarpsikologi.com/model-pembelajaran-kooperatif-jigsaw. Diak ses 7 Juli 2015, 2012.
Kurikulum 2013 Sekolah Dasar Kementerian Pendidikan dan Kebudayaan.
Muhari. Meningkatkan Kemampuan Guru Kelas V dan VI dalam Menyusun Tes Hasil Belajar Akhir Semester Melalui Workshop di Gugus Sekolah I Kecamatan Kamal Kabupaten Bangkalan Tahun 2013. Penelitian Tindakan Sekolah. Tidak diterbitkan: Pengawas UPTD Pendidikan di Kecamatan Kamal Kabupaten Bangkalan, 2013.
Nurhadi, Ali. Profesi Keguruan Menuju Pembentukan Guru Profesional. Kuningan: Goresan Pena, 2016.
Nurhadi, Ali, and Irfaida Irfaida. "KERJA SAMA KELEMBAGAAN PADA MADRASAH ADIWIYATA DI MTS NEGERI 2 PAMEKASAN." Re-JIEM (Research Journal of Islamic Education Management) 1, no. 2 (January 4, 2019): 01–13. https://doi.org/10.19105/RJIEM.V1I2.2087.
Permendikbud Nomor 160 Tahun 2014 tentang Pemberlakuan kurikulum tahun 2006 dan kurikulum 2013.
Permendikbud Nomor 22 Tahun 2016 Tentang Standar Proses Pendidikan Dasar dan Menengah
Sadiman, Rahardjo, Haryono, Raharjito. Media Pendidikan Pengertian, Pengembangan Dan Pemanfaatannya. Bandung: Tarsito, 2010.
Sutisna. Perilaku Konsumen Dan Komunikasi Pemasaran. Bandung: Remaja Rosdakarya, 2004.
Tim Dirjend PMPTK. Penelitian Tindakan Sekolah; Bahan Belajar Mandiri Kelompok Kerja Pengawas Sekolah. Jakarta: Ditjend PMPTK, 2009.
Undang – Undang RI. No. 20 Tahun 2003 tentang Sisdiknas.
Undang – Undang RI. No. 14 Tahun 2005 tentang Guru dan Dosen.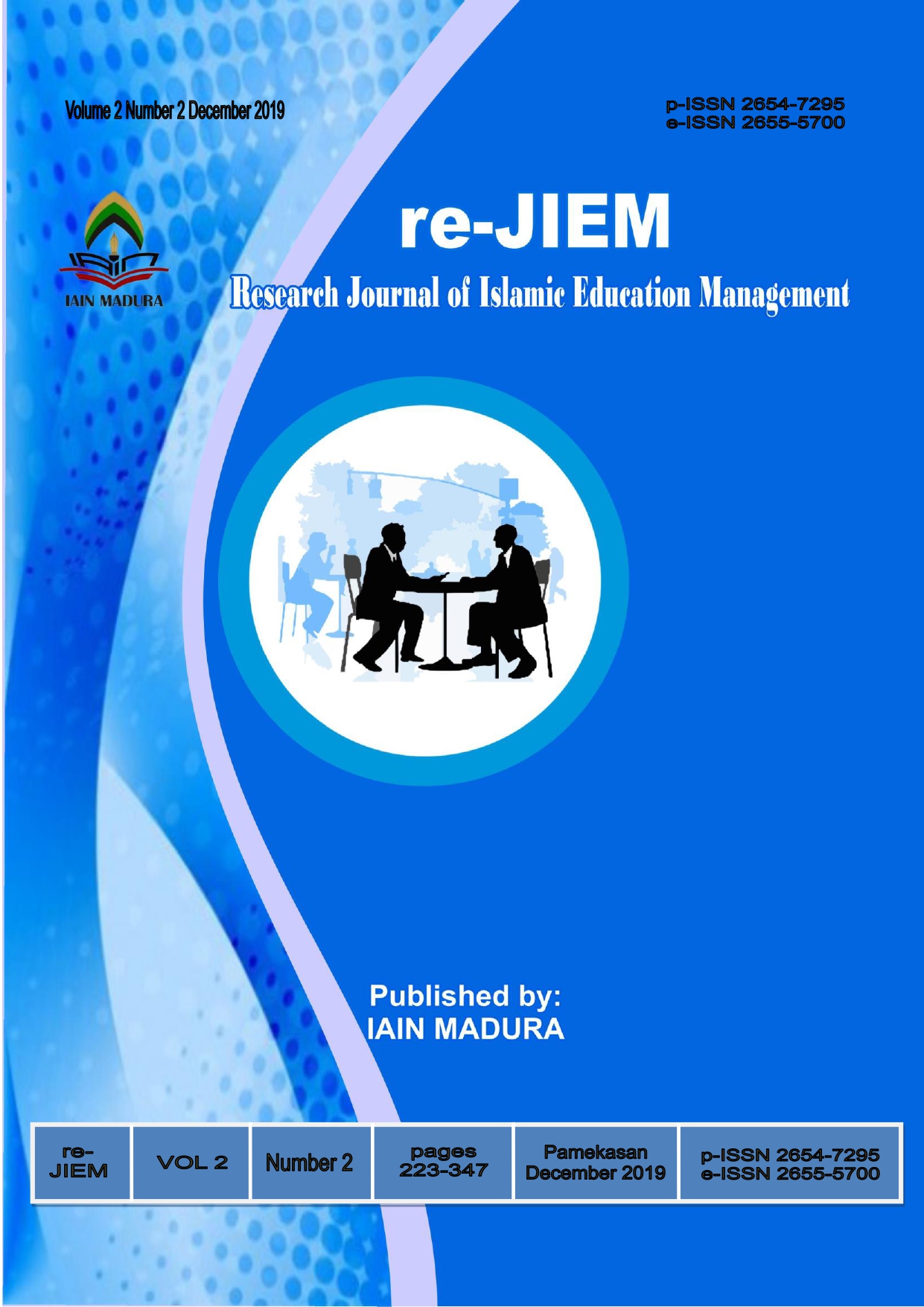 How to Cite
Zaenab, Atik. 2019. "KEGIATAN MONITORING TERSTRUKTUR UNTUK MENINGKATKAN KOMPETENSI DAN KINERJA GURU DALAM KEGIATAN BELAJAR MENGAJAR DI UPTD SDN BANCARAN 4 KECAMATAN BANGKALAN KABUPATEN BANGKALAN TAHUN 2019/2020". Re-JIEM (Research Journal of Islamic Education Management) 2 (2), 266-77. https://doi.org/10.19105/re-jiem.v2i2.2872.
Authors who publish with this journal agree to the following terms:
Authors retain copyright and grant the journal right of first publication with the work simultaneously licensed under a Creative Commons Attribution-ShareAlike 4.0 International License that allows others to copy and redistribute the material in any medium or format with an acknowledgment of the work's authorship and initial publication in this journal and also allows to remix, transform, and build upon the material for any purpose, even commercially with contributions under the same license as the original.
Authors are able to enter into separate, additional contractual arrangements for the non-exclusive distribution of the journal's published version of the work (e.g., post it to an institutional repository or publish it in a book), with an acknowledgment of its initial publication in this journal.
Authors are permitted and encouraged to post their work online (e.g., in institutional repositories or on their website) prior to and during the submission process, as it can lead to productive exchanges, as well as earlier and greater citation of published work.