ANALISIS HUBUNGAN COST EFECTIVENESS MAHASISWA PENGHUNI ASRAMA DENGAN PRESTASI BELAJAR
Vira Maratus Sholihah

Jurusan Administrasi Pendidikan Fakultas Ilmu Pendidikan Universitas Negeri Malang

Mukhamad Zulfikar Lutfi

Jurusan Administrasi Pendidikan Fakultas Ilmu Pendidikan Universitas Negeri Malang

Asep Sunandar

Jurusan Administrasi Pendidikan Fakultas Ilmu Pendidikan Universitas Negeri Malang

Maulana Amirul Adha

Manajemen Pendidikan Fakultas Ilmu Pendidikan Universitas Negeri Malang
Abstract views:
62
,
PDF downloads:
57
Abstract
This study aims to, (1) determine the cost effectiveness analysis of UM dormitory students, who are in the faculties of the State University of Malang (UM); (2) knowing student achievement in UM environment faculties; and (3) knowing the relationship between cost effectiveness analysis of UM dormitory students to study achievement in UM faculties. This research uses a quantitative approach with a descriptive correlational research design. The instrument of this study was to use the Google form survey assistance with respondent are students of UM dormitory in UM environmental faculties. The analysis technique used in this research is descriptive analysis and correlation. The results of this study indicate: (1) the level of cost effectiveness analysis of the occupants of UM student dormitory residing in the faculties of the State University of Malang is classified as a rarity that uses cost effectiveness analysis in managing finances for dormitory and educational needs; (2) the level of learning achievement that is spread in all faculties at the State University of Malang tends to be poor; and (3) the results of the study show that there is a relationship between cost effectiveness analysis of UM student dormitory students on learning achievement.
Downloads
Download data is not yet available.
References
Adha, Maulana Amirul, Mustiningsih, and Maisyaroh. "Hubungan Pelaksanaan Sistem Informasi Manajemen Berbasis Komputer Dan Keefektifan Kinerja PNS Di Perguruan Tinggi." Jurnal Administrasi Dan Manajemen Pendidikan 1, no. 2 (2018): 124–31. https://doi.org/10.17977/um027v1i22018p124.
Cellini, Stephanie Riegg, and James Edwin Kee. "Cost-Effectiveness and Cost-Benefit Analysis." In Handbook of Practical Program Evaluation: Fourth Edition. San Francisco, Ca: Jossey-Bass A Wiley Imprint, 2015. https://doi.org/10.1002/9781119171386.ch24.
Fattah, Nanang. Sistem Penjaminan Mutu Pendidikan Dalam Konteks Penerapan MBS. Bandung: Remaja Rosdakarya, 2013.
Ferdi, W.P. "Pembiayaan Pendidikan: Suatu Kajian Teoritis." Jurnal Pendidikan Dan Kebudayaan 19, no. 4 (2013): 565–78.
Kwong, Darren, and Jonathan Ryan Davis. "School Climate for Academic Success: A Multilevel Analysis of School Climate and Student Outcomes." Journal of Research in Education 25, no. 2 (2015): 68–81.
Ladd, H F, and M E Goertz. "Handbook of Research in Education Finance and Policy, Second Edition." London: Routledge, 2015. https://doi.org/10.4324/9780203788684.
Levin, Henry M., and Clive Belfield. "Guiding the Development and Use of Cost-Effectiveness Analysis in Education." Journal of Research on Educational Effectiveness 8, no. 3 (2015): 400–418. https://doi.org/10.1080/19345747.2014.915604.
Marsh, Herbert W., and Andrew J. Martin. "Academic Self-Concept and Academic Achievement: Relations and Causal Ordering." British Journal of Educational Psychology 81, no. Maret (2011): 59–77. https://doi.org/10.1348/000709910X503501.
Martoredjo, Nikodemus Thomas. "Meningkatkan Prestasi Belajar Di Perguruan Tinggi Dengan Mengembangkan Kecerdasan Emosional." Humaniora 4, no. 2 (2013): 1093. https://doi.org/10.21512/humaniora.v4i2.3550.
Murdan, Rahmawati, and Ellen Davita Safaredha. "Prestasi Akademik Dan Non Akademik Mahasiswa Prodi Pendidikan Matematika Angkatan 2012 Fakultas Tarbiyah Dan Keguruan Iain Antasari Banjarmasin." JPM IAIN Antasari 2, no. 1 (2017): 63–72. https://doi.org/10.18592/jpm.v2i1.1167.
Ning, Yan, and Jiaojiao Chen. "Improving Residential Satisfaction of University Dormitories through Post-Occupancy Evaluation in China: A Socio-Technical System Approach." Sustainability (Switzerland) 8, no. 10 (2016): 1050–66. https://doi.org/10.3390/su8101050.
Nuralisa, Andriana, Machmuroch, and Selly Astriana. "Hubungan Antara Adversity Quotient Dan Dukungan Sosial Teman Sebaya Dengan Penyesuaian Diri Mahasiswa Perantauan Tahun Pertama Fakultas Teknik Universitas Sebelas Maret Surakarta." Wacana 8, no. 2 (2014): 1–12.
Omar, Norasyikin, Mimi Mohaffyza Mohamad, and Aini Nazura Paimin. "Dimension of Learning Styles and Students' Academic Achievement." Procedia - Social and Behavioral Sciences 204 (2015): 172–82. https://doi.org/10.1016/j.sbspro.2015.08.130.
Pratama, Rahardian Okta, Lindawati Kartika, and Andita Sayekti. "Analisis Faktor-Faktor Yang Memengaruhi Prestasi Mahasiswa Di Perguruan Tinggi." Perspektif Ilmu Pendidikan 32, no. 2 (2018): 153–63. https://doi.org/10.21009/pip.322.8.
Roche, Claire Reeves La. "Student Housing: Trends, Preferences, and Needs." Contemporary Issues In Education Research 3, no. 10 (2010): 45–50.
Sunandar, Asep, and Ali Imron. "The Model of University Autonomy in Indonesia." Advances in Social Science, Education and Humanities Research 400, no. Icream 2019 (2020): 440–46. https://doi.org/10.2991/coema-19.2019.12.
Solichin, Mohammad Muchlis. "MANAJEMEN PEMBELAJARAN PENDIDIKAN ISLAM MODERAT DI PERGURUAN TINGGI ISLAM (Studi Atas Institute Agama Islam Negeri Madura)." re-JIEM (Research Journal of Islamic Education Management) 1, no. 2 (2019): 60-69.
Thompson, Ceri Phillips. "What Is Cost-Effectiveness?" Education for Health 24, no. 3 (2011): 573. https://doi.org/10.1007/s00383-011-3028-8.
Uslu, Baris, and Hasan Arslan. "Faculty's Academic Intellectual Leadership : The Intermediary Relations With Universities ' Organizational Components." International Journal of Leadership in Education 10, no. April (2017): 1–13. https://doi.org/10.1080/13603124.2016.1278044.
Wiyono, Bambang Budi. Metodologi Penelitian (Pendekatan Kuantitatif, Kualitatif, Dan Action Research). Edited by Burhanuddin. Malang: FIP Universitas Negeri Malang, 2007.
Yeh, Stuart S. "The Cost Effectiveness of 22 Approaches for Raising Student Achievement." Journal of Education Finance 36, no. 1 (2010): 38–75. https://doi.org/10.1353/jef.0.0029.
Zheng, Anbo. "Research on the Management Mechanism of the Colleges and Universities Students' Hostel." Advances in Social Science, Education and Humanities Research 63, no. Amahs (2016): 303–306. https://doi.org/10.2991/amahs-16.2016.63.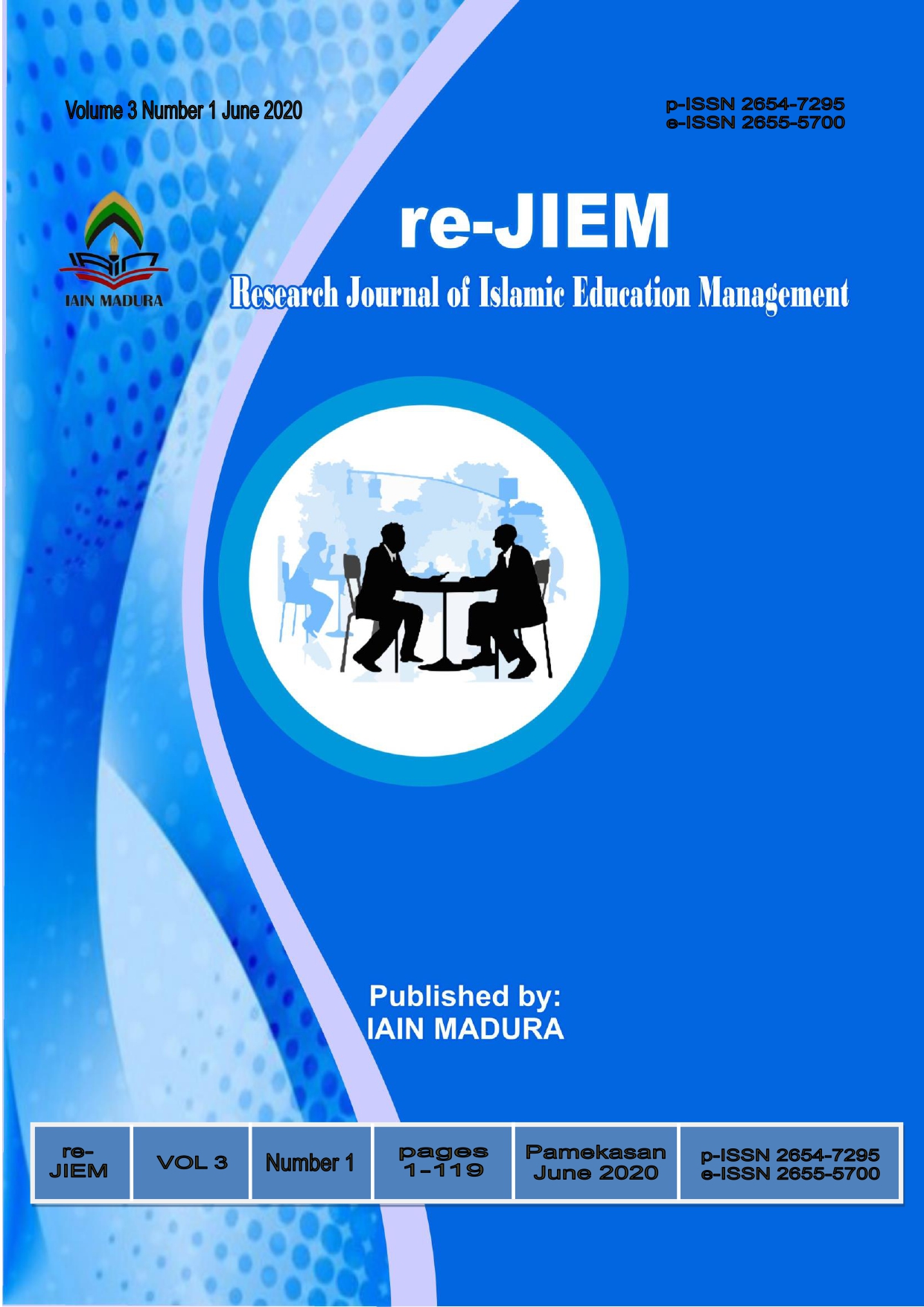 How to Cite
Sholihah, Vira Maratus, Mukhamad Zulfikar Lutfi, Asep Sunandar, and Maulana Amirul Adha. 2020. "ANALISIS HUBUNGAN COST EFECTIVENESS MAHASISWA PENGHUNI ASRAMA DENGAN PRESTASI BELAJAR". Re-JIEM (Research Journal of Islamic Education Management) 3 (1), 1-12. https://doi.org/10.19105/re-jiem.v3i1.3309.
Authors who publish with this journal agree to the following terms:
Authors retain copyright and grant the journal right of first publication with the work simultaneously licensed under a Creative Commons Attribution-ShareAlike 4.0 International License that allows others to copy and redistribute the material in any medium or format with an acknowledgment of the work's authorship and initial publication in this journal and also allows to remix, transform, and build upon the material for any purpose, even commercially with contributions under the same license as the original.
Authors are able to enter into separate, additional contractual arrangements for the non-exclusive distribution of the journal's published version of the work (e.g., post it to an institutional repository or publish it in a book), with an acknowledgment of its initial publication in this journal.
Authors are permitted and encouraged to post their work online (e.g., in institutional repositories or on their website) prior to and during the submission process, as it can lead to productive exchanges, as well as earlier and greater citation of published work.