MANAJEMEN STRATEGIK PEMASARAN PENDIDIKAN BERBASIS MEDIA SOSIAL DI MADRASAH ALIYAH YAYASAN PONDOK PESANTREN BABAKAN JAMANIS PARIGI PANGANDARAN
Neneng Nurmalasari

STITNU Al Farabi Pangandaran

Imas Masitoh

STITNU Al Farabi Pangandaran
Abstract views:
761
,
PDF downloads:
634
Abstract
This study describes an overview of the use of social media as a management marketing strategy at Madrasah Aliyah Yayasan Pondok Pesantren Babakan Jamanis. The benefits of social media as a marketing tool in the world of education in the era of the 4.0 industrial revolution are the right choice because it is increasingly accessible to various groups. This research is qualitative research with data collection methods through observation, in-depth interviews, and documentation. The results show that the social media-based educational marketing strategy management is used, namely: Facebook, Instagram, and Youtube by first identifying in the community which then becomes an educational marketing strategy by highlighting the achievements of these institutions. The management of private education, supported by stakeholders and adequate facilities has provided a distinctive feature and strength in the management of educational marketing strategies at Madrasah Aliyah Yayasan Pondok Pesantren Babakan Jamanis.
Downloads
Download data is not yet available.
References
Adita. Arus Metamorposa milenial. Yogyakarta: Emest, 2018.
Alma, Buchari. Manajemen Pemasaran dan Pemasaran Jasa, Bandung: Alfabeta, 2009.
Alma, Buchori dan Ratih Hurriyati. Manajemen Corporate dan Strategi Pemasaran Jasa Pendidikan Fokus pada Mutu dan Layanan Prima, Bandung: Alfabeta, 2007.
Arini, Robby, and Achmad Muhlis. "MANAJEMEN STRATEGIK MUTU REKRUTMEN TENAGA KEPENDIDIKAN DI INSTITUT AGAMA ISLAM NEGERI MADURA." re-JIEM (Research Journal of Islamic Education Management) 3, no. 1 (2020): 29-41.
Daryanto. Sari Kuliah Manajemen Pemasaran, cet. 1. Bandung: PT Sarana tutorial nurani sejahtera, 2011.
Harsanto, Budi. Inovasi Pembelajaran di Era Digital Menggunakan Geogle Sites dan Media Sosial. Bandung: Unpad Press, 2014.
Hasibuan, S.P. Malayu. Dasar-dasar Perbankan, Jakarta: Bumi Aksara, 2004.
Hasibuan, S.P. Malayu. Manajemen Dasar, Pengertian dan Masalah, Jakarta: Bumi Aksara, 2005
Hidayat, Ara dan Imam Machali. Pengelolaan Pendidikan; "Konsep, Prinsip dan Aplikasi dalam Mengelola Sekolah dan Madrasah", Bandung: Pustaka Educa, 2010.
Irianto, Yoyon Bakhtiar dan Eka Prihatin. Pemasaran Pendidikan. Bandung : Alfabeta, 2017.
Lupiyuadi, Rambat. Manajemen pemasaran jasa berbasis kompetensi. Jakarta: Salemba Empat, 2013.
Miliza, Ghazali. Buat Duit Dengan Facebook dan Instagram (Panduan Menjama Pendapatan dengan Facebook dan Instagram), Malaysia: Publishing House, 2016.
Minarti, Sri. 2011 Manajemen Sekolah (Mengelola Lembaga Pendidikan Secara Mandiri), Yogyakarta: Ar-Ruzz Media.
Moleong, Lexy J. Metode Penelitian Kualitatif. Bandung : PT Rosda Karya, 2011.
Mubah, Hilmi Qosim. "PSIKOMANAJERIAL PERSONALIA PENDIDIKAN; MENGKONSTRUKSI PRODUKTIFITAS KERJA PERSPREKTIF IDENTIFIKASI KEMATANGAN PERSONAL." AL-FIKRAH: Jurnal Studi Ilmu Pendidikan dan Keislaman 2, no. 2 (2019): 99-118.
Muhaimin. Manajemen Pendidikan; Aplikasi Dalam Penyusunan Rencana Pengembangan Sekolah/Madrasah-Cetakan Ke-4. Jakarta: Kencana Prenada Media Group, 2012.
Mulyasa, Enco. Manajemen Berbasis Sekolah; Konsep, Strategi, dan Implementasi, Jakarta: Remaja Rosdakarya, 2002.
Nurhadi, Ali "IMPLEMENTASI MANAJEMEN STRATEGI BERBASIS PEMBIASAAN DALAM MENUMBUHKAN KARAKTER RELIGIUS SISWA DI SMAN 1 GALIS PAMEKASAN." al-Afkar, Journal For Islamic Studies 3, no. 1, January (2020): 65-76.
Salbino, Sherief. Buku Pintar Gadget Android Untuk Pemula, Jakarta: Kunci Komunikasi, 2014.
Sedjati, Retina Sri. Manajemen strategi. Yogyakarta: Deepublish, 2012.
Sule, Ernie Trisnawati. Pengantar Manajemen, Jakarta: Kencana, 2005.
Syaodih, Nana. Metode Penelitian Pendidikan. Bandung: PT.Remaja Rosdakarya, 2013.
Umiarso dan Imam Gojali. Manajemen Mutu Sekolah di Era Otonomi Pendidikan, "Menjual Mutu Pendidikan dengan Pendekatan Quality Control bagi Pelaku Lembaga Pendidikan", Yogyakarta: IRCiSoD, 2010.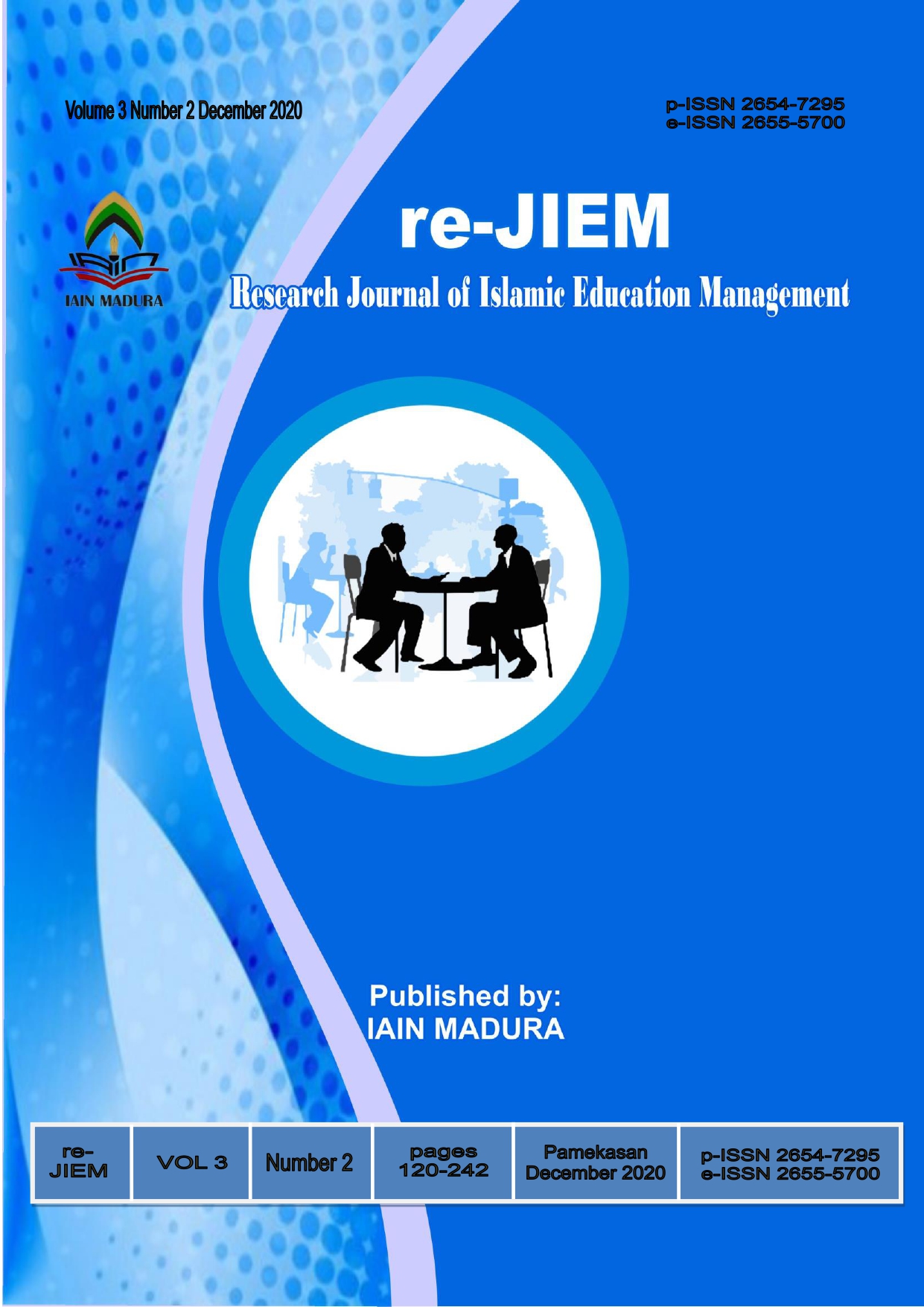 How to Cite
Nurmalasari, Neneng, and Imas Masitoh. 2020. "MANAJEMEN STRATEGIK PEMASARAN PENDIDIKAN BERBASIS MEDIA SOSIAL DI MADRASAH ALIYAH YAYASAN PONDOK PESANTREN BABAKAN JAMANIS PARIGI PANGANDARAN". Re-JIEM (Research Journal of Islamic Education Management) 3 (2), 120-28. https://doi.org/10.19105/re-jiem.v3i2.3908.
Authors who publish with this journal agree to the following terms:
Authors retain copyright and grant the journal right of first publication with the work simultaneously licensed under a Creative Commons Attribution-ShareAlike 4.0 International License that allows others to copy and redistribute the material in any medium or format with an acknowledgment of the work's authorship and initial publication in this journal and also allows to remix, transform, and build upon the material for any purpose, even commercially with contributions under the same license as the original.
Authors are able to enter into separate, additional contractual arrangements for the non-exclusive distribution of the journal's published version of the work (e.g., post it to an institutional repository or publish it in a book), with an acknowledgment of its initial publication in this journal.
Authors are permitted and encouraged to post their work online (e.g., in institutional repositories or on their website) prior to and during the submission process, as it can lead to productive exchanges, as well as earlier and greater citation of published work.