ANALISIS GAYA KEPEMIMPINAN KHARISMATIK DALAM MEMELIHARA NILAI-NILAI TRADISI KEPESANTRENAN TRADISIONAL DI PONDOK PESANTREN NURUL HUDA KAMUNDUNG SAMPANG
Risalatul Hasanah

Mohammad Kosim

IAIN Madura
Abstract views:
548
,
PDF downloads:
433
Keywords:
style of leadership, charismatic, the tradition of pesantren
Abstract
This study examines the charismatic leadership style at the Pondok Pesantren Nurul Huda Kamundung Omben Sampang. This study uses a qualitative approach with the type of field research. Sources of data were obtained using interviews, observation, and documentation. The results show that: first, the application of a charismatic leadership style in maintaining traditional pesantren traditional values ​​still maintains the salaf Islamic boarding school which still maintains the teachings of previous scholars whose teaching uses the yellow book using the sorogan and wetonan teaching methods. And its management does not ask for funds from the government but asks for donations from students, asking for donations from the community to meet the needs of Islamic boarding schools. Second, the way to maintain traditional values ​​in charismatic leadership in Islamic boarding schools is by maintaining the traditions of salaf Islamic boarding schools, meaning that the salaf is still following the teachings of the scholars, namely reciting the yellow book, praying in congregation, learning to read the Qur'an, khidmah, and seek the approval of the teacher, and the method used is deliberation.
Downloads
Download data is not yet available.
References
Arikunto, Suharsimi. Prosedur Penelitian. Jakarta: PT Rineka Cipta. 2010.
Bungin, Burhan. Penelitian Kualitatif. Jakarta: Kencana. 2007.
Damopoli, Muljono, Pesantren Modern IMMIM Pencetak Muslim modern. Jakarta: PT Raja Grafindo Persada. 2011.
Dhofer, Zamaakhsyari, Tradisi Pesantren Studi Pandangan Hidup Kyai dan Visinya Mengenai Masa Depan Indonesia. Jakarta: LP3ES, 2011.
Efendi, Nur. Manajemen Perubahan Di Pondok Pesantren. Yogyakarta: Teras, 2014.
Fadhilah, Amir. "Struktur Dan Pola Kepemimpinan Kyai Dalam Pesantren Di Jawa." Hunafa: Jurnal Studia Islamika 8, no. 1 (2011). https://www.jurnalhunafa.org/index.php/hunafa/article/view/89/80.
Izzah, Iva Yulianti Umdatul. "Perubahan Pola Hubungan Kiai Dan Santri Pada Masyarakat Muslim Tradisional Pedesaan." Jurnal Sosiologi Islam 1, no. 2 (2011). http://jsi.uinsby.ac.id/index.php/jsi/article/view/11.
Mastuhu. Dinamika Pendidikan Pesantren; Suatu Kajian Tentang Unsur Nilai Sistem Pendidikan Pesantren. Jakarta: INIS, 1994.
Moleong, Lexy J. Metodologi Penelitian Kualitatif. Bandung: Remaja Rosdakarya, 2016.
Mubah, Hilmi Qosim. Manajemen Pesantren Dan Pendidikan Luar Sekolah. Pamekasan: iainmadura press, 2019.
Muhakamurroman, Ahmad. "Pesantren: Santri, Kyai, Dan Tradisi." Jurnal Kebudayaan Islam 12, no. 2 (2014).
Qomar, Mujammil. Manajemen Pendidikan Islam. Jakarta: Erlangga, 2007.
Said, Hasani Ahmad. "Meneguh Kembali Tradisi Pesantren DI Nusantara." Jurnal Kebudayaan Islam 9, no. 2 (2011).
Shulhan, Muwahid, and Soim. Manajemen Pendidikan Islam. Yogyakarta: Teras, 2013.
Sulaiman, In'am. Masa Depan Pesantren Eksistensi Pesantren Di Tengah Gelombang Modernisasi. Malang: Madani, 2010.
Susanto, Edi. "Kepemimpinan Kharismatik Kyai Dalam Persepektif Masyrakat Madura." Jurnal Karsa 11, no. 1 (2007).
Tamlihah, Tamlihah, Abd. Mukhid, and Hilmi Qosim Mubah. "Implementasi Manajemen Kurikulum Pesantren Dalam Membentuk Karakter Mandiri Santri Di Pondok Pesantren Nurus Sibyan Ambat Tlanakan Pamekasan." Re-JIEM (Research Journal of Islamic Education Management) 3, no. 1 (2020): 96. https://doi.org/10.19105/re-jiem.v3i1.2957.
Umiarso, Bahruddin dan. Kepemimpinan Pendidikan Islam. Yogyakarta: Ar Ruzz Media, 2012.
Wahid, Abdurrahman. Menggerakkan Tradsi Esai-Esai Pesantren. Yogyakarta: LkiS Printing Cemerlang, 2010.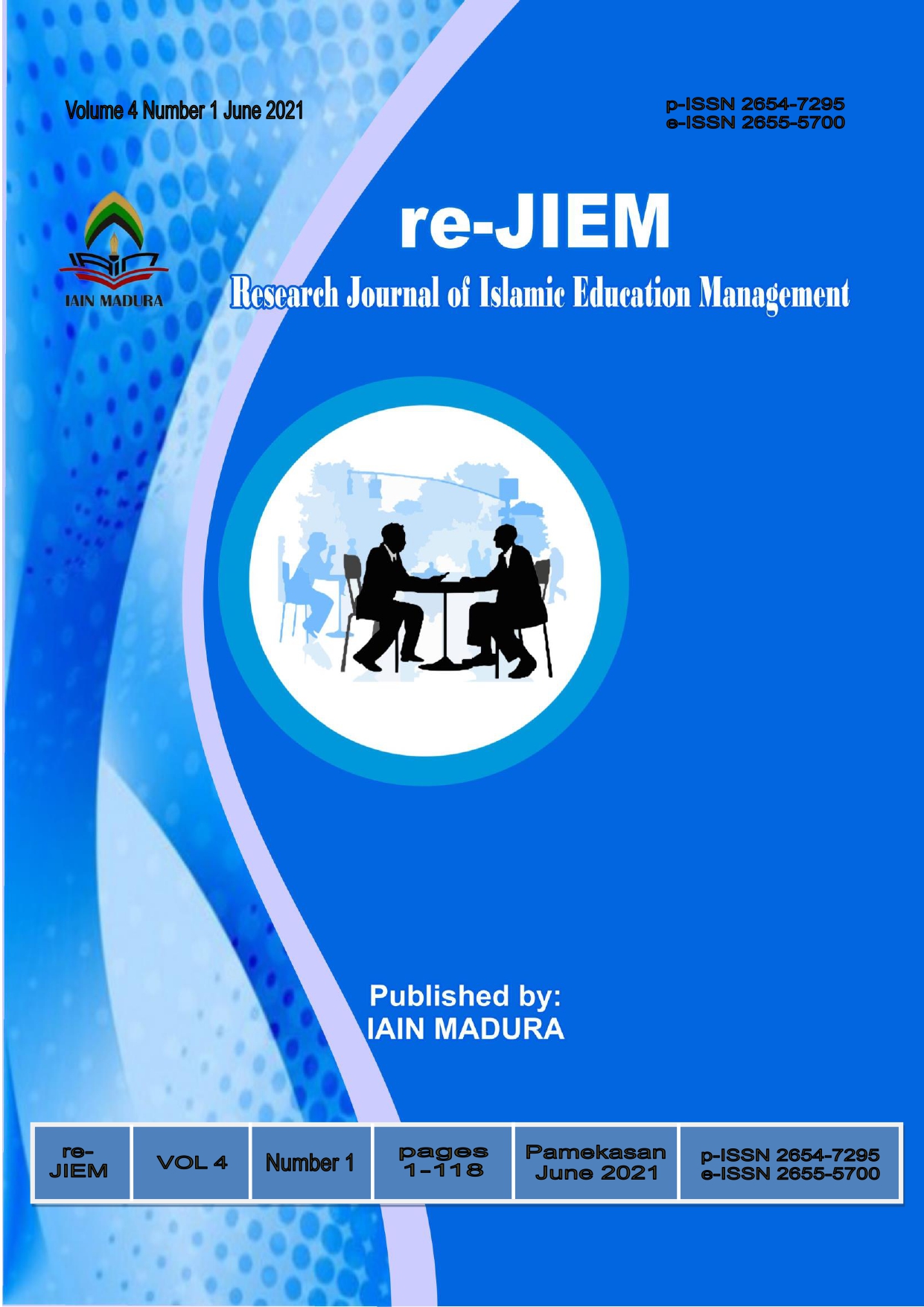 How to Cite
Hasanah , Risalatul, and Mohammad Kosim. 2021. "ANALISIS GAYA KEPEMIMPINAN KHARISMATIK DALAM MEMELIHARA NILAI-NILAI TRADISI KEPESANTRENAN TRADISIONAL DI PONDOK PESANTREN NURUL HUDA KAMUNDUNG SAMPANG". Re-JIEM (Research Journal of Islamic Education Management) 4 (1), 72-85. https://doi.org/10.19105/re-jiem.v4i1.4820.
Copyright (c) 2021 Risalatul Hasanah , Mohammad Kosim
This work is licensed under a Creative Commons Attribution-ShareAlike 4.0 International License.
Authors who publish with this journal agree to the following terms:
Authors retain copyright and grant the journal right of first publication with the work simultaneously licensed under a Creative Commons Attribution-ShareAlike 4.0 International License that allows others to copy and redistribute the material in any medium or format with an acknowledgment of the work's authorship and initial publication in this journal and also allows to remix, transform, and build upon the material for any purpose, even commercially with contributions under the same license as the original.
Authors are able to enter into separate, additional contractual arrangements for the non-exclusive distribution of the journal's published version of the work (e.g., post it to an institutional repository or publish it in a book), with an acknowledgment of its initial publication in this journal.
Authors are permitted and encouraged to post their work online (e.g., in institutional repositories or on their website) prior to and during the submission process, as it can lead to productive exchanges, as well as earlier and greater citation of published work.