IMPLEMENTATION OF PROPHETIC EDUCATION IN BUILDING RELIGIOUS AND SOCIAL CULTURE AT AL FATTAH ISLAMIC HIGH SCHOOL
Sahri

Universitas Nahdlatul Ulama Sunan Giri

Imam Fuadi

UIN Sayyid Ali Rahmatullah Tulungagung

Ahmad Tanzeh

UIN Sayyid Ali Rahmatullah Tulungagung

Kojin

UIN Sayyid Ali Rahmatullah Tulungagung
Abstract views:
132
,
PDF ENGLISH downloads:
77
Keywords:
Educational Management, Prophetic, Religoius, Social
Abstract
Prophetic education aims to develop noble morals and good behavior based on Islamic teachings. The implementation of prophetic education in developing religious and social power includes introducing Islamic values from an early age, providing an understanding of hadith and sunnah, and teaching social care. Prophetic education must be carried out continuously by teachers and parents so that children can understand and practice the teachings of Islam in everyday life. The type of research used is field research. The approach used in this study is a descriptive qualitative approach. Data collection techniques used with mandala interviews, observation and documentation. While in analyzing data with data condensation, display data, draw conclusions. While in analyzing data with data condensation, display data, draw conclusions. The results of the study that the efforts made by Al Fattah Islamic High School in implementing Prophetic Education Management include providing religious education integrated with the curriculum, conducting spiritual formation through religious activities and character development, and providing examples for students through the behavior of teachers
Downloads
Download data is not yet available.
References
Addini, Agnia, 'Fenomena Gerakan Hijrah Di Kalangan Pemuda Muslim Sebagai Mode Sosial', Journal of Islamic Civilization, 1.2 (2019), 109–18
Aji, Anggatra Herucakra, 'Pendidikan Karakter Dalam Ekstrakurikuler Pramuka Di SMP Negeri 1 Yogyakarta', Spektrum Analisis Kebijakan Pendidikan, 5.1 (2016), 82–96
Astuti, Ani Dwi, and others, 'The Strategy of Principal in Instilling Religious Character in Muhammadiyah Elementary School.', European Educational Researcher, 3.2 (2020), 67–85
Bahri, Samsul, 'World View Pendidikan Islam Tentang Pembentukan Karakter Peserta Didik Yang Holistik Dan Integratif', Jurnal Mudarrisuna: Media Kajian Pendidikan Agama Islam, 7.2 (2017), 179–212
Barrett, Angeline, Rita Chawla-Duggan, John Lowe, Jutta Nikel, and Eugenia Ukpo, 'Review of the'International'Literature on the Concept of Quality in Education', Bristol, EdQual, 2006, 1–9
Dartim, Dartim, 'Memaknai Relevansi Konsep Profetik Kuntowijoyo Dengan Manajemen Pendidikan Islam', Iseedu: Journal of Islamic Educational Thoughts and Practices, 4.2 (2020), 331–43
Handayani, Trikinasih, Wuryadi Wuryadi, and Zamroni Zamroni, 'Pembudayaan Nilai Kebangsaan Siswa Pada Pendidikan Lingkungan Hidup Sekolah Dasar Adiwiyata Mandiri', Jurnal Pembangunan Pendidikan: Fondasi Dan Aplikasi, 3.1 (2015), 95–105
Hilmi, Sulistiawati dan danial, 'Eduction Management Perspective Prophet Ibrahim', El-Thumuhat, 2.1 (2019), 14–24
Hunter, David, Jacqueline McCallum, and Dora Howes, 'Defining Exploratory-Descriptive Qualitative (EDQ) Research and Considering Its Application to Healthcare', Journal of Nursing and Health Care, 4.1 (2019)
Kosim, Mohammad, and others, 'Ilmu Pengetahuan Dalam Islam (Perspektif Filosofis-Historis)', Tadris: Jurnal Pendidikan Islam, 3.2 (2008), 121–40
Lambert, Vickie A, and Clinton E Lambert, 'Qualitative Descriptive Research: An Acceptable Design', Pacific Rim International Journal of Nursing Research, 16.4 (2012), 255–56
Masrifatin, Yuni, 'Konsep Pendidikan Profetik Sebagai Pilar Humanisme', LENTERA: Kajian Keagamaan, Keilmuan Dan Teknologi, 18.2 (2019), 165–74
Muchlis, Saiful, Rimi Gusliana Mais, and Arif Hartono, 'Manajemen Keuangan Berbasis Penerapan Nilai-Nilai Profetik', Musyarakah: Journal of Sharia Economic (MJSE), 2.1 (2022), 1–21
Pratiwi, Sinta Yulis, and Lailatul Usriyah, 'Implementasi Pendidikan Profetik Dalam Membentuk Karakter Peserta Didik Di Sekolah Dasar Al-Baitul Amien Jember', EDUCARE: Journal of Primary Education, 1.3 (2020), 243–64
Rahmi, Elvi, 'Leadership-Manajerialship Dalam Pendidikan Islam', TADRIS: Jurnal Pendidikan Islam, 13.2 (2018)
Rismayanthi, Cerika, 'Optimalisasi Pembentukan Karakter Dan Kedisiplinansiswa Sekolah Dasar Melalui Pendidikan Jasmaniolahraga Dan Kesehatan', Jurnal Pendidikan Jasmani Indonesia, 8.1 (2011), 10–17
Rokhmawanto, Sulis, Dwi Marlina, and others, 'Manajemen Pengembangan Kurikulum Madrasah Berbasis Ilmu Sosial Profetik Dalam MewujudkanMadrasah Unggul Di MA An Nawawi Berjan Purworejo', An-Nidzam: Jurnal Manajemen Pendidikan Dan Studi Islam, 7.1 (2020), 16–33
Sadri, Muhammad, Faisar Ananda, and Saparuddin Siregar, 'Implementation of Management Based on Islamic Spiritual Entrepreneurship for the Success of Madrasah Management', International Journal of Business Economics (IJBE), 2.1 (2020), 29–38
Shihab, Quroish, Lentera Al-Quran; Kisah Dan Hikmah Kehidupan (Bandung: Mizan, 2008)
Sholeh, Makherus, 'Implementation of Prophetic Education in Primary Education Institutions', EDUKASI: Jurnal Pendidikan Islam (e-Journal), 6.2 (2018), 227–46
Sholihah, Abdah Munfaridatus, and Windy Zakiya Maulida, 'Pendidikan Islam Sebagai Fondasi Pendidikan Karakter', QALAMUNA: Jurnal Pendidikan, Sosial, Dan Agama, 12.1 (2020), 49–58
Umam, Muhamad Khoirul, 'Paradigma Pendidikan Profetik Dalam Pendekatan Pembelajaran Tematik Di Madrasah Ibtida'iyah', in PROCEEDING: The Annual International Conference on Islamic Education, 2018, III, 120–32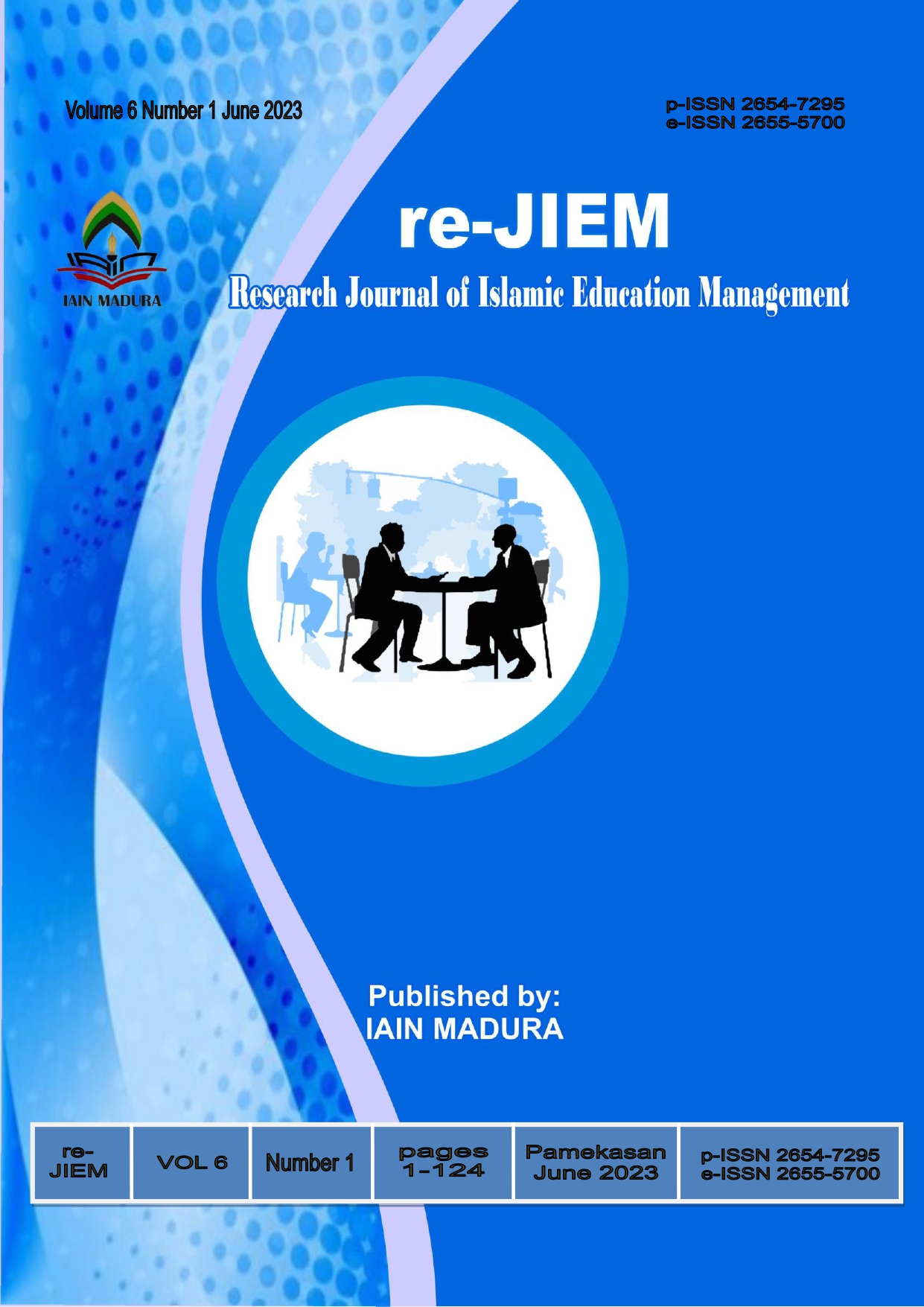 How to Cite
Sahri, Imam Fuadi, Ahmad Tanzeh, and Kojin. 2023. "IMPLEMENTATION OF PROPHETIC EDUCATION IN BUILDING RELIGIOUS AND SOCIAL CULTURE AT AL FATTAH ISLAMIC HIGH SCHOOL". Re-JIEM (Research Journal of Islamic Education Management) 6 (1), 18-28. https://doi.org/10.19105/re-jiem.v6i1.8683.
Copyright (c) 2023 Sahri, Imam Fuadi, Ahmad Tanzeh, Kojin
This work is licensed under a Creative Commons Attribution-ShareAlike 4.0 International License.
Authors who publish with this journal agree to the following terms:
Authors retain copyright and grant the journal right of first publication with the work simultaneously licensed under a Creative Commons Attribution-ShareAlike 4.0 International License that allows others to copy and redistribute the material in any medium or format with an acknowledgment of the work's authorship and initial publication in this journal and also allows to remix, transform, and build upon the material for any purpose, even commercially with contributions under the same license as the original.
Authors are able to enter into separate, additional contractual arrangements for the non-exclusive distribution of the journal's published version of the work (e.g., post it to an institutional repository or publish it in a book), with an acknowledgment of its initial publication in this journal.
Authors are permitted and encouraged to post their work online (e.g., in institutional repositories or on their website) prior to and during the submission process, as it can lead to productive exchanges, as well as earlier and greater citation of published work.