KERJA SAMA KELEMBAGAAN PADA MADRASAH ADIWIYATA DI MTS NEGERI 2 PAMEKASAN
Ali Nurhadi

IAIN Madura

Irfaida Irfaida

IAIN Madura
Abstract views:
140
,
PDF downloads:
16
Abstract
Madrasah is a formal institution that aims to develop and enhance individual potential, both physical and psychological potential. Madrasah programs can only run smoothly if they receive community support. Therefore, madrasah leaders need to continuously foster good relations between madrasah and the community. Realizing the adiwiyata madrasah program must be supported by cooperation between the community and the madrasa to support the achievement of the program. Based on this research was carried out in the form of a case study of institutional cooperation at the adiwiyata madrasah in MTs Negeri 2 Pamekasan with three research focuses, namely: 1) Implementation of institutional cooperation in adiwiyata madrasah at MTs Negeri 2 Pamekasan which refers to management functions namely planning, organizing, actuating, controlling; 2) Weaknesses and obstacles in the implementation of institutional cooperation at the adiwiyata madrasa internally and externally at  MTs Negeri 2 Pamekasan; and 3) Ways to overcome weaknesses and obstacles in the implementation of institutional cooperation at the adiwiiyata madrasah internally and externally.
Downloads
Download data is not yet available.
References
Arikunto, Suharsimi. Prosedur Penelitian; Suatu Pendekatan Praktik. Jakarta: PT Rineka Cipta, 2013.
Asaad, Ilyas. Et, al. Panduan Adiwiyata; Sekolah Peduli Lingkungan Dan Berbudaya Lingkungan. Jakarta: Kementerian Pendidikan dan Kebudayaan RI, 2011.
Daryanto, Agung, dan Suprihatin. Pengantar Pendidikan Lingkungan Hidup. Yogyakarta: Gava Media, 2013.
Donni Juni Priansa, dan Euis Karwati, Manajemen Kelas (Classroom Manajemen); Guru Pofesional Yang Inspiratif, Kreatif, Menyenangkan, Dan Berprestasi. Bandung: Alfabeta, 2015.
Elis, Yulanda. Et, al, "Kerjasama Lembaga Pendidikan Dan Pelatihan Dengan Lembaga Lain Bidang Kejuruan." Jurnal Pendidikan: Teori, penelitian, dan pengembangan Vol. 2 No. 2, Tahun 2017.
Imam Gunawan, Metode Penelitian Kualitatif Teori & Praktek. Jakarta: PT. Bumi Aksara, 2014.
Kasiram, Moh. Metodologi penelitatif. Malang: UIN Maliki Press, 2010.
Maryani, Ika. "Evaluasi Pelaksanaan Program Sekolah Adiwiyata Ditinjau Dari Aspek Kegiatan Partisipatif Di Sdn Ungaran I Yogyakarta." Jurna Pemikiran dan Pengembangan SD, Jilid 1, No 3, April, 2014.
Mohammad Muchlis Solichin, "Pendidikan Agama Islam Bewawasan Spiritualitas EkologI: Telaah Materi dan Model Pembelajaran",Jurnal Al-Tahrir, Vol. 17, No. 2 November 2017Minarti, Sri. Manajemen Sekolah, (Jokjakarta: Ar-Ruzz Media, 2016.
Moleong, Lexy J. Metodologi Penelitian Kualitatif. Bandung: PT Remaja Rosdakarya, 2011.
Paparang, Olvin Ekayanti. "Peran Serta Warga Sekolah Dalam Melaksanakan Program Adiwiyata." Jurnal Administrasi Negara, Vol. 05. No 02 Tahun 2017.
Qomar, Mujamil. Manajemen Pendidikan Islam; Strategi Baru Pengelolaan Lembaga Pendidikan Islam. Erlangga: PT Gelora Aksara Pratama, 2002.
Sabrina, Shintia. "Pengelolaan Hubungan Sekolah Dengan Masyrakat (HUSEMAS)." Jurnal Administrasi Pendidikan, Vol. 2 No 1 Juni 2014.
Sari, Yusni. "Peningkatan Kerjasama Disekolah." Jurnal Administrasi Pendidikan, Vol. 1 No. 1, Tahun 2010.
Sudjoko, Pendidikan Lingkungan Hidup (Jakarta: Universitas Terbuka, 2011.
Sugiono, Metodologi Penelitian Pendidikan Kuantitatif, Kualitatif dan R & D. Bandung: Alfabeta, 2011.
Sulistyorini, Manajemen Pendidikan Islam; Konsep, Strategi Dan Aplikasi. Yogyakarta: TERAS, 2019.
Tamzeh, Ahmad. Pengantar Metode Penelitian. Yogyakarta : Teras, 2009.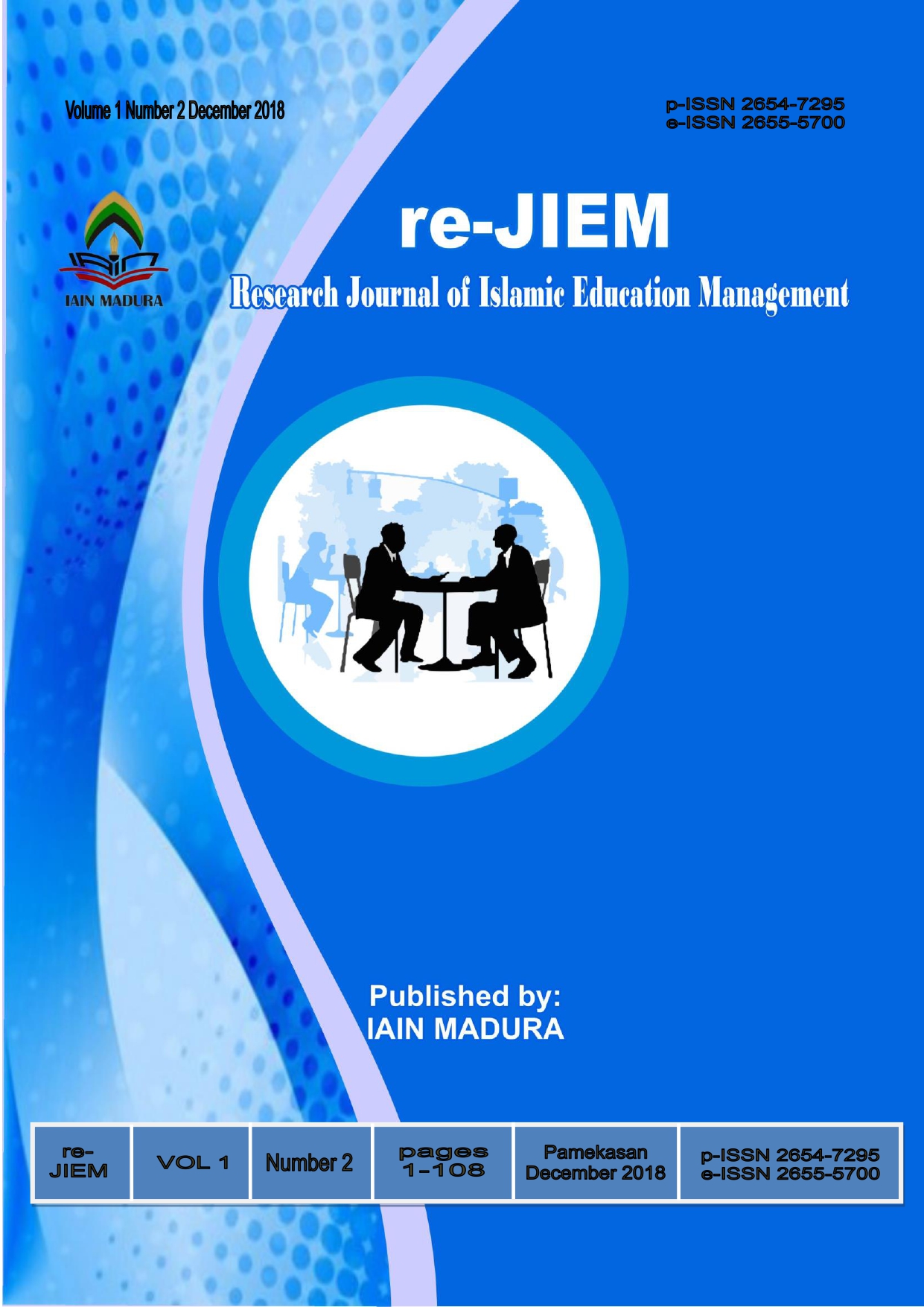 How to Cite
Nurhadi, Ali, and Irfaida Irfaida. 2019. "KERJA SAMA KELEMBAGAAN PADA MADRASAH ADIWIYATA DI MTS NEGERI 2 PAMEKASAN". Re-JIEM (Research Journal of Islamic Education Management) 1 (2), 01-13. https://doi.org/10.19105/re-jiem.v1i2.2087.
Authors who publish with this journal agree to the following terms:
Authors retain copyright and grant the journal right of first publication with the work simultaneously licensed under a Creative Commons Attribution-ShareAlike 4.0 International License that allows others to copy and redistribute the material in any medium or format with an acknowledgment of the work's authorship and initial publication in this journal and also allows to remix, transform, and build upon the material for any purpose, even commercially with contributions under the same license as the original.
Authors are able to enter into separate, additional contractual arrangements for the non-exclusive distribution of the journal's published version of the work (e.g., post it to an institutional repository or publish it in a book), with an acknowledgment of its initial publication in this journal.
Authors are permitted and encouraged to post their work online (e.g., in institutional repositories or on their website) prior to and during the submission process, as it can lead to productive exchanges, as well as earlier and greater citation of published work.