PERAN KEPALA SEKOLAH DALAM MEMBENTUK BUDAYA ISLAMI DI MA NASYATUL MUTA'ALLIMIN I GAPURA TIMUR, SUMENEP
Edi Susanto

IAIN Madura

Hosnani Hosnani

IAIN Madura
Abstract views:
40
,
PDF downloads:
12
Abstract
A school is where the internalization of religious culture to the students, so that they have a strong fortress in forming a noble character. Application of Islamic culture in an institution not be separated from the role of head of the school where the principal is responsible for the smooth implementation of education and teaching in School. The principal must be resourceful in the lead group and the delegation of duties and authorities. In the administration of activities contains in it the functions of planning, organizing, staffing, and supervision. A successful prinsipal is a participal who understand about any factors which make him be able to lead a school so that facilitate him in determining steps to make the success come true including the success in shaping islamic culture.
Downloads
Download data is not yet available.
References
Abuddin Nata, Akhlak Tasawwuf dan Karakter Mulia. Jakarta: PT. RajaGrafindo Persada, 2015
Andang, Manajemen dan Kepemimpinan Kepala Sekolah, Yogyakarta: Ar-Ruzz Media, 2014
Asmaun Sahlan, Mewujudkan Budaya Religius di Sekolah. Malang: Uin Malik Press, 2010
Benni Prasetya, jurnal: Pengembangan Budaya Religius di Sekolah, Probolinggo: Stai Muhammadiyah, 2014
Chusnul Chotimah, Komplemen Manajemen Pendidikan islam. Yogyakarta: Teras, 2014
ChusnulChotimah, KomplemenManajemenPendidikan Islam, Yogyakarta: Teras, 2014
Departemen Agama, al-Quran dan terjemahannya Bandung: CV. Penerbit J-Art, 2005
Hasan Basri, dkk. Ilmu Pendidikan Islam, Bandung: CV. Pustaka Setia, 2010
Lexy J. Moleong, Metodologi Penelitian Kualitatif Bandung: PT. Remaja Rosdakarya 2010
Muhaimin, Paradigma Pendidikan Islam. Bandung: PT. Remaja Rosdakarya, 2002
Muhammad Fathurrahman, Budaya Religius dalam Peningkatan Mutu Pendidikan Yogyakarta: Kalimedia, 2015
Mulyasa, Manajemen Pendidikan Karakter Jakarta: PT Bumi Aksara, 2011
Mulyasa, Menjadi Kepala Sekolah yang Profesional. Bandung: PT Remaja Rosdakarya, 2007
Saefullah, Manajemen Pendidikan Islam, Bandung: Pustaka Setia, 2014
Wahjosumidjo, Kepemimpinan Kepala Sekolah. Jakarta: PT Raja Grafindo Persada, 2011
Warsilah, Jurnal: Akuntabilitas Manajemen Pendidikan, Yogyakarta: Universitas Negeri Yogyakarta, 2015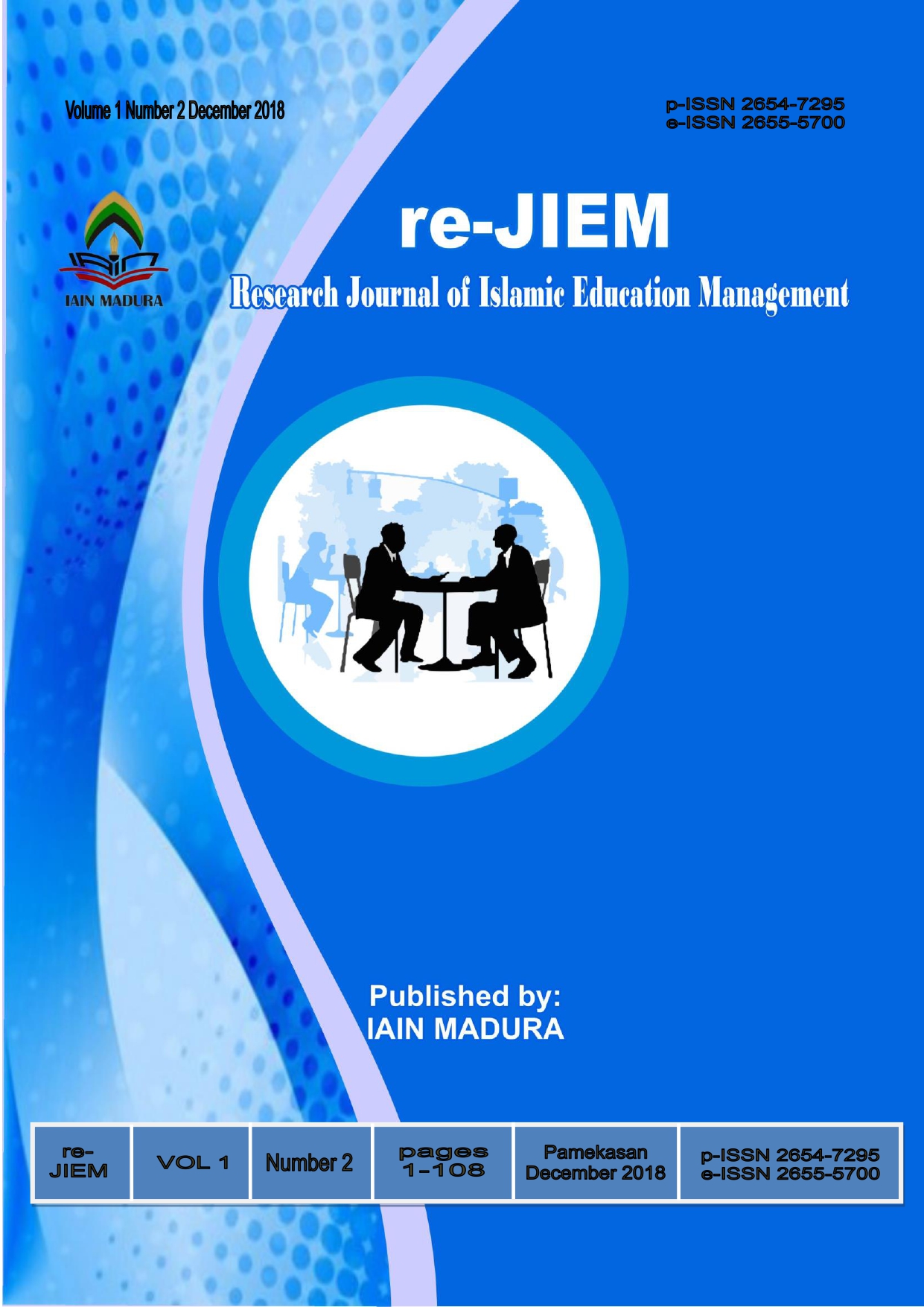 How to Cite
Susanto, Edi, and Hosnani Hosnani. 2019. "PERAN KEPALA SEKOLAH DALAM MEMBENTUK BUDAYA ISLAMI DI MA NASYATUL MUTA'ALLIMIN I GAPURA TIMUR, SUMENEP". Re-JIEM (Research Journal of Islamic Education Management) 1 (2), 22-34. https://doi.org/10.19105/re-jiem.v1i2.2089.
Authors who publish with this journal agree to the following terms:
Authors retain copyright and grant the journal right of first publication with the work simultaneously licensed under a Creative Commons Attribution-ShareAlike 4.0 International License that allows others to copy and redistribute the material in any medium or format with an acknowledgment of the work's authorship and initial publication in this journal and also allows to remix, transform, and build upon the material for any purpose, even commercially with contributions under the same license as the original.
Authors are able to enter into separate, additional contractual arrangements for the non-exclusive distribution of the journal's published version of the work (e.g., post it to an institutional repository or publish it in a book), with an acknowledgment of its initial publication in this journal.
Authors are permitted and encouraged to post their work online (e.g., in institutional repositories or on their website) prior to and during the submission process, as it can lead to productive exchanges, as well as earlier and greater citation of published work.