PENGELOLAAN KEGIATAN EKSTRA KURIKULER DALAM UPAYA PENGEMBANGAN KECERDASAN EMOSIONAL PESERTA DIDIK DI MA SUMBER BUNGUR PAKONG
Saiful Hadi

IAIN Madura

Anis Fitriya

IAIN Madura
Abstract views:
55
,
PDF downloads:
28
Abstract
Emotional intelligence form a certain ability the can possession by someone for can supervision feeling the be found inside self. Managemen extracurricular activity is a cartain exertion the did by all sorts of side institute inside planning, actuating, controlling, and evaluating activity the be outer part o'clock lesson or outer part class, where conducted activity talked about be able take elong change the carrefully concerning development personality an individual the follow it. Inside research this approachment the purpose because of researcher is approachment qualitative. Product research the result of development emotional intelligence student town managemen extracurricular activity in MA Sumber Bungur Pakong year lesson 2017-2018 that is development talked about alredy did by all sorts of side institude included builder extracurrucular activity be present. see extracurrucular in MA Sumber Bungur Pakong the be able develop emotional intelligence student that is only be found some extracurricular antivity certain that is extracurricullar scouting, adolescent red cross, and FLP (magazine school). Which person each and avery extracurricular talked about a builde activity have manner self inside development emotional intelligence student the participate in within. See development the did by builde town manajegemen extracurricular activity scouting that is: fulfillment SKU, fulfillment TKK, and conducted coarching LDK. See inside adolescent red cross activity, development the did by a builder that is: accompanying go along students become the member inside activity free therapy, activity assist calamity world, and give assist see fatherless child and poor. Whereas insid activity FLP, development the did by a builder FLP that is: observation about all sorts of work scientific, gift leadership special inside presentation, and notify along with know various opus the result by seniors.
Downloads
Download data is not yet available.
References
Baharuddin. Psikologi Pendidikan: Refleksi Teoritis terhadap Fenomena. Jogjakarta: Ar-Ruzz Media, 2009.
Chotimah, Chusnul dan Muhammad Fathurrohman, Komplemen Manajemen Pendidikan Islam: Konsep Integratif Pelengkap Manajemen Pendidikan Islam. Yogyakarta: Teras, 2014.
Damanik, Saipul Ambri. Pramuka Ekstrakurikuler Wajib di Sekolah. Jurnal Ilmu Keolahragaan: Vol. 13, No. 2, Juli-Desember 2014.
Departemen Agama RI, Al-Qur'an Al-Karim dan Terjemahannya. Semarang: PT. Karya Toha Putra Semarang, 2002.
Kurnawati, Ely dan Erny Roesminingsih. Manajemen Kesiswaan di SMA Negeri Mojoagung Jombang. Surabaya: Universitas Negeri Surabaya, 2014.
Mulyono. Manajemen Administrasi dan Organisasi Pendidikan. Jogjakarta: Ar-Ruzz Media, 2014.
Solichin, M. Muchlis. Psikologi Belajar dengan Pendekatan Baru: Telaah Komprehensif Paradigma, Prinsip, Model Belajar dan Pembelajaran. Surabaya: Pena Salsabila, 2017.
Suhardan, Dadang. Manajemen Pendidikan. Bandung: Alfabeta, 2012.
Thoha, Mohammad dan R. Taufikurrahman. Aktualisasi Nilali-nilai Kecerdasan Emosional dalam Manajemen Sumber Daya Manusia.Pamekasan: Duta Media, 2016.
Yanti, Noor ,dkk. Pelaksanaan Kegiatan Ekstrakurikuler dalam Rangka Pengembangan Nilai-nilai Karakter Siswa Untuk Menjadi Warga Negara yang Baik di SMA Korpri Banjarmasin. Jurnal Pendidikan Kewarganegaraan: Volume 6, Nomor 11, Mei 2016.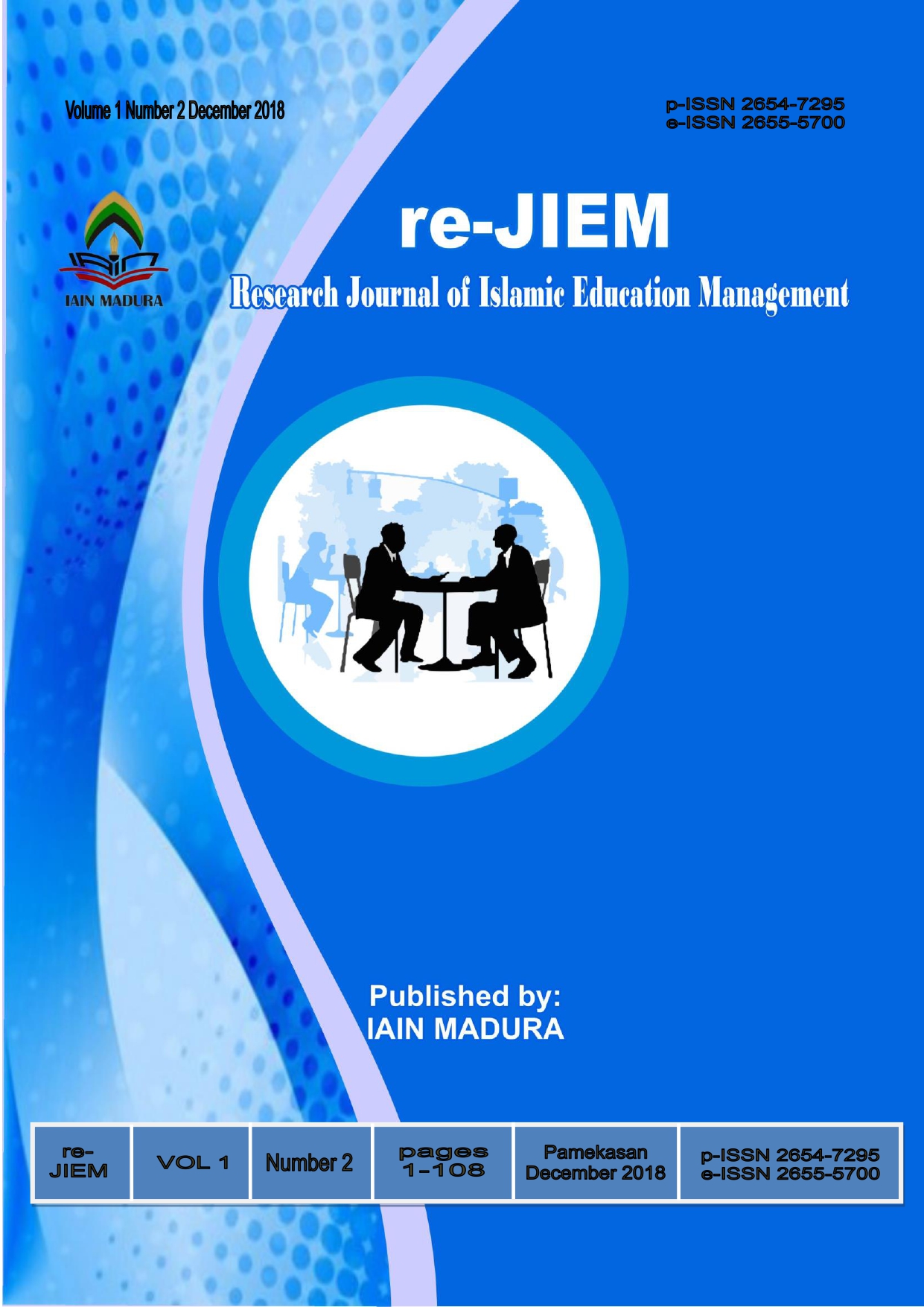 How to Cite
Hadi, Saiful, and Anis Fitriya. 2019. "PENGELOLAAN KEGIATAN EKSTRA KURIKULER DALAM UPAYA PENGEMBANGAN KECERDASAN EMOSIONAL PESERTA DIDIK DI MA SUMBER BUNGUR PAKONG". Re-JIEM (Research Journal of Islamic Education Management) 1 (2), 44-59. https://doi.org/10.19105/re-jiem.v1i2.2092.
Authors who publish with this journal agree to the following terms:
Authors retain copyright and grant the journal right of first publication with the work simultaneously licensed under a Creative Commons Attribution-ShareAlike 4.0 International License that allows others to copy and redistribute the material in any medium or format with an acknowledgment of the work's authorship and initial publication in this journal and also allows to remix, transform, and build upon the material for any purpose, even commercially with contributions under the same license as the original.
Authors are able to enter into separate, additional contractual arrangements for the non-exclusive distribution of the journal's published version of the work (e.g., post it to an institutional repository or publish it in a book), with an acknowledgment of its initial publication in this journal.
Authors are permitted and encouraged to post their work online (e.g., in institutional repositories or on their website) prior to and during the submission process, as it can lead to productive exchanges, as well as earlier and greater citation of published work.