UPAYA PENINGKATAN KEMAMPUAN GURU SMA DALAM MELAKSANAKAN PEMBELAJARAN MELALUI SUPERVISI AKADEMIK DI SEKOLAH BINAAN KABUPATEN BANGKALAN
Atik Sulistiatik

Pengawas SMA Cabang Dinas Pendidikan Wilayah Kabupaten Bangkalan Propinsi Jawa Timur
Abstract views:
57
,
PDF downloads:
13
Abstract
The ability of teachers to prepare learning plans as a reference for implementing learning is not all good. In this regard, this study aims to improve the ability of teachers to carry out learning that refers to learning plans that are measured using instruments. the research method used school action assessment through two cycles. Cycle one includes planning, implementation, observation and reflection. From one cycle that has not been fulfilled, followed by the second cycle action. The research subjects were the high school teachers of the target schools in the Bangkalan District. Data collection techniques are descriptive. The indicator of success is if the value of each component is good, the value is at least 80 from a maximum value of 100. Learning planning has a minimum value of 28 from a maximum score of 35. The assessment in cycle one has not reached standard because the value is below 80 for learning and learning plan still under 28. Assessment in the second cycle of achievement of the implementation of learning between 80 to 84 while for planning learning between 28 to 34.
Keywords: teacher ability, implementation of academic supervision learning
Downloads
Download data is not yet available.
References
Arikunto, Suharsimi, Prosedur Penelitian : Suata Pendekatan Praktik. Jakarta:PT Rineka Cipta. 2013
Depdiknas, Undang - Undang Republik Indonesia Nomor 14 tahun 2005, Depdiknas. 2005
Depdiknas, Peraturan Peerintah Nomor 19 Tahun 2005 Tentang Standar Nasional. 2006
Depdiknas, Peraturan Menteri Pendidikan Nasional Nomor 12 tahun 2007, Depdiknas.tentang. 2007
Gunawan, Imam. Metode Penelitian Kualitatif Teori dan Praktek. Jakarta PT, Bumi Aksara. 2014
Pendidikan, Depdiknas Jakarta.
Permendiknas, Peraturan Menteri Pendidikan Nasional Nomor 41 tahun 2007, Depdiknas. 2007
Rusman, Model – Model Pembelajaran. Raja Grafindo Persada, Jakarta. 2010
Sahertian, Konsep dan Teknik Supervisi Pendidikan. Rineka Cipta, Jakarta. 2000
Standar Pengawas Sekolah/Madrasah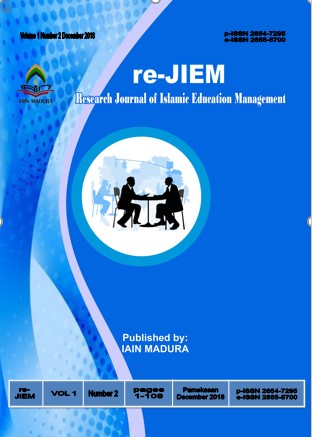 How to Cite
Sulistiatik, Atik. 2019. "UPAYA PENINGKATAN KEMAMPUAN GURU SMA DALAM MELAKSANAKAN PEMBELAJARAN MELALUI SUPERVISI AKADEMIK DI SEKOLAH BINAAN KABUPATEN BANGKALAN". Re-JIEM (Research Journal of Islamic Education Management) 2 (1), 119-30. https://doi.org/10.19105/re-jiem.v2i1.2455.
Authors who publish with this journal agree to the following terms:
Authors retain copyright and grant the journal right of first publication with the work simultaneously licensed under a Creative Commons Attribution-ShareAlike 4.0 International License that allows others to copy and redistribute the material in any medium or format with an acknowledgment of the work's authorship and initial publication in this journal and also allows to remix, transform, and build upon the material for any purpose, even commercially with contributions under the same license as the original.
Authors are able to enter into separate, additional contractual arrangements for the non-exclusive distribution of the journal's published version of the work (e.g., post it to an institutional repository or publish it in a book), with an acknowledgment of its initial publication in this journal.
Authors are permitted and encouraged to post their work online (e.g., in institutional repositories or on their website) prior to and during the submission process, as it can lead to productive exchanges, as well as earlier and greater citation of published work.