MANAJEMEN PEMBELAJARAN BERBASIS PENDEKATAN PERUBAHAN PERILAKU DALAM MENINGKATKAN MOTIVASI BELAJAR SISWA DI SMP NEGERI 3 PADEMAWU PAMEKASAN
Dr. Ali Nurhadi, M.Pd.

IAIN Madura

Dedi Yusup

MPI IAIN Madura
Abstract views:
184
,
PDF downloads:
72
Abstract
Management in learning must be programmed according to the approach to behavior change in order to increase student motivation. This was done at SMP Negeri 3 Pademawu Pamekasan. This research approach is qualitative with the type of case study research. The results of the first study planning a behavioral change approach in increasing student motivation in Pademawu Pamekasan Middle School 3, including: 1) Teachers use the PAKEM learning model. 2) Implement a system of approaches, giving motivation, uswah or examples and spiritual support, rules in the form of 5S and school order; 3) Application of the rules and regulations of the institutions that get positive responses from students. The second is the application of the behavior change approach in increasing student motivation in Pademawu Pamekasan Middle School 3, including: 1) The teacher provides motivation for students such as order notes and uswah or examples. 2) The teacher uses the PAKEM learning model; and 3) Teachers apply reward and praise strategies for students who excel in both the academic and non-academic fields. These three factors support the behavior change approach in increasing student motivation in Pademawu State Yunior School 3 in increasing student motivation in Pademawu State Pamekasan Yunior School, including: 1) active students in the classroom; 2) The existence of a mosque is also an existing library. While the inhibiting factors, including: 1) If the teacher is too close to students, the student will lower the teacher and students who are naughty will talk more and more without being noticed by students; b) Not all teachers apply the behavior change approach.
Downloads
Download data is not yet available.
References
Purwanto, PurwantoIlmu Pendidikan Teoritis Dan Praktis, Bandung: Remaja Rosdakarya, 2007.
Mudjiono, Dimyati, Belajar dan Pembelajaran, Jakarta: Rineka Cipta, 2006.
Anitah, Sri,Strategi Pembelajaran di SD , Jakarta: Universitas Terbuka, 2009.
Syah, Darwyn, Perencanaan Sistem Pengajaran PAI Jakarta: Gaung Persada Press, 2007.
Ibnu Mahmudi, Marsilia, JURNAL BIMBINGAN DAN KONSELING, Perubahan Perilaku Prokrastinasi Akademik Melalui Konseling Kelompok Dengan Teknik Token Ekonomi Pada Siswa Kelas X TP SMK Negeri I Wonoasri Kabupaten Madiun.
Evis Karwati dan Donni Juni Priansa, Manajemen Kelas, Bandung: Alfabeta, 2015.Fas, Olvina, Gerry, JURNAL PSIKOLOGI TABULARASA: Penerapan Metode Modifikasi Perilaku Pembentukan (Shapping) Untuk Membentuk Perilaku Sosial Anak dengan Ketidakmampuan Intelektual Ringan, Vol. 10, No. 2, 2015.
Sudjana, Nana, Dasar Dasar Proses Belajar Mengajar, Bandung: Sinar Baru Algensindo, 2010. Baharuddin dan Esa Nur Wahyuni, Teori Belajar Dan Pembelajaran, Jogjakarta: AR-Ruzz, 2007.
Suprihatin, siti, JURNAL PENDIDIKAN EKONOMI UM METRO, Upaya Guru dalam Meningkatkan Motivasi Belajar Siswa, Vol. 3, No. 1, 2015.
Observasi, Tentang Pelaksanaan Kegiatan Belajar, Tanggal 02 April 2019.
Moleong, Lexy, J,Metodelogi Penelitian Kualitatif, Bandung: Remaja Rosda Karya, 2011.
Gunawan, Imam,metode penelitian kualitatif: Teori & Praktik, Jakarta: PT Bumi Aksara, 2014.
Undang- Undang Republik Indonesia Nomor 20 Tahun 2003, Jakarta: Citra Umbara, 2016.
Hadari Nawawi, Pendidikan dalam Islam, Surabaya: Al Ikhlas, 1993.
Faizal, Djabidi, Manajemen Pengelolaan Kelas, Malang: Madani, 2016.
Endang Hartati, Sartini, Ali Nurhadi. 2017. PERSEPSI MASYARAKAT MEMILIH PENDIDIKAN ANAK USIA DINI (Studi Kasus di TK Negeri Pembina Sampang Tahun Pelajaran 2015/2016). 3 (2). 103-111
Nurhadi, Ali. 2016. Profesi Keguruan Menuju Pembentukan Guru Profesional. Kuningan: Goresan Pena.
Hadi, Saiful, and Anis Fitriya. "KURIKULER DALAM UPAYA PENGEMBANGAN KECERDASAN EMOSIONAL PESERTA DIDIK DI MA SUMBER BUNGUR PAKONG." re-JIEM: Research Journal of Islamic Education Management 1.2 (2019).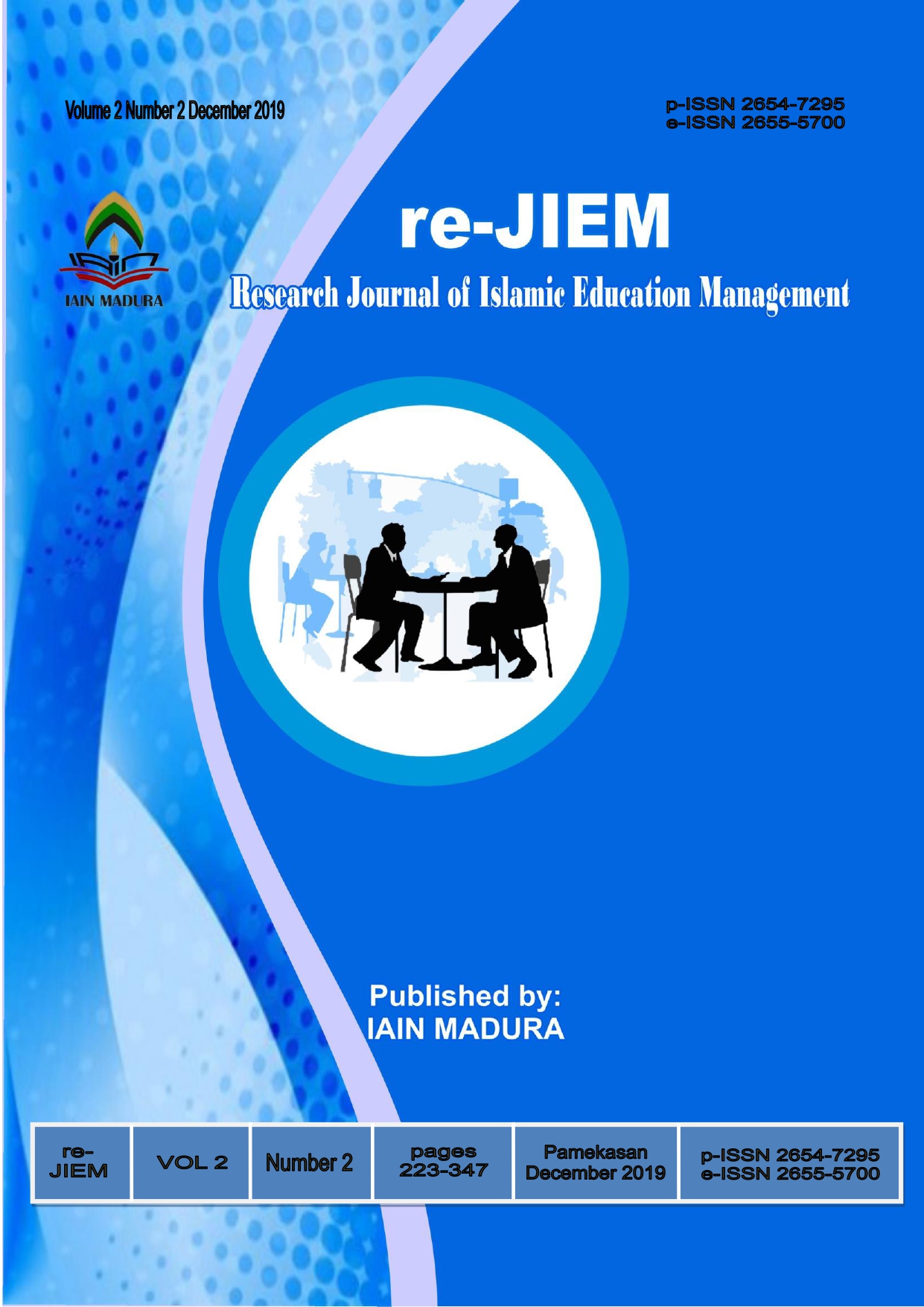 How to Cite
Nurhadi, M.Pd., Dr. Ali, and Dedi Yusup. 2019. "MANAJEMEN PEMBELAJARAN BERBASIS PENDEKATAN PERUBAHAN PERILAKU DALAM MENINGKATKAN MOTIVASI BELAJAR SISWA DI SMP NEGERI 3 PADEMAWU PAMEKASAN". Re-JIEM (Research Journal of Islamic Education Management) 2 (2), 288-304. https://doi.org/10.19105/re-jiem.v2i2.2871.
Authors who publish with this journal agree to the following terms:
Authors retain copyright and grant the journal right of first publication with the work simultaneously licensed under a Creative Commons Attribution-ShareAlike 4.0 International License that allows others to copy and redistribute the material in any medium or format with an acknowledgment of the work's authorship and initial publication in this journal and also allows to remix, transform, and build upon the material for any purpose, even commercially with contributions under the same license as the original.
Authors are able to enter into separate, additional contractual arrangements for the non-exclusive distribution of the journal's published version of the work (e.g., post it to an institutional repository or publish it in a book), with an acknowledgment of its initial publication in this journal.
Authors are permitted and encouraged to post their work online (e.g., in institutional repositories or on their website) prior to and during the submission process, as it can lead to productive exchanges, as well as earlier and greater citation of published work.