MANAJEMEN PEMBINAAN KEDISIPLINAN SANTRI DALAM MENGIKUTI KEGIATAN KEAGAMAAN DI PONDOK PESANTREN NURUS SHIBYAN AMBAT TLANAKAN PAMEKASAN
Rofiatun Rofiatun

MPI IAIAN Madura

Mohammad Thoha

IAIN Madura
Abstract views:
81
,
PDF downloads:
75
Abstract
Discipline is defined as an important exercise and character with the intention that all actions always obey the order, obedience, and rules of the order. This research uses a qualitative approach and the type is descriptive. The results of the study show that: (1) Management of disciplining students in participating in religious activities in the Islamic Boarding School of Nurus Shibyan Ambat Tlanakan Pamekasan is effective in accordance with applicable rules and regulations while fostering religious discipline activities for all students must participate in religious ritual activities, prayer in congregation, book deliberations, and from every student has a companion cleric, and regulated by the pesantren curriculum, (2) Supporting and inhibiting factors in fostering student discipline in participating in religious activities at Nurus Shibyan Islamic Boarding School Ambat Tlanakan Pamekasan, are supporting factors related to the potential of students, teacher / religious teacher readiness to keep fighting, and religious enthusiasm to fight by Allah while the inhibiting factors are some naughty students, laziness of children to participate in activities in the cottage, facilities which are partially inadequate, and lack of funds.
Downloads
Download data is not yet available.
References
Achmadi. Ideologi Pendidikan, Islam Paradigma Humanime Teosentris. Yogyakarta: Pustaka Pelajar, 2005.
Ali, Suryadahma. Paradigma Alqur'an. Malang : Uin-Maliki Press, 2013.
Arikunto, Suharsimi, Prosedur Penelitian Suatupendekatan Praktis. Jakarta : PT RI nekacipta 2013.
Bahtiar, Deni Sutan. Manajemen Waktu Islam. Jakarta: Amzah,2012.
Choliq, Abbdul. Manajemen Pesantren, Madrasah dan Pembinaan Santri. Yogyakarta: Stainu Press, 2011.
Damopoli, Muljono. Pesantren Modern IMMIM Mencetak Muslim Modern. Jakarta: Rajawali Pers, 2011.
Departemen Agama RI. Al-Qur'an danTerjemahannya. Semarang: CV. Asy-Syifa', 1992.
Depag. Kendali Mutu Pendidikan Agama Islam. Jakarta : Departemen Agama Islam, 2003.
Fadilillah, Muhammad, dkk. Pendidikan Karakter Anak usia Dini. Yokyakarta: Ar-ruzz Media,2013
Moleong, Lexy J. Metodologi Penelitian Kualitatif. Bandung: PT Remaja Rosdakarya, 2017.
Mufidah. Gender di Pesantren Salaf. Malang : UIN Maliki Press, 2010.
Muhaimin. Paradigma Pendidikan Islam. Bandung : Remaja Rosda karya, 2003.
Mujib, Fathul. Pesantren dan Pengembangan Sumber Daya Manusia. Pameksan: Stainu Pameksan Press, 2010.
Mu'in, Abdul. Kepemimpinan. Pamekasan: Pengkajian dan Pengembangan Ilmiah, 2010.
Mukarromah. Belajar dan Pembelajaran. Malang: UIM, 2002.
Prihatin, Eka. Manajemen Peserta Didik. Bandung : Alfabeta, 2011.
Rahardjo, M. Dawan. Pergulatan Dunia Pesantren: Membangun Dari Bawah. Jakarta: P3M, 1985.
Sugiyono. Metode Penelitian Kuntitatif Kualitatif Dan R&D. Bandung: Alfabeta, 2011.
Solichin, Muhammad Muchlis. Keberlangsungan dan Perubahan Pendidukan Pesantren di Tengah Arus Modernisasi Pendidikan. Surabaya: Pena Salsabila, 2013.
________________________. "MANAJEMEN PEMBELAJARAN PENDIDIKAN ISLAM MODERAT DI PERGURUAN TINGGI ISLAM (Studi Atas Institute Agama Islam Negeri Madura)." re-JIEM: Research Journal of Islamic Education Management 1, no. 2, 2019.
Sulaiman, In'am. Masa Depan Pesantren Eksistensi Pesantren di Tengah Gelombang Modenisasi. Malang: Madani, 2010.
Sulthon, Masyhud, dkk. Manajemen Pondok Pesantren. Jakarta: Diva Pustaka, 2003.
Ulwan, Abdul Nasih. Pendidikan Anak Dalam Islam. Solo :InsanKamil, 2012.
Wahab, Abd. Kepemimpinan Pendidikan dan Kecerdasan Spritual. Yogyakarta : Ar-Ruzz Media, 2011.
Wiyani, Novan Ardy. Bina Karakter Anak Usia Dini. Yogyakarta: Ar-Ruzz Media, 2013.
_________________. Manajeman Kelas: Teori Dan Aplikasi Untuk Menciptakan Kelas Yang kondusif. Yogyakarta: Ar-Ruzz Media, 2013.
Yasmadi. Modernisasi Pesantren: Kritikan Nurcholish Majid Terhadap Pendidikan Islam Tradisional. Jakarta: Ciputat Press, 2002.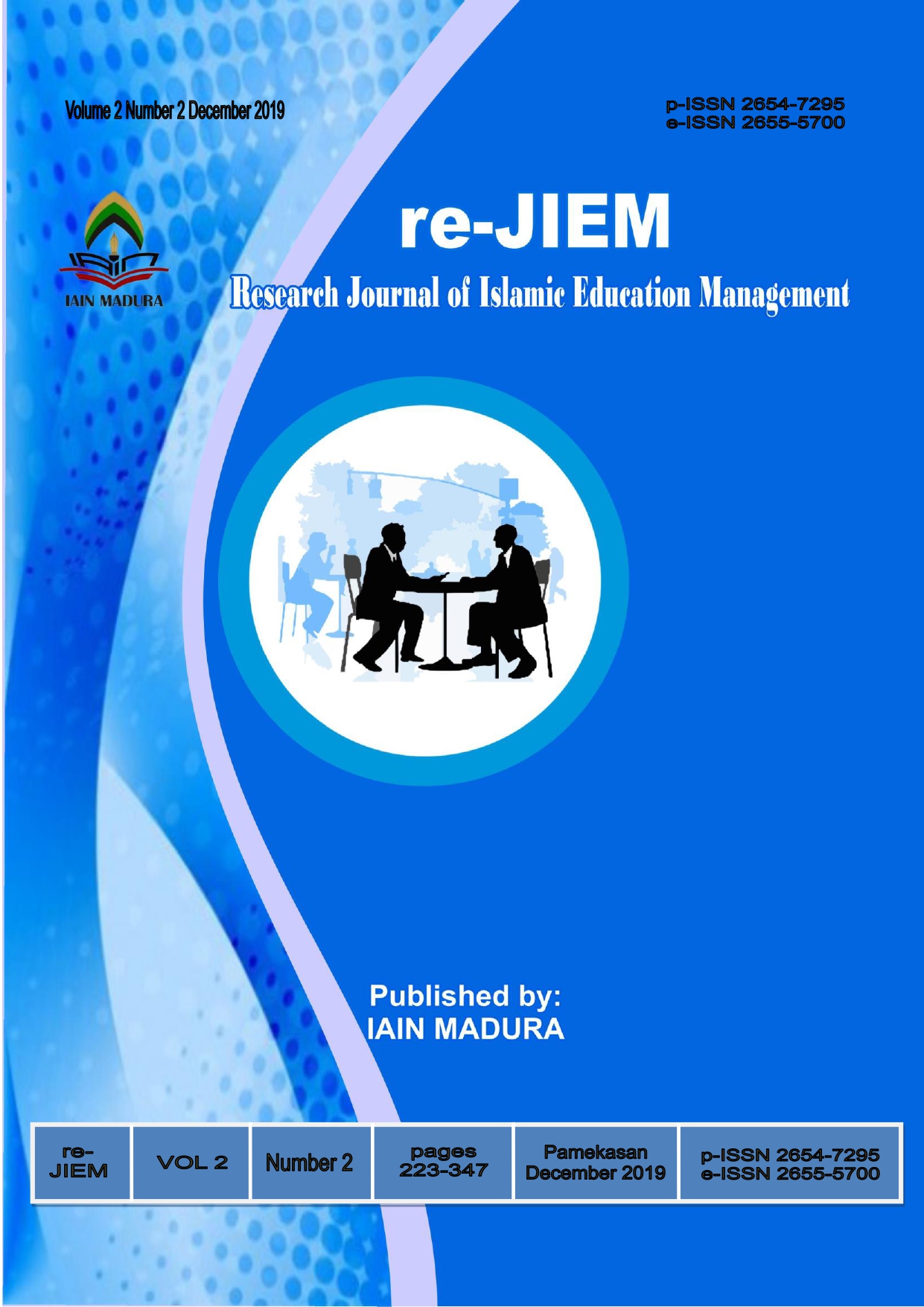 How to Cite
Rofiatun, Rofiatun, and Mohammad Thoha. 2019. "MANAJEMEN PEMBINAAN KEDISIPLINAN SANTRI DALAM MENGIKUTI KEGIATAN KEAGAMAAN DI PONDOK PESANTREN NURUS SHIBYAN AMBAT TLANAKAN PAMEKASAN". Re-JIEM (Research Journal of Islamic Education Management) 2 (2), 278-87. https://doi.org/10.19105/re-jiem.v2i2.2937.
Authors who publish with this journal agree to the following terms:
Authors retain copyright and grant the journal right of first publication with the work simultaneously licensed under a Creative Commons Attribution-ShareAlike 4.0 International License that allows others to copy and redistribute the material in any medium or format with an acknowledgment of the work's authorship and initial publication in this journal and also allows to remix, transform, and build upon the material for any purpose, even commercially with contributions under the same license as the original.
Authors are able to enter into separate, additional contractual arrangements for the non-exclusive distribution of the journal's published version of the work (e.g., post it to an institutional repository or publish it in a book), with an acknowledgment of its initial publication in this journal.
Authors are permitted and encouraged to post their work online (e.g., in institutional repositories or on their website) prior to and during the submission process, as it can lead to productive exchanges, as well as earlier and greater citation of published work.