PEDATREN: MANAJEMEN PESANTREN BERBASIS PAPERLESS OFFICE
Moh. Badruddin Amin

Institut Agama Islam Madura

Syafiqiyah Adhimy

Universitas Nurul Jadid Probolinggo
Abstract views:
115
,
PDF downloads:
106
Abstract
This article aims to understand pedatren holistically as a technology-based paperlessoffice boarding school management solution. This article uses qualitative research with the types of case studies conducted at Nurul Jadid Islamic Boarding School, Paiton, Probolinggo. Nurul Jadid Islamic Boarding School is one of the pesantren in East Java which has been established for 69 years. This is an indicator that the Nurul Jadid Islamic Boarding School is able to survive, be responsive and dynamic towards changing times, without abandoning religious values as a whole. Nurul Jadid Islamic Boarding School is also one of the cottages that responds well to the presence of technology. Pedatren is the solution to the pesantren management system which is starting to transform towards a paperless institution. Pedatren is designed using the node.js programming language with the jami 'wal mani' design system.
Downloads
Download data is not yet available.
References
Akhimuddin, Yusri."Wacana Lokal Dalam Pendidikan Surau Studi Filologis Terhadap Naskah Mantiq", JurnalTa'dib Vol. 12, No. 1 Juni 2009.
Al-Hikmah, Prastyawan. "Implementasi Manajemen Layanan Dalam Pendidikan Islam" Jurnal Studi Keislaman, Vol.05, No.1, Maret 2015.
Arianto, Mukhammad Agus, Munir, Sirojul, Khotimah, Khusnul. "Analisis Dan Perancangan Representational State Transfer (Rest) Web Service Sistem Informasi Akademik Stt Terpadu Nurul Fikri Menggunakan Yii Framework". Jurnal Teknologi Terpadu Vol. 2, No. 2, Desember, 2016.
Bloom, Benjamin S.Taxonomy OfEducational Objectives New York: Longman, Inc, 1981
Dhofier, Zamakhsyari. Tradisi Pesantren: Studi Tentang Pandangan Hidup Kyai, Jakarta: LP3ES, 1982.
Efendi, Nur, Manajemen Perubahan Di Pondok Pesantren. Yogyakarta: Teras,2014).
Fajrin, Rachmat."Pengembangan Sistem Informasi Geografis Berbasis Node.Js Untuk Pemetaan Mesin Dan Tracking Engineer Dengan Pemanfaatan Geolocation Pada Pt Ibm Indonesia", Jurnal Informatika Vol. 11, No. 2 Juli 2017
Fielding, Roy Thomas."Architectural StylesAndThe Design Of Network-Based Software Architectures", Dissertation University Of California, Irvine, 2000.
Georgesku, M., Tugui, A. Dumitriu, F., & Georgesku, L."Challenges For The Quality Of Information In The Paperless Office". Proceeding Of Management Of International Business And Economics Systems Conference. Greece: Technological Institute Of Larissa, 2008.
Mastuhu, Dinamika System Pendidikan PesantrenJakarta: Inis, 1994.
Mastuki. Hs, Manajemen Pondok Pesantren. Jakarta:Diva Pustaka, 2005.
Mubah, Hilmi Qosim. Manajemen Pesantren dan Pendidikan Luar Sekolah. Pamekasan: iainmadura press, 2019.
Nikmah. "Pengorganisasian Layanan Pendidikan Boarding School Berorientasi Mutu"Journal Educational Management Vol.2 No.1 Tahun 2013.
Ningrat, Desy Rahmawati, Maruddani, Di Asih I, WuryandariTriastuti. "Analisis Cluster Dengan Algoritma K-Means Dan Fuzzy C-Means Clustering Untuk Pengelompokan Data Obligasi Korporasi" Jurnal Gaussian, Vol. 5, No. 4 Tahun 2016.
Ningrum, Oktavia Setya&Puspasari, Durinta."Penggunaan Aplikasi Google Drive Sebagai Penunjang Paperless Office Fakultas Ekonomi", Jurnal Administrasi Perkantoran (Jpap) Vol.3 No.3 Tahun 2015.
Rahman, Muhamad Aminudin, Kuswardayan, Imam, &Hariadi, Ridho Rahman."Perancangan Dan Implementasi Restful Web Service Untuk Game Sosial Food Merchant Saga Pada Perangkat Android", Jurnal Teknik Pomits Vol. 2, No. 1, Tahun 2013.
Ramdhani,"kajian Psikologis Mengenai Komunikasi Berbasis Paperless Officeneila"Jurnal Psikologi Vol. 38, No. 2, Desember 2011.
Riantono, Ignatius Edward. "Pengelolaan Manajemen Modern Dalam Mewujudkan Good Corporate Governance: Optimalisasi Pencapaian Tujuan Perusahaan Binus Business" jurnal Review Vol. 5 No. 1 Mei 2014.
Rofiatun, Rofiatun, and Mohammad Thoha. "MANAJEMEN PEMBINAAN KEDISIPLINAN SANTRI DALAM MENGIKUTI KEGIATAN KEAGAMAAN DI PONDOK PESANTREN NURUS SHIBYAN AMBAT TLANAKAN PAMEKASAN." re-JIEM (Research Journal of Islamic Education Management) 2, no. 2 (2019): 278-287.
Rompis, Anugerah Christian&Aji, Rizal Fathoni. "Performance Comparison Of Node.Js, Php, And Python Performance For Rest"Cogito Smart JournalVol. 4No.1June 2018.
Sandra-Dinora&Orantes-Jiménez, "Paperless Office: A New Proposal For Organizations, Systemics", Journal Cybernetics And Informatics Vol. 13 No. 3 Tahun 2015.
Shah, Seema&Tiwari, Mohit."NetworkingOf Paperless Offices In Technical Institutes Of India", Ijcsns International Journal Of Computer Science And Network Security, Vol.10 No.3, March 2010
Sulanam, "Pemanfaatan Sistem Informasi Manajemen Di Pondok Pesantren Sunan Drajat ‐ Lamongan" JurnalNizamia, Vol. 12, No. 1, Tahun 2009
Shulton, M. dan M. Khusnuridlo, Manajemen Pondok Pesantren Dalam Perspektif Global. Yogyakarta: Laksbang, 2006.
Taufiq, Muhamad, Savitri, Erna Noor, Amalia, Andin Vita, Sudarmin. "Efektivitas Penerapan Electronic Portofolio Pada Perkuliahan Praktikum Ipa Dasar Untuk Mendukung Kebijakan Paperless" Indonesian Journal Of Conservation Vol. 05, No. 1, Tahun 2016.
Tidjani, Aisyah."Manajemen Lembaga Pendidikan Islam Menghadapi Tantangan Globalisasi" Jurnal Reflektika Vol. 13, No. 1, Januari–Juni 2017.
Wahid,Abdurrahman."Pesantren Sebagai Subkultur" Dalam M. Dawam Rahardjo (Ed.), Pesantren Dan Pembaharuan, Jakarta: Lp3es, 1995.
Wulandari, Jessy Ratna, Pramukantoro, Eko Sakti&Nurwarsito, Heru."Implementasi Cluster Message Broker Sebagai Solusi Skalabilitasmiddleware Berbasis Arsitektur Publish-Subscribe Pada Internet Of Things (Iot)", Jurnal Pengembangan Teknologi Informasi Dan Ilmu Komputer Vol. 2, No. 12, Desember 2018.
Yakin,Nurul."Pola Manajemen Pondok Pesantren Al-Raisiyah Di Kota Mataram" Ulumuna Jurnal Studi Keislaman, Vol. 18, No. 1, Juni 2014.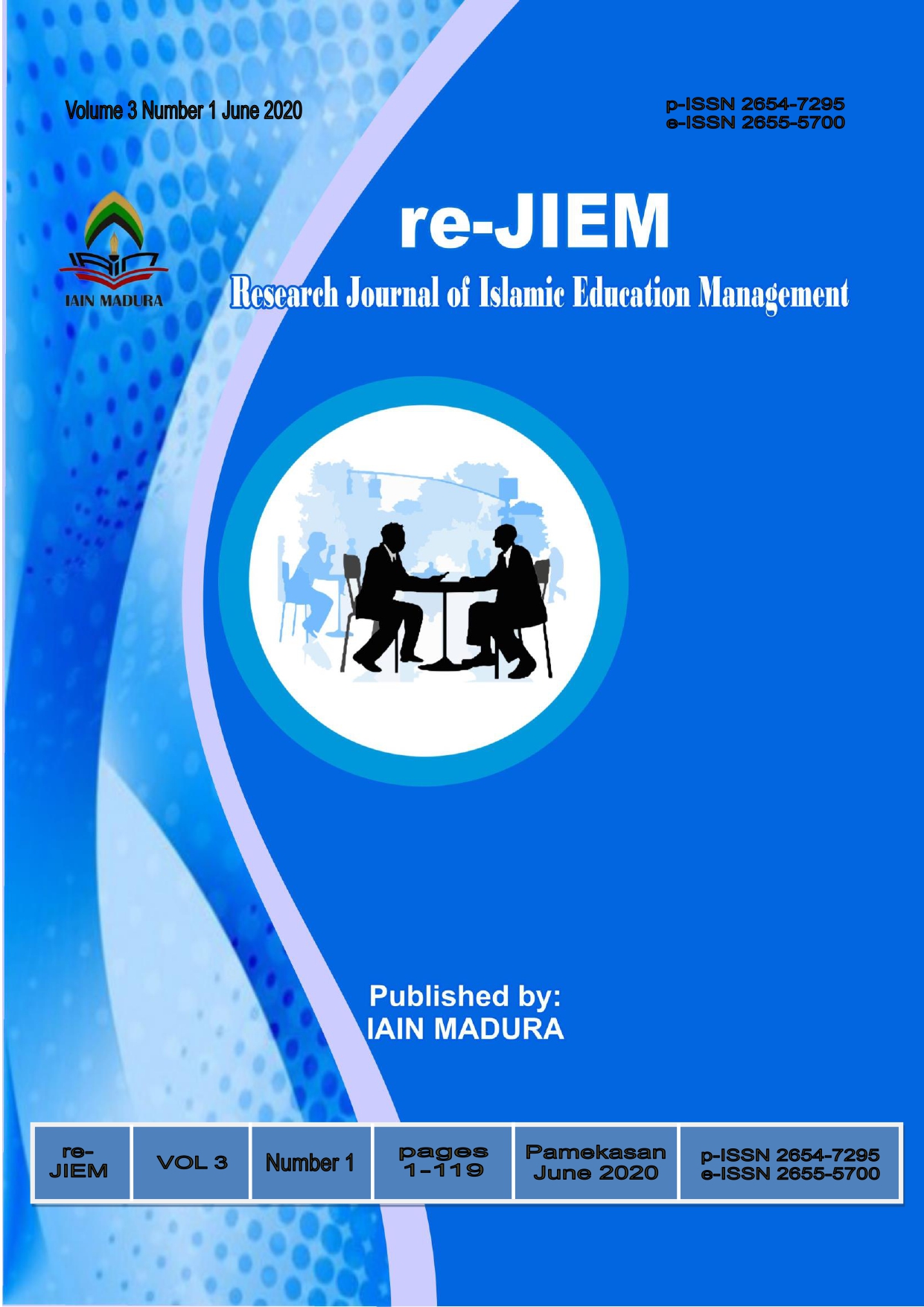 How to Cite
Amin, Moh. Badruddin, and Syafiqiyah Adhimy. 2020. "PEDATREN: MANAJEMEN PESANTREN BERBASIS PAPERLESS OFFICE". Re-JIEM (Research Journal of Islamic Education Management) 3 (1), 52-70. https://doi.org/10.19105/re-jiem.v3i1.3363.
Authors who publish with this journal agree to the following terms:
Authors retain copyright and grant the journal right of first publication with the work simultaneously licensed under a Creative Commons Attribution-ShareAlike 4.0 International License that allows others to copy and redistribute the material in any medium or format with an acknowledgment of the work's authorship and initial publication in this journal and also allows to remix, transform, and build upon the material for any purpose, even commercially with contributions under the same license as the original.
Authors are able to enter into separate, additional contractual arrangements for the non-exclusive distribution of the journal's published version of the work (e.g., post it to an institutional repository or publish it in a book), with an acknowledgment of its initial publication in this journal.
Authors are permitted and encouraged to post their work online (e.g., in institutional repositories or on their website) prior to and during the submission process, as it can lead to productive exchanges, as well as earlier and greater citation of published work.