STRATEGI KEPALA MADRASAH DALAM MENGIMPLEMENTASIKAN PROGRAM TAHFIDZUL QUR'AN DI MADRASAH ALIYAH NEGERI 1 SAMPANG DAN MADRASAH ALIYAH AL-ITTIHAD AL-ISLAMI CAMPLONG SAMPANG
Ahmad Khoiri

Pascasarjana UIN Maulana Malik Ibrahim Malang

Mulyadi Mulyadi

Pascasarjana UIN Maulana Malik Ibrahim Malang

Triyo Supriyatno

Pascasarjana UN Maulana Malik Ibrahim Malang
Abstract views:
151
,
PDF downloads:
150
Abstract
This study aims to describe the strategy of the madrasa head in implementing the memorizing (tahfidz) al-Qur'an program in MAN 1 Sampang and MA Al-Ittihad Al-Islami Camplong, with sub foci including (1) madrasa head planning, (2) madrasa head program implementation, and (3) the implications of the madrasa head strategy, which was carried out by MAN 1 Sampang and MA Al-Ittihad Al-Islami Camplong Sampang Madura. The results of this study indicate that: 1) planning the tahfidzul Qur'an program namely; cooperating with various parties both inside and outside the school, determining the coach of tahfidz who already memorized 30 juices. 2) The process of implementing the Tahfidz program is carried out every week at 06: 50-07: 30 WIB in each class using the Muroja'ah and Tikrar methods, the depositing process can be carried out on male or female coaches or assistant coaches. 3) Implications of the program of tahfidz al-Qur'an namely; improve the quality of madrasas, the number of student memorization that exceeds the target, and student achievement in non-academic fields.
Keyword: Strategy, Remembering, Memorizing, Tikrar
Downloads
Download data is not yet available.
References
Akdon. Strategic Management For Educational Management. Bandung: Alfabeta. Cetakan ke-3. 2009.
Aziz, Abdul. Pengantar Manajemen dan Substansi Administrasi Pendidikan. Surabaya: Pena Salsabila. 2017.
Faridah Alawiyah, Faridah. "Pendidikan Madrasah di Indonesia." Jurnal Aspirasi, Vol. 5. No. 1. Juni. 2014.
Fatah, Nanang. Landasan Manajemen Pendidikan. Bandung: PT Remaja Rosdakarya. Cetakan ke-7. 2004.
Fathurrohman, Pupuh dan M Sobry Sutikno. Strategi Belajar Mengajar. Bandung: PT Refika Aditama. Cetakan ke-2. 2007.
Hermino, Agustinus. Kepemimpinan Pendidikan di Era Globalisasi. Yogyakarta: Pustaka Pelajar. Cetakan ke-1. 2014.
Islamy, Irfan. Prinsip-Prinsip Perumusan Kebijaksanaan Negara. Jakarta: Bima Aksara. 2003.
Kunandar. Guru Profesional Implimentasi Kurikulum Tingkat Satuan Pendidikan dan Sukses dalam Sertifikasi Guru. Jakarta: RajaGrafindo Persada. 2009.
Kurniadin, Didin dan Imam Machali. Manajemen Pendidikan Konsep & Prinsip Pengelolaan Pendidika. Jogjakarta: Ar-Ruzz Media. Cetakan ke-3. 2016.
Muhaimin. Menejemen Pendidikan; Aplikasi dalam Penyusunan Rencana Pengembangan Sekolah/Madrasah. Jakarta: Kencana. Cetakan ke-1. 2009.
Mukhtar. Orientasi Baru Supervisi Pendidikan. Jakarta: Gaung Persada Press Group. 2013.
Rochmawati, Ida. "Optimalisasi Peran Madrasah dalam Pengembangan Sistem Nilai Masyarakat." Jurnal Padagogia. Vol. 1. No. 2. Juni. 2012.
Stiyamulyani, Pamungkas dan Sri Jumini. "Pengaruh Penghafal Al-Qur'an Tehadap Highorder Thingking Skill (HOTS) Ditinjau dari Motivasi Beprestasi Mahasiswa." Jurnal Kajian Pendidikan Sains. Vol. IV. No. 1. April, 2018.
Sudjana, Nana. Dasar-dasar Proses Belajar Mengajar. Bandung: Sinar Baru. 2009.
Sule Tisnawati Ernie dan Kurniawan Saefullah. Pengantar Manajemen. Jakarta: Prenadamedia Goup. Cetakan ke-9. 2015.
Umar. "Implimentasi Pembelajaran Tahfīẓ al Qur'ān Di SMP Luqman Al-Hikmah." Jurnal Pendidikan Islam. Vol. 6. No. 1. Tahun. 2017.
Usman, Jamiludin, and Mohammad Hidayatul Ahsan. "STRATEGI PERSUASIF DALAM PENGEMBANGAN HUBUNGAN SOSIAL RELIGIUS ANTARA SISWA DAN TENAGA KEPENDIDIKAN DI LINGKUNGAN MTSN 2 PAMEKASAN." re-JIEM (Research Journal of Islamic Education Management) 2, no. 2 (2019): 252-265.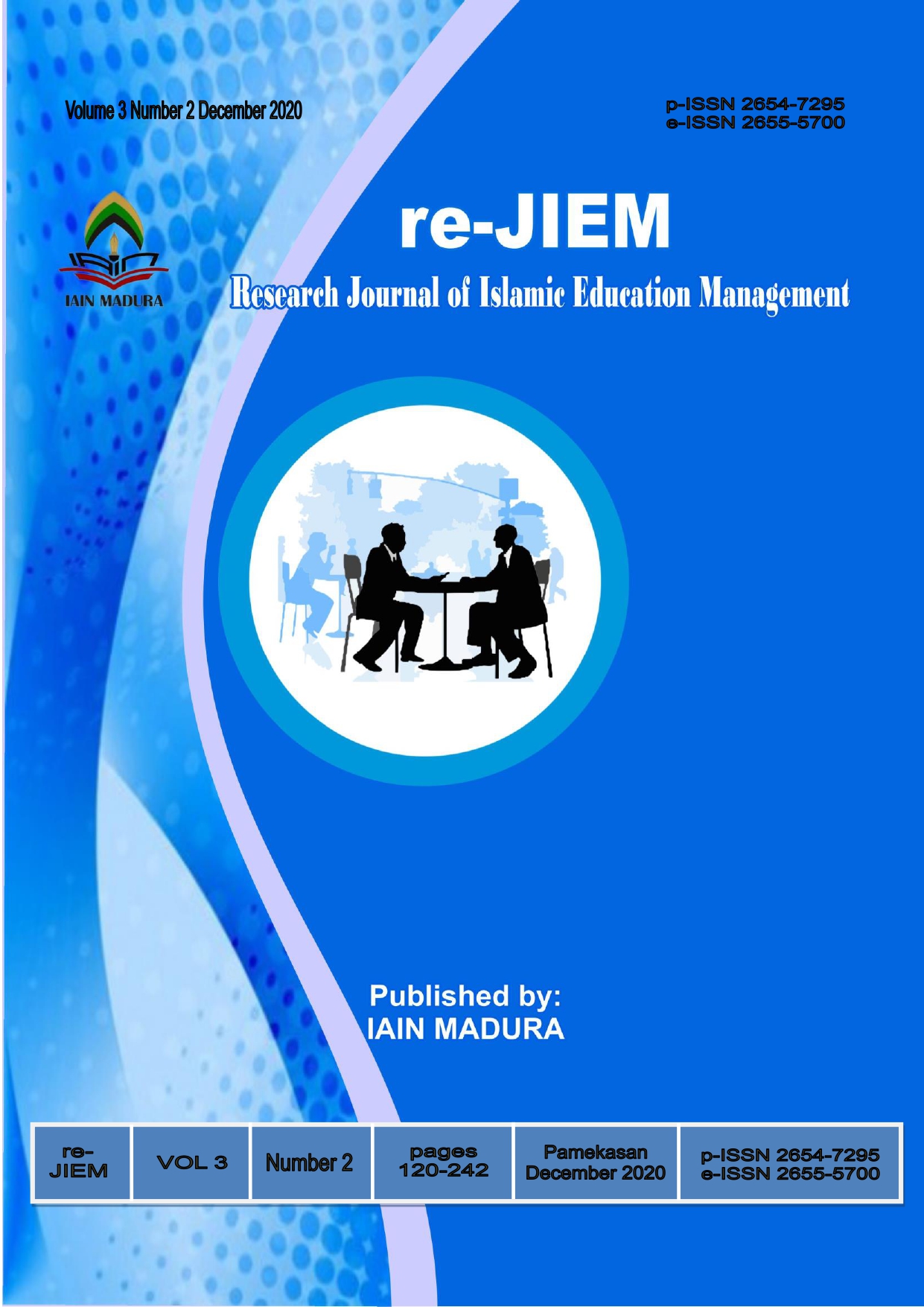 How to Cite
Khoiri, Ahmad, Mulyadi Mulyadi, and Triyo Supriyatno. 2020. "STRATEGI KEPALA MADRASAH DALAM MENGIMPLEMENTASIKAN PROGRAM TAHFIDZUL QUR'AN DI MADRASAH ALIYAH NEGERI 1 SAMPANG DAN MADRASAH ALIYAH AL-ITTIHAD AL-ISLAMI CAMPLONG SAMPANG". Re-JIEM (Research Journal of Islamic Education Management) 3 (2), 163-75. https://doi.org/10.19105/re-jiem.v3i2.4190.
Authors who publish with this journal agree to the following terms:
Authors retain copyright and grant the journal right of first publication with the work simultaneously licensed under a Creative Commons Attribution-ShareAlike 4.0 International License that allows others to copy and redistribute the material in any medium or format with an acknowledgment of the work's authorship and initial publication in this journal and also allows to remix, transform, and build upon the material for any purpose, even commercially with contributions under the same license as the original.
Authors are able to enter into separate, additional contractual arrangements for the non-exclusive distribution of the journal's published version of the work (e.g., post it to an institutional repository or publish it in a book), with an acknowledgment of its initial publication in this journal.
Authors are permitted and encouraged to post their work online (e.g., in institutional repositories or on their website) prior to and during the submission process, as it can lead to productive exchanges, as well as earlier and greater citation of published work.