KEPEMIMPINAN PEREMPUAN DALAM PERSPEKTIF PENDIDIKAN ISLAM MENURUT HJ. NURLELA MUBAROK
Mukh. Adib Shofawi

UIN Prof. KH. Saifudin Zuhri Purwokerto

Novan Ardy Wiyani

IAIN Purwokerto
Abstract views:
347
,
PDF downloads:
275
Keywords:
leadership, characteristics, Islamic educational institutions, women
Abstract
This study aims to describe the concept of women's leadership in the perspective of Islamic education according to Hj. Nurlela Mubarok. The type of research used is character study research, namely Hj. Nurlela Mubarok. Data was collected by interview, observation and documentation, then analyzed in three stages, namely data reduction, data display and verification. The results of the study show that: First, women's leadership is identical with the ability to influence others through the use of a distinctive image that exists in women in order to realize organizational goals. Second, the characteristics of women leaders emphasize more on the personal image of women when they become leaders, so that it affects their leadership in the organization. Third, the advantages of female leaders are still closely related to the characteristics of women themselves. Fourth, the shortage of women leaders has an impact on the individuals and organizations they lead. These impacts include hampered institutional development, as well as personal leaders who are less than optimal in carrying out their leadership roles. These four things illustrate that women in an educational institution are actually able to compete in their work so that they also have the ability to become a leader.
Downloads
Download data is not yet available.
References
Afandi, Rahman. "Kepemimpinan Dalam Pendidikan Islam." INSANIA : Jurnal Pemikiran Alternatif Kependidikan 18, no. 1 (January 15, 2013): 95–116. https://doi.org/10.24090/insania.v18i1.1446.
Irfa'i, Moh., and Wardatu Miladiyah. "AGENSI PEREMPUAN DALAM MANAJEMEN PENDIDIKAN MADRASAH: BELAJAR DARI PONDOK PESANTREN NURUL JADID PROBOLINGGO." Marwah : Jurnal Perempuan, Agama dan Jender Vol.18 No.1 (October 9, 2019): 96–106. https://doi.org/10.31219/osf.io/s9p3w.
Mubarok, Hj. Nurlela. Wawancara mengenai Kepemimpinan bagi Perempuan dalam Perspektif Pendidikan Islam, July 9, 2021.
Nizomi, Khairin. "Gaya Kepemimpinan Perempuan Dalam Budaya Organisasi." JIPI (Jurnal Ilmu Perpustakaan dan Informasi) 4, no. 2 (December 23, 2019): 128. https://doi.org/10.30829/jipi.v4i2.3885.
Noor, Muslichan. "Gaya Kepemimpinan Kyai." Jurnal Kependidikan 7, no. 1 (May 31, 2019): 141–56. https://doi.org/10.24090/jk.v7i1.2958.
Nuraisah, Ai. Wawancara Mengenai kepemimpinan Hj Nurlela Mubarok, July 10, 2021.
Prastiwi, Ingesti Lady Rara, and Dida Rahmadanik. "Polemik dalam Karir Perempuan Indonesia." Jurnal Komunikasi dan Kajian Media 4, no. 1 (April 2020): 1–11.
Rahmadi. "METODE STUDI TOKOH DAN APLIKASINYA DALAM PENELITIAN AGAMA." AL-BANJARI, UIN Antasari Banjarmasin Vol. 18 No. 2 (December 2019): 274–95.
Rahmawati, Dina Nur, Indah Lukitasari, and Anugrah Pambudi Raharjo. Pembangunan Manusia Berbasis Gender 2018. Jakarta: Kementrian Pemberdayaan Perempuan dan Perlindungan Anak, 2018. https://www.kemenpppa.go.id/lib/uploads/list/6a89b-buku-pmbg-2018.pdf.
Sagala, Rumadani. "Peran Majelis Taklim Al-Hidayah dalam Pendidikan Islam dan Gerakan Sosial Keagamaan di Propinsi Lampung," n.d., 11.
Santani, Ahmad. Wawancara Mengenai Kepemimpinan Hj Nurlela Mubarok, July 9, 2021.
Sugiyono. METODE PENELITIAN KUANTITATIF, KUALITATIF, DAN R&D. Bandung: ALFABETA, 2016.
Sumartiningsih, Tini. Wawancara Mengenai Kepemimpinan Hj Nurlela Mubarok, July 11, 2021.
Ulinafiyah, Diyasika, and Novan Ardy Wiyani. "PENCIPTAAN LAYANAN PRIMA MELALUI PENERAPAN SISTEM INFORMASI MANAJEMEN DI PERPUSTAKAAN IAIN PURWOKERTO." re-JIEM Vol. 2 No. 2 (December 2019): 223–39.
Umar, H. Nasaruddin. Argumen kesetaraan jender: perspektif al Quran. Jakarta: Paramadina, 2001.
Wiyani, Novan Ardy. "Aktualisasi Prinsip Continuous Improvement dalam Kepemimpinan Responsif Kepala PAUD Islam Terpadu al-Ikhlas Bumiayu Brebes." AL-ATHFAL : JURNAL PENDIDIKAN ANAK 5, no. 1 (June 27, 2019): 83–100. https://doi.org/10.14421/al-athfal.2019.51-06.
———. "Optimalisasi Kecerdasan Spiritual Bagi Anak Usia Dini Menurut Abdullah Nashih Ulwan." Thufula Vol. 4 No. 2 (December 2016): 77–98.
———. "Potret Ideal Kepemimpinan Perempuan Sebagai Pengelola Lembaga PAUD." Yinyang: Jurnal Studi Islam Gender dan Anak Vol.11 No.1 (2017): 844.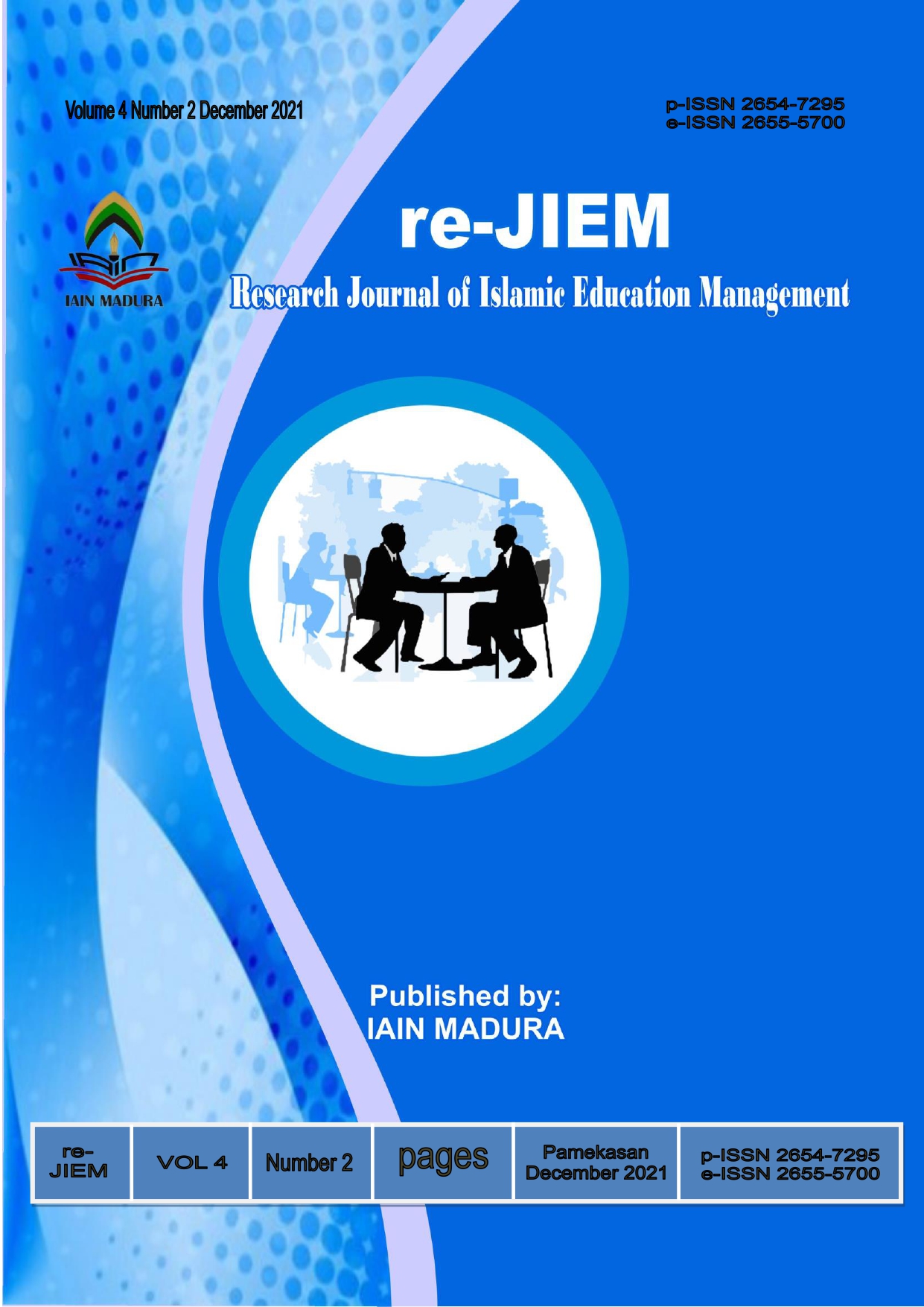 How to Cite
Shofawi , Mukh. Adib, and Novan Ardy Wiyani. 2021. "KEPEMIMPINAN PEREMPUAN DALAM PERSPEKTIF PENDIDIKAN ISLAM MENURUT HJ. NURLELA MUBAROK ". Re-JIEM (Research Journal of Islamic Education Management) 4 (2), 178-94. https://doi.org/10.19105/re-jiem.v4i2.5003.
Copyright (c) 2021 Novan Ardy Wiyani
This work is licensed under a Creative Commons Attribution-ShareAlike 4.0 International License.
Authors who publish with this journal agree to the following terms:
Authors retain copyright and grant the journal right of first publication with the work simultaneously licensed under a Creative Commons Attribution-ShareAlike 4.0 International License that allows others to copy and redistribute the material in any medium or format with an acknowledgment of the work's authorship and initial publication in this journal and also allows to remix, transform, and build upon the material for any purpose, even commercially with contributions under the same license as the original.
Authors are able to enter into separate, additional contractual arrangements for the non-exclusive distribution of the journal's published version of the work (e.g., post it to an institutional repository or publish it in a book), with an acknowledgment of its initial publication in this journal.
Authors are permitted and encouraged to post their work online (e.g., in institutional repositories or on their website) prior to and during the submission process, as it can lead to productive exchanges, as well as earlier and greater citation of published work.