STRATEGI PEMASARAN KEMITRAAN PADA SEKOLAH VOKASIONAL SWASTA DI MASA PANDEMI COVID-19 UNTUK MENINGKATKAN PENDAFTARAN PESERTA DIDIK BARU (PPDB) TAHUN AJARAN 2021/2022
Gresi Alun Meidianto

Universitas Negeri Surabaya

Ismet Basuki

Universitas Negeri Surabaya

Sri Setyowati

Universitas Negeri Surabaya
Abstract views:
244
,
PDF downloads:
151
Keywords:
Partnership Strategy, Vocational School, Enrollment New Learners
Abstract
The Covid-19 pandemic has created intense competition in the world of education and has transformed the focus of education management from a simple way to serve the institutional education process, to a way to transform users of education services (user education) into customer education (customer education). Private educational institutions experienced a decrease in the number of students for the 2021-2022 school year due to the pandemic. The Covid-19 pandemic tested the marketing strategies of every educational institution. Schools that have the opportunity to survive are those that have strategies to create competitive and sustainable advantages. This research uses a qualitative approach with the design of case studies. The subjects of this study consisted of the Principal, Deputy Principal, teachers, administrative staff, parents of students and students. Data collection techniques include documentation studies, field observations and in-depth interviews. In this study to analyze data using Creswell's data analysis model. Partnership marketing strategies are considered the most appropriate to support school targets in acquiring new customers of educational services in the 2021/2022 school year. The school strives to embrace and establish partner relationships with the community as a front liner marketing school education services
Downloads
Download data is not yet available.
References
Abidah, Azmil, Hasan Nuurul Hidaayatullaah, Roy Martin Simamora, Daliana Fehabutar, and Lely Mutakinati. "The Impact of Covid-19 to Indonesian Education and Its Relation to the Philosophy of 'Merdeka Belajar.'" Studies in Philosophy of Science and Education 1, no. 1 (2020): 38–49. https://doi.org/10.46627/sipose.v1i1.9.
Alma, Buchari. Manajemen Pemasaran Dan Pemasaran Jasa. Bandung: Alfabeta, 2011.
Arikunto, Suharsimi. Prosedur Penelitian Suatu Pendekatan Praktik. Jakarta: Rineka Cipta, 2006.
Creswell, John W. Penelitian Kualitatif & Desain Riset. Yogyakarta: Pustaka Pelajar, 2015.
Djojonegoro, Wardiman. Pengembangan Sumber Daya Manusia: Melalui Sekolah Menengah Kejuruan (SMK). Jakarta: PT. Jakarta Agung, 1998.
Endarwati, Oktiani. "Akibat Wabah Corona, 40 Sektor Ini Terdampak Parah." Koran Sindo, 2020. https://ekbis.sindonews.com/read/26405/34/akibat-wabah-corona-40-sektor-ini-terdampak-parah-1589306757.
Gupta, Dinesh K. "Marketing of Library and Information Services: Building a New Discipline for Library and Information Science Education in Asia." Malaysian Journal of Library and Information Science 8, no. 2 (2003): 95–108.
Hunger, J. David, Thomas L Wheelen, and Yulianto Agung. Manajemen Strategis. Yogyakarta: ANDI, 2012.
Kartajaya, Hermawan. On Marketing. Jakarta: Gramedia Pustaka Utama, 2002.
Khanifudin, Sutama, and Wafroturrohmah. "Pengembangan Strategi Pemasaran Sekolah Berbasis Word Of Mouth Di SD Al Firdaus Surakarta." Universitas Muhammadiyah Surakarta, 2013. http://eprints.ums.ac.id/27763/.
Kotler, Philip. Principles of Marketing. Second Eur. New Jersey, USA: Prentice Hall. Inc., 1999.
Kotler, Philip, and Kevin Lane Keller. Manajemen Pemasaran (Terjemah Oleh Benyamin Molan). 12th, jilid ed. Jakarta: PT. Indeks, 2007.
Lupiyoadi, Rambat, and Dedy A. Hamdani. Manajemen Pemasaran Jasa. Jakarta: Salemba Empat, 2008.
Margareta, Ririn Tius Eka, Bambang Ismanto, and Bambang Suteng Sulasmono. "Strategi Pemasaran Sekolah Dalam Peningkatan Minat Peserta Didik Berdasarkan Delta Model." Kelola: Jurnal Manajemen Pendidikan 5, no. 1 (2018): 1–14. https://doi.org/10.24246/j.jk.2018.v5.i1.p1-14.
Morrisey, George. Pedoman Pemikiran Strategis: Membangun Landasan Perencanaan Anda (Terjemahan Oleh Gianto Widianto). Jakarta: Prenhalindo, 1997.
Nurmalasari, Neneng, and Imas Masitoh. "Manajemen Strategik Pemasaran Pendidikan Berbasis Media Sosial Di Madrasah Aliyah Yayasan Pondok Pesantren Babakan Jamanis Parigi Pangandaran." Re-JIEM (Research Journal of Islamic Education Management) 3, no. 2 (2020): 120–28. https://doi.org/10.19105/re-jiem.v3i2.3908.
Payne, Adrian. The Essence of Service Marketing: Pemasaran Jasa (Terjemahan Oleh Fandy Tjiptono). Yogyakarta: ANDI, 2000.
Setyaningsih, Rini, and Herlin Wulandari. "Analisis Swot Daya Saing Sekolah: Studi Kasus Di Sekolah Menengah Kejuruan Negeri 1 Pasir Penyu Indragiri Hulu, Riau." Jurnal Manajemen Pendidikan 8, no. 1 (2020): 46–52. https://doi.org/10.33751/jmp.v8i1.1965.
Tadesse, Seble, and Worku Muluye. "The Impact of COVID-19 Pandemic on Education System in Developing Countries: A Review." Open Journal of Social Sciences 08, no. 10 (2020): 159–70. https://doi.org/10.4236/jss.2020.810011.
Totoh, Asep. "Pandemi, Strategi, Dan Daya Tahan Sekolah Swasta." kumparan.com, 2021. https://kumparan.com/asep-totoh/pandemi-strategi-dan-daya-tahan-sekolah-swasta-1v4mqBnUjil.
Wahid, Eko. Strategi Marketing Jasa Pendidikan Dalam Meningkatkan Image Pendidikan Di Lembaga Pendidikan Islam. Bandung: Alfabeta, 2005.
Wardhana, Ardiyanto. "Strategi Promosi Penerimaan Siswa Baru (Studi Kasus Smk Kesehatan Cipta Bhakti Husada Yogyakarta)." CHANNEL: Jurnal Komunikasi 6, no. 1 (2018): 96. https://doi.org/10.12928/channel.v6i1.10215.
Wijaya, David. Pemasaran Jasa Pendidikan. Jakarta: Bumi Aksara, 2016.
Wulandari, Ade, Kasinyo Harto, Mardiah Astuti, and Ari Sandi. "Implementasi Strategi Pemasaran Jasa Pendidikan Pada Masa Pandemi Covid-19 Di SMK Muhammadiyah Pagar Alam." Islamic Management: Jurnal Manajemen Pendidikan Islam 4, no. 02 (2021): 285. https://doi.org/10.30868/im.v4i02.1519.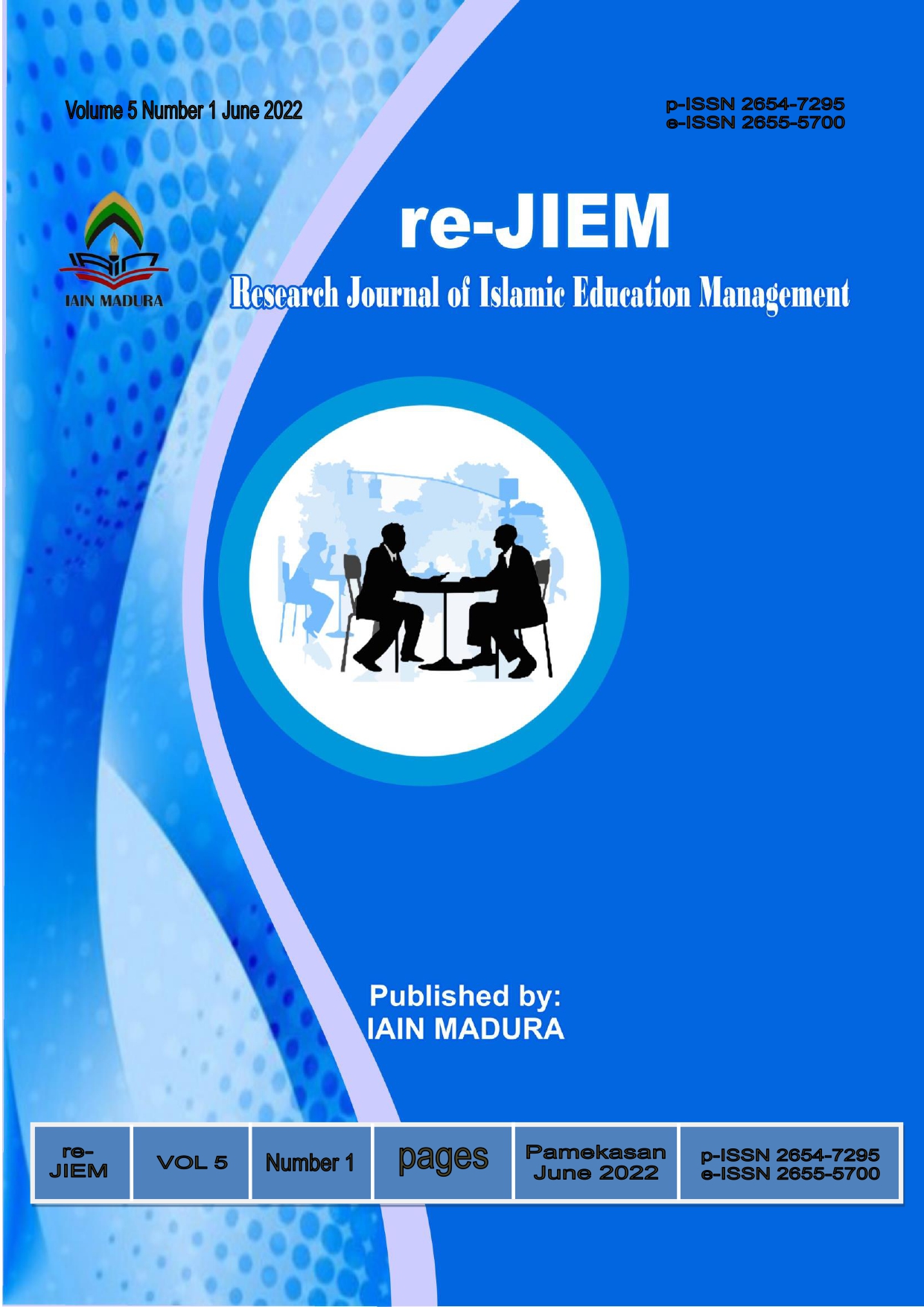 How to Cite
Meidianto, Gresi Alun, Ismet Basuki, and Sri Setyowati. 2022. "STRATEGI PEMASARAN KEMITRAAN PADA SEKOLAH VOKASIONAL SWASTA DI MASA PANDEMI COVID-19 UNTUK MENINGKATKAN PENDAFTARAN PESERTA DIDIK BARU (PPDB) TAHUN AJARAN 2021/2022". Re-JIEM (Research Journal of Islamic Education Management) 5 (1), 13 - 31. https://doi.org/10.19105/re-jiem.v5i1.6291.
Copyright (c) 2022 Gresi Alun Meidianto, Ismet Basuki , Sri Setyowati
This work is licensed under a Creative Commons Attribution-ShareAlike 4.0 International License.
Authors who publish with this journal agree to the following terms:
Authors retain copyright and grant the journal right of first publication with the work simultaneously licensed under a Creative Commons Attribution-ShareAlike 4.0 International License that allows others to copy and redistribute the material in any medium or format with an acknowledgment of the work's authorship and initial publication in this journal and also allows to remix, transform, and build upon the material for any purpose, even commercially with contributions under the same license as the original.
Authors are able to enter into separate, additional contractual arrangements for the non-exclusive distribution of the journal's published version of the work (e.g., post it to an institutional repository or publish it in a book), with an acknowledgment of its initial publication in this journal.
Authors are permitted and encouraged to post their work online (e.g., in institutional repositories or on their website) prior to and during the submission process, as it can lead to productive exchanges, as well as earlier and greater citation of published work.