STRATEGI KEPALA MADRASAH DALAM MEMBANGUN BUDAYA LITERASI MENULIS
Halimatus Sa'adah

Universitas Islam Negeri Maulana Malik Ibrahim Malang
Abstract views:
71
,
PDF downloads:
104
Keywords:
Writing literacy, Literacy culture policy, Motivation
Abstract
Literacy culture is a culture in educational institutions considering the demands of the current era of globalization, students are required to be creative and innovative by producing many works, including the strategy of the head of the madrasa in cultivating writing. This research was conducted at the Islamic Senior High School Sumber Bungur Pakong Pamekasan. This research includes a qualitative approach with a case study type. The research results show that. First, the strategy built by the head of the madrasa in building a literacy culture consists of goals, objectives, stages, and time for planning. Second, the implementation of school principals in building a literacy culture, namely formulating a collaboration, fulfilling facilities, providing motivation, and preparing bulletin boards. The supporting and inhibiting factors for the madrasa head in building a literacy culture are all supporting facilities, competent teachers, and financing management. The inhibiting factor for literacy is that it is necessary to be continuously motivated in order to produce a quality literacy culture.
Downloads
Download data is not yet available.
References
Amaja Yudi, Fridayana. "Kepemimpinan Konsep Teori Dan Karakternya" Jurnal Media Komunikasi Vol 12, No 2. Agustus 2013.
Arikunto, Suharsimi. Prosedur Penelitian Suatu Pendekatan Praktik. Jakarta: Rineka Cipta. 2010.
Basrowi & Suwandi. Memahami Penelitian Kualitatif. Jakarta: Rineka Cipta. 2008.
Budia Sesra dan M Aulia Abdur Rahim. Persepsi Kepala Sekolah Terhadap Tugas Pokok dan Fungsi Kepala Sekolah. Jurnal Menata. Vol 3. No 2. Desember 2020.
Buna'i. Metodologi Penelitian Pendidikan. Pamekasan: STAIN Pamekasan Press. 2006.
Buna'i. Penelitian Kualitatif. Pamekasan: Perpustakaan STAIN Pamekasan Press. 2008.
Djumingin Sulastri nengsih. Strategi dan Aplikasi Model Pembelajaran Inivatif Bahasa dan Sastra. Makassar: Badan Penerbit UNM Makassar. 2016.
Edi Susanto dan Hosnani. "Peran Kepala Sekolah dalam Membentuk Budaya Islami di MA Nasyatul Muta'allimin Gapura Timur Sumenep" re-JIEM (Research Journal of Islamic Education Management) Vol. 1 No. 2 Tahun 2018.
El-Kafi, Ach. Habibi dan Saiful Hadi, "Karakteristik Leader Of Change dalam Pembentukan Budaya Kerja dan Produktifitas Kerja Berbasis Spirituality di Kualita Pendidikan Indonesia (KPI) Surabaya" re-JIEM (Research Journal of Islamic Education Management) Vol. 2 No. 2 Tahun 2019.
Errohmah, Fina Witrin dan Kacung Wahyudi, "Upaya Melestarikan Budaya Religius Melalui Pembiasaan Berdoa dan Membaca Asmaul Husna Bersama Sebelum Pembelajaran di MTs Matsaratul Huda Panempan Pamekasan" re-JIEM: Research Journal of Islamic Education Management. Vol. 4 No. 2 Tahun 2021.
Gunawan, Imam. Metode Penelitian Kualitatif. Jakarta: Bumi Aksara, 2013.
Hasin, Rohelah dan Saiful Hadi, "Strategi Pembentukan Soft Skill Santri di Pondok Pesantren Mambaul Ulum Putri Bata-Bata Pamekasan" re-JIEM (Research Journal of Islamic Education Management) Vol. 2 No. 1 tahun 2019.
Ismad, Danul Hurip. Panduan penguatan literasi dan numerasi. Kementrian pendidikan dan kebudayaan direktorat jendral PAU, DIKDAS dan DIKMEN. 2021.
Juminingsih. Membangun Budaya Literasi Sekolah Dasar Negeri Trangsan 02 gatak Kabupaten Sukaharjo Dalam Mendukung Keberhasilan Kegiatan Belajaar Abad 21. Jurnal Pendidikan dan Ilmu sosial. V ol 29. No 1. Juni 2019.
Kartikasari, Erlin. Faktor pendukung dan faktor penghambat gerakan literasi sekolah. Jurnal Basicedu. Vol6. No 5. 2022.
Kasiram, Moh.. Metodologi Penelitian. Malang: UIN-Maliki Press. 2010.
Kesuma, Darma. Pendidikan Karakter. Bandung: Remaja Rosdakarya. 2011.
Lickona, Thomas. Mendidik Untuk Membentuk Karakter. Jakarta: Bumi Aksara. 2012.
Moleong, Lexy J.. Metodologi Penelitian Kualitatif. Bandung: PT Remaja Rosdakarya, 2011.
Muahaimin, Azzet Akhmad. Urgensi Pendidikan Karakter Di Indonesia. Jogjakarta: Ar-Ruz Media, 2011.
Nurhadi, Ali., Novela Angga Pratiwi, dan Badrus Soleh, "Penarikan Minat Masyarakat Sebagai Wujud Strategi Kepala Sekolah Dalam Membangun Citra Positif Lembaga Di Sma Wachid Hasyim Pamekasan," re-JIEM: Research Journal of Islamic Education Management 4, no. 2 (2021): 207, http://ejournal.iainmadura.ac.id/index.php/re-jiem/article/view/5847.
Prastowo, Andi. Metode Penelitian Kualitatif dalam Perspektif Rancangan Penelitian. Jogjakarta: Ar-Ruzz Media. 2012.
Shalahudin, dkk. "Did Transformational and Transactional Leadership Style of Head Master Influence High School Teacher Performance?" Jurnal Psychology and Education Vol. 58 No. 1 Tahun 2021.
Sulastri, dkk. Strategi literasi dalam pembelajaran di sekolah menengah pertama. Satgas GLS Ditjen kementrian pendidikan dan kebudayaan. 2018.
Suswandari, Meidawati. "Membangun Budaya Literasi Suplemen Pendidikan Di Indonesia" Jurnal Diksad Bantara. Volume 1. nomor 1. Februari 2018.
Suyadi. Strategi Pembelajaran Pendidikan Kerakter. Bandung:PT.Remaja Rosdakarya. 2013.
Taufiqurrahman. Konsep dan kajian ilmu perencanaan. Jakarta: Fakultas ilmu sosial dan ilmu politik uneversitas prof. Dr Mustopo Beragama. 2008.
Tune Sumar, Intan. Intan Abdul Razak. Strategi Pembelajar Dan Implementasi Kurikulum yang Berbasis Soft Skill. Yogyakarta: CV Budi Utama. 2016.
Wibowo, Agus. Pendidikan Karakter Di Perguruan Tinggi Membangun Karakter Ideal Mahasiswa Di Perguruan Tinggi. Yogyakarta: Pustaka Pelajar. 2014
Wibowo. Budaya Organisasi. Depok, Rajagrafindo Persada. Cetke4, Edisi ke 2, 2016.
Yani, Ahmad. Mindset Kurikulum 2013. Bandung: Alfabeta. 2013.
Yuliyati Devi. "Pelaksanaan Program Literasi Sekolah di SDN 014 Kotan Bangun." Jurnal Pendidikan Sosial Dan Agama. Vol 13. No 2. 2021.
Yunianika, Tri Ika dan Suratinah. "Implemintasi Gerakan Literasi Diskeolah Dasar Darma Karya Universitas Terbuka." Jurnal Ilmiah Sekolah Dasar. Volume 3. No 4. tahun 2019.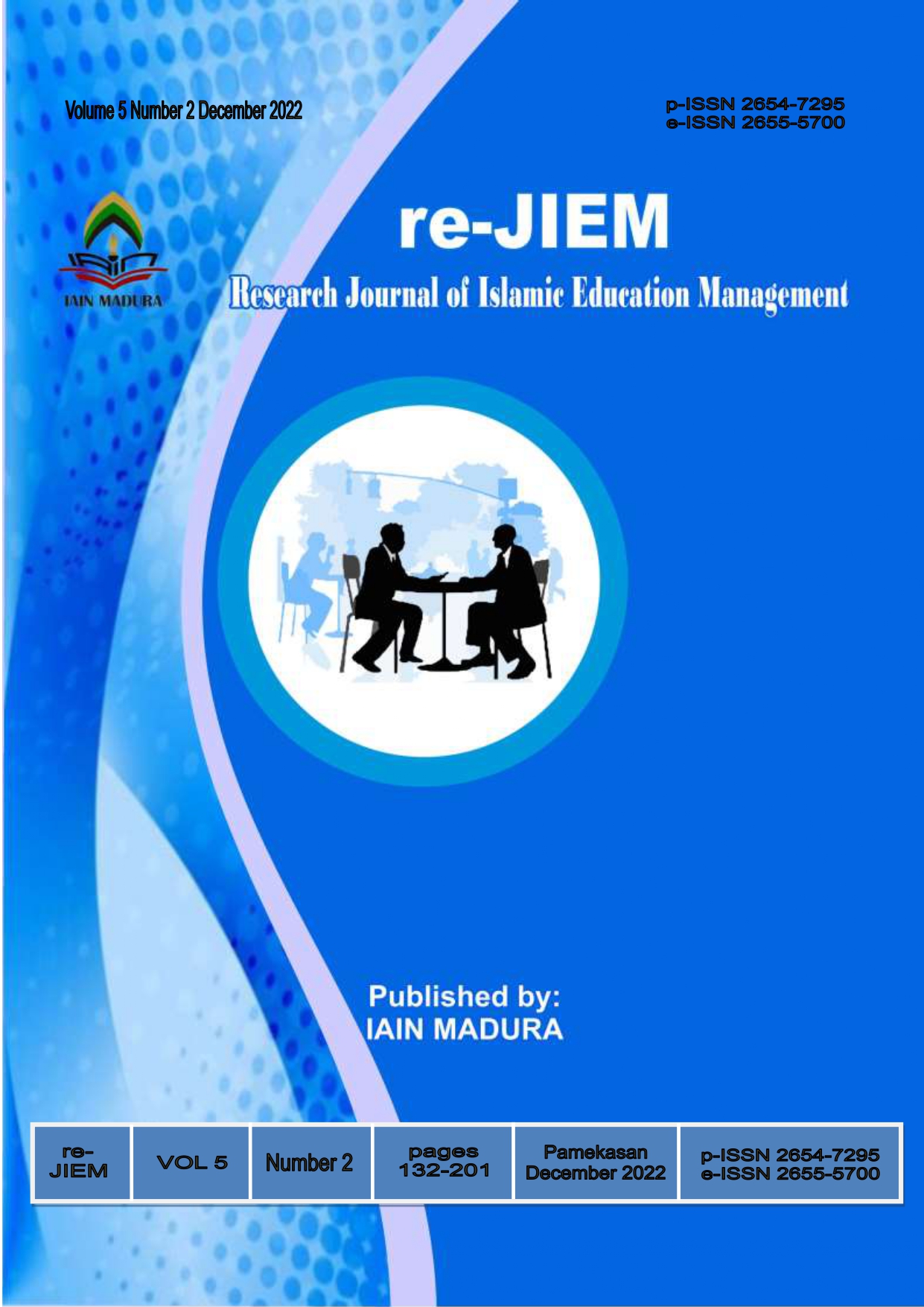 How to Cite
Sa'adah, Halimatus. 2022. "STRATEGI KEPALA MADRASAH DALAM MEMBANGUN BUDAYA LITERASI MENULIS ". Re-JIEM (Research Journal of Islamic Education Management) 5 (2), 219-30. https://doi.org/10.19105/re-jiem.v5i2.7207.
Copyright (c) 2022 Halimatus Sa'adah
This work is licensed under a Creative Commons Attribution-ShareAlike 4.0 International License.
Authors who publish with this journal agree to the following terms:
Authors retain copyright and grant the journal right of first publication with the work simultaneously licensed under a Creative Commons Attribution-ShareAlike 4.0 International License that allows others to copy and redistribute the material in any medium or format with an acknowledgment of the work's authorship and initial publication in this journal and also allows to remix, transform, and build upon the material for any purpose, even commercially with contributions under the same license as the original.
Authors are able to enter into separate, additional contractual arrangements for the non-exclusive distribution of the journal's published version of the work (e.g., post it to an institutional repository or publish it in a book), with an acknowledgment of its initial publication in this journal.
Authors are permitted and encouraged to post their work online (e.g., in institutional repositories or on their website) prior to and during the submission process, as it can lead to productive exchanges, as well as earlier and greater citation of published work.